Mendocino sheriff's chance meeting with Atlanta man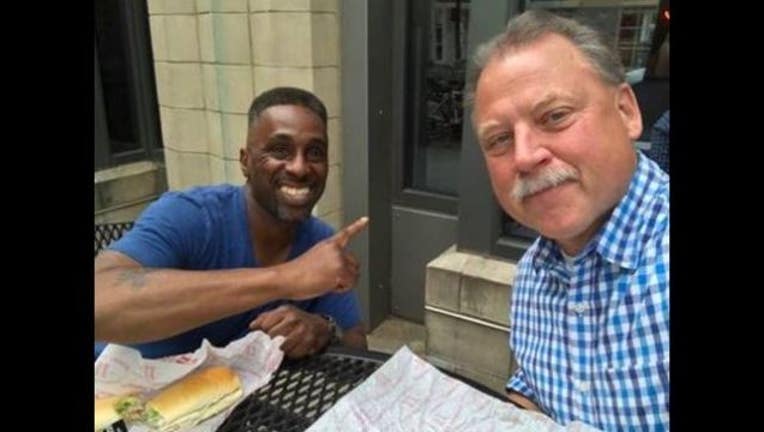 article
KTVU's Frank Somerville posted about the Medocino County Sheriff Tom Allman and a man he met by chance twice.
Sheriff Allman wrote to Frank again - after Frank initially posted the story - Read Frank's updated Facebook post below:
"'This story should not be about me at all. The moral of this story (is) that we should never give up on people.' Earlier this week I posted this picture of Mendocino County Sheriff Tom Allman (on the right) having lunch with a man named Keith.
They met by chance two years ago in Atlanta. Sheriff Allman wrote: 'Two years ago I was approached by a homeless veteran, asking for cash. Instead of cash, I invited him to lunch and we discussed his options in life. He did not smell good and his clothes were not clean.'
A few days ago, Sheriff Allman was back in Atlanta and just happened to bump into Keith again. The Sheriff said: 'Keith was now wearing clean clothes and he didn't smell. He has been clean and sober for 2+ years. I took him to lunch. We laughed the entire time. I'm really happy that our paths crossed again.' Now Sheriff Allman just posted again.
He wanted to make sure that people didn't think the story was about him. He wrote: I did very little in Keith's life, other than to have a conversation with him two years ago over lunch. HE cleaned himself up. HE made a cd with his rap music and HE is using his entrepreneurial skills to move forward. He has actually asked me about Mendocino County and a slower life. The moral of the story for me is very simple.
It is easy to not see the rest of the world, outside of our own comfort zone. There are millions of Keiths in our world. Please don't think this is about me, or that I miraculously changed his life. Keith changed himself and for that, I am grateful. Thanks. ---Sheriff Tom Allman #RealPeopleRealStoriesRealLife."