Notorious Bay Area residential hotel red-tagged with water as health hazard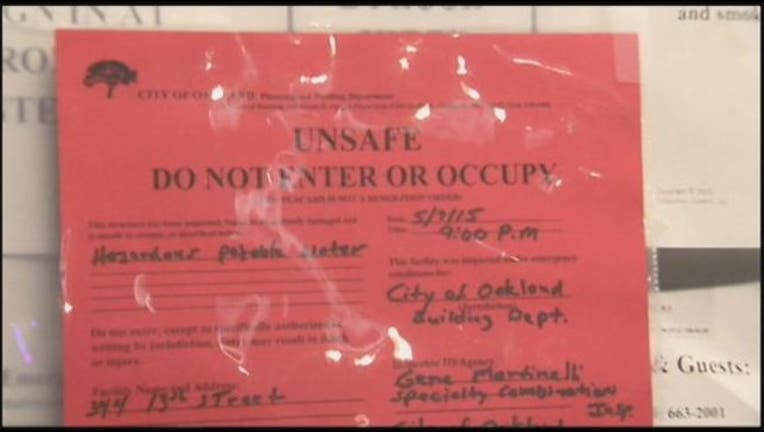 article
OAKLAND, Calif. (KTVU) - Tenants in a seven-story residential hotel were told to leave their homes Thursday by staff at the Empyrean Towers, after City of Oakland inspectors announced they planned to red-tag the building.
City inspectors say the water in the entire building might be a health hazard, after East Bay Municipal Water District investigators found contamination from coliform bacteria in one of the pipes.
"It's an imminent hazard," said Gene Martinelli, the City of Oakland inspector, "We chose to shut the building down, red-tag it and get this thing restored. They're going to do a chlorination on the building."
The testing was done at the request of three tenants who say they got sick.
"I was throwing up, really bad diarrhea," said Lydia Hamilton, who lives in the fourth floor unit where the EBMUD sample was taken. Another sample was taken from a fire hydrant outside the building on 13th Street.
"I'm really grossed out by it. I've been bathing and brushing my teeth with it. I even drink this water," Hamilton said.
The Empyrean Towers has been the subject in a series of KTVU Fox2 investigative reports which found leaks, signs of black mold, unfinished maintenance repairs, and families living in one room units which they say often backed up with dirty brown water.
Thursday's development with the building evacuation prompted residents to call their attorney Amy Sekony with the Eviction Defense Center.
Sekony says it appears that East Bay MUD notified the Empyrean Towers' owners on May 5th about the contaminated water, but the owners did nothing until city officials arrived Thursday afternoon.
"The maintenance man came knocking on everybody's door saying we had to evacuated immediately," said resident Kia'Ora Henson.
"Extremely upset and distressed, just sick to our stomachs, Some people were crying. Some people didn't know what to do," said Maria Anast, another resident.
Johann Scott works in San Francisco as a hotel security guard and had to go to work.
"I work security so I have to have a suit on and all this and I have to be ready for work tonight," he said, worried about how he would get ready and where he would stay.
KTVU contacted the attorney for Empyrean Towers, Steve Whitworth, who said the owners will provide lodging for tenants at an Oakland Motel 6, a $40 per day inconvenience fee, and provide security guards for the building while it is empty. The legal agreement took more than 5 hours to draft between attorneys on both sides.
Martinelli says a private contractor has been hired by the building owner to put chlorine into the entire plumbing system and then let it sit for 24 hours. The workers will flush it out and then re-test for bacteria. Test results should be back by Saturday. Finding the cause of the problem could take much longer, with about a mile of pipeline to inspect.