Oakland Zoo closes for weeks due to massive sinkhole
OAKLAND - The Oakland Zoo will be shut until mid-January or later due to a huge sinkhole that may grow larger and more obstructive with rainstorms forecast for the Bay Area this week.
The sinkhole appeared at the zoo's entrance along Golf Links Road after a culvert collapsed, the zoo said Sunday on Twitter. The culvert runs beneath the road at the entrance and connects to the Arroyo Viejo Creek.
Photos and video showed a gaping chasm, measuring 10 feet by 10 feet, that "is impassable to vehicles," the zoo said.
"We are obviously really disappointed. The public is going to be disappointed," said Oakland Zoo CEO Nik Dehejia.
Dehejia said the Arroyo Creek runs through part of zoo property, and a culvert under the road was overwhelmed during the storm.
"With the incredible speed and volume of the water it literally collapsed some of the culvert itself and resulted in a collapse of asphalt over it," said Dehejia.
The zoo says it will be closed until January 17 or later. Getting materials and making the repairs could take two weeks or longer, the zoo was told by engineers. 
"Most importantly, the animals are safe," said Dehejia. "But now we have to assess the property damage and we gotta clean up. There's mud on the pathways and in the parking lot. It's been pretty extreme."
The storms forecast for this week may make the situation worse with the sinkhole.
The heavy rains up to New Year's Eve inflicted significant damage to other areas of the zoo's campus in the East Oakland hills.
Buildings were flooded, the electricity went out several times, eucalyptus trees fell and there was soil erosion, the zoo said. 
Luckily, no animals were injured.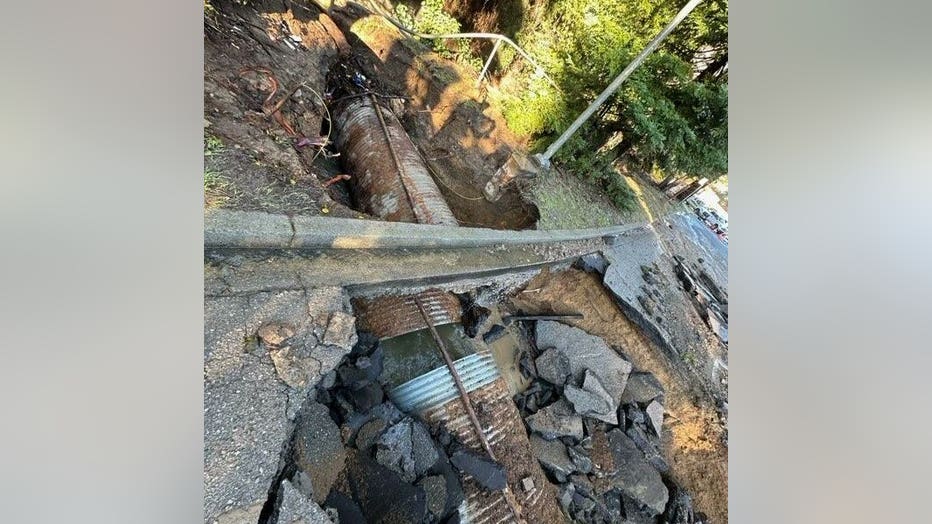 The Oakland Zoo will be closed for more than two weeks due to a sinkhole formed by a collapsed culvert at its entrance on Dec. 31, 2022. Photo: Oakland Zoo (KTVU FOX 2)