Obama, Castro to meet Saturday amid bid to restore Cuba ties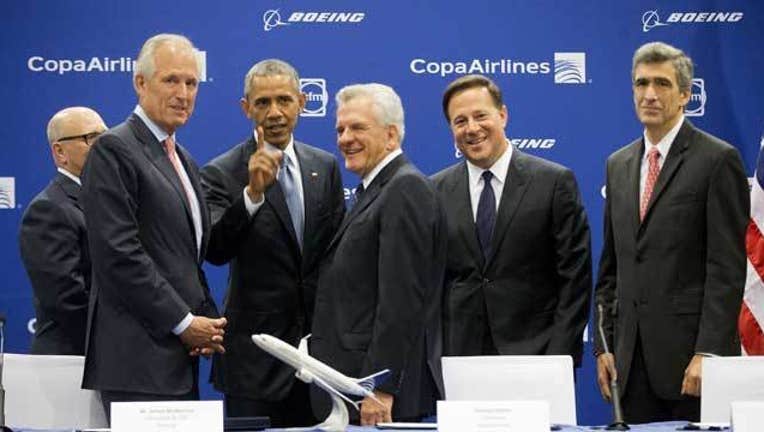 article
PANAMA CITY (AP) — President Barack Obama and Cuban President Raul Castro plan their first substantial, in-person discussion Saturday, a historic encounter as they work to restore diplomatic ties after more than half a century of estrangement between their countries.
Details of their meeting were still being worked out Friday, said Obama foreign policy adviser Ben Rhodes. The two leaders spoke by phone Wednesday for only the second time, ahead of their arrival in Panama City only minutes apart Thursday evening for the Summit of the Americas.
Obama and Castro exchanged a brief handshake in 2013 during Nelson Mandela's funeral in South Africa, but haven't held any substantive in-person meetings. They also planned to be among the leaders attending opening events of the summit Friday evening at Panama Viejo, home to archaeological ruins dating to the 1500s. But Rhodes said their meeting on the sidelines would come on the summit's second and final day.
"We don't have a formal meeting scheduled at a certain time, but we anticipate they will have a discussion tomorrow," Rhodes told reporters Friday.
Obama and Castro, brother of longtime former Cuban President Fidel Castro, first spoke in a December phone call as both announced their intent to restore diplomatic relations between their countries, a move that sent shockwaves through Latin America.
U.S. Secretary of State John Kerry and Cuban Foreign Minister Bruno Rodriguez led into the presidential meeting with a private discussion in Panama City that the State Department described as lengthy and productive. The Cuban government said the nearly three-hour talks were "respectful and constructive."
The flurry of diplomacy was likely to reinvigorate ongoing efforts by the U.S. and Cuba to start their relationship anew after five decades of American presidents either isolating or working to overthrow Fidel Castro's government. Obama is preparing to announce a decision about removing Cuba from the U.S. list of state sponsors of terrorism, a major impediment to warmer ties as far as Havana is concerned.
The U.S. has long since stopped actively accusing Cuba of supporting terrorism, and Obama has hinted at his willingness to take Cuba off the list ever since he and Castro announced a thaw in relations in December. Yet Obama has stopped short of the formal decision amid indications that the White House was reluctant to grant Cuba's request until other thorny issues — such as restrictions on U.S. diplomats in Havana — were resolved.
"We don't want to be imprisoned by the past," Obama said Thursday in Jamaica, the first stop on his trip. "When something doesn't work for 50 years, you don't just keep on doing it. You try something new."
Four months ago, Obama and Castro began a painstaking process that has brought to the surface difficult issues that have long fed in to the U.S.-Cuban estrangement. Hopes of reopening embassies in Havana and Washington before the summit failed to materialize. The U.S. is still pushing Cuba to allow more freedom of movement for its diplomats, while Cuba wants relief from a sanctions regime that only Congress can fully lift.
In a nod to lingering U.S. concerns about human rights and political freedoms, Obama was making a point to attend a forum bringing together both dissidents and members of the Cuban political establishment while in Panama.
Obama also made a quick unannounced tour of the Panama Canal, connecting the Atlantic and Pacific oceans. The president, wearing sunglasses with his jacket slung over his shoulder on a cloudy, steamy morning, walked over a pedestrian walkway that spanned the greenish-tinted water below. No ships came through while he was there, apparently for security reasons, although U.S. Secret Service gun boats were positioned in the water.
Later, Obama and Panamanian President Juan Carlos Varela stood over the shoulders of the CEOs of Boeing and Copa Airlines as they signed a deal for the Panamanian airline to purchase 61 of the U.S. airplane giant's 737 aircraft. The companies called it the largest commercial deal between a U.S. and Panamanian company in history.
Obama says it means 12,000 jobs in the United States. White House spokesman Josh Earnest followed up with a bigger number — 40,000 U.S. jobs that he said will be not just at Boeing, but engine maker General Electric and other businesses involved in the supply chain.
The sale is a significant one for Chicago-based Boeing but by no means its largest for the new 737-MAX jets, which have a list price of $106.9 million to $113.3 million, although airlines often negotiate steep discounts. The largest single 737-MAX order has come from Indonesia's Lion Air, which is seeking 201 although many aviation analysts suspect the airline won't ultimately take delivery of all.