Obama honors World Series Champion San Francisco Giants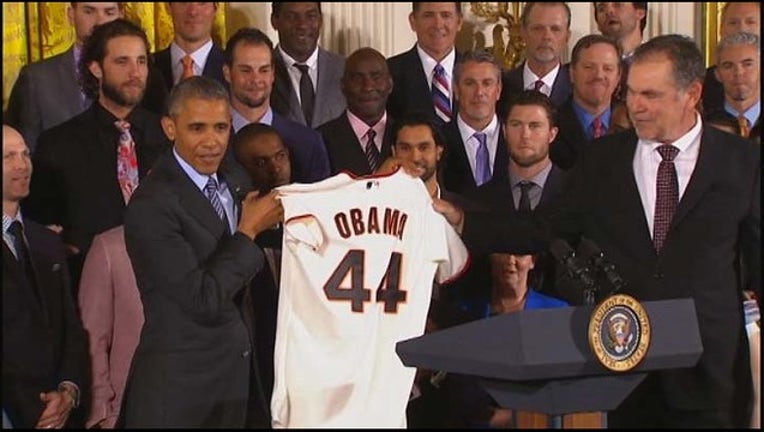 article
WASHINGTON (KTVU and wires) – For the third time during his presidency, Barack Obama welcomed the San Francisco Giants to the White House Thursday to honor their World Championship season.
The fact that it was the third time did not escape Obama in his opening remarks as he saluted the team that has not lost a playoff series since 2003.
"They are doing it at a time when we have more playoff teams than ever before. More parity than we have seen in a long time. Even the (Chicago) Cubs have a shot this year," said Obama referring to his Chicago roots. "I continue to hold out hope that my (Chicago) White Sox can turn it around."
"But parity seems to be wiped away when the Giants get into the playoffs. The truth is if they get in – they probably will win it. They've got that even year magic. They have that championship experience and I seem to be good luck for them."
The team presented the president with a Giants No. 44 jersey bearing his name, an autographed baseball given to him by World Series hero Madison Bumgarner and an autographed base.
Bumgarner said it hasn't gotten old visiting the White House even through fellow ace Tim Lincecum chose not to join the team at the ceremony.
"It feels even more special every time we come," he said. "This time is more special than the last."
"It's just the first time it goes by kind of fast for you. You are in awe of everything. After that you start noticing a few more things and realize how special it is to be able to be here."
Lincecum skipped the ceremony, opting instead to fly separately Thursday morning to Philadelphia and rest for his start.
"I hope he doesn't miss me," the pitcher said of the president. "I don't want to seem ungrateful for the opportunity."
But Lincecum is most concerned about being fresh for Friday to keep a good thing going, eager to bounce back from losing his last outing Saturday against Atlanta. He is 5-3 and was 4-0 over five starts until that defeat.
"I try not to take it as a lump sum, look at it as a whole," he said of moving forward each time.
Most of the Giants 2014 team appeared alongside the president, along with San Francisco politicians U.S. Rep. Nancy Pelosi and Mayor Ed Lee, Giants CEO Larry Baer and manager Bruce Bochy.
"I am particularly honored to have a couple of trailblazing Hall-of-Famers here, Monte Irvin and 'The Say Hey Kid,' Willie Mays," Obama said.
Irvin, who joined the New York Giants in 1949, and Mays, 1951, were among the first black players in Major League Baseball after the league was desegregated with Jackie Robinson joining the Brooklyn Dodgers in 1947.
The president also honored the Giants for their charity work off the field, including the Junior Giants program and new efforts to create an Urban Youth Academy in coordination with San Francisco State University to provide opportunities for San Francisco's underserved youth.
Baer said the Junior Giants program helps 23,000 youth play baseball who would not be able to otherwise.
"The game of baseball really has the ability to be much more than a game. It's really a shared story, the way we look at it in San Francisco," Baer said.