Officials: 5 rushed to hospital, 2 homes completely collapse after apparent gas explosion in Port Richmond
PORT RICHMOND - Fire officials say they believe a gas explosion sparked what turned out to be a terrifying New Year's morning leaving five people in the hospital and two homes completely destroyed.
About 100 firefighters, medics, chiefs and support staff responded to the 3500 block of Miller Street just before 3 a.m. for calls about an explosion in Philadelphia's Port Richmond section.
They arrived to find what appeared to be a gas explosion with two collapsed homes, several cars pushed from the street, blown out windows and debris everywhere, according to Philadelphia's Assistant Fire Chief Charles Walker.
"We had multiple gas leaks in the area, and the smell of gas coming from multiple areas," Walker said.
Five people were transported to local hospitals with one man in extremely critical condition. No details were released regarding the conditions of an unknown man and a 64-year-old woman, while a 47-year-old man and 44-year-old woman are said to be stable.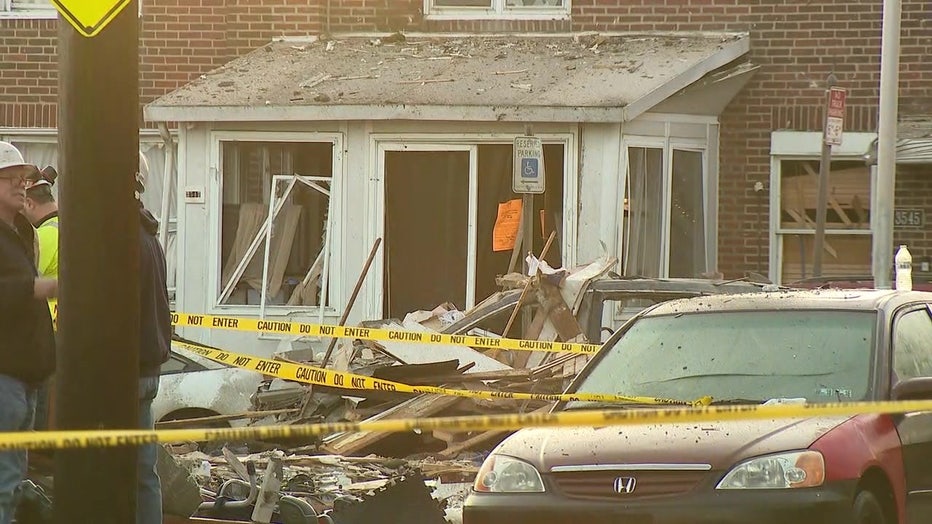 Homes destroyed in possible gas explosion.
RELATED: 'It was World War III': Neighbor describes horror of being trapped in rubble of apparent gas explosion
Officials say two of the victims were able to escape the homes on their own, but at least one had to be dug out from debris.
"We were very fortunate from what we know now not to have a loss of life, because it's the middle of the night and everyone is sleeping," Walker said. "And if it's confirmed to be a gas leak, it's very rare to have the magnitude of this type of damage occur to not have loss of life, truly a blessing."
MORE HEADLINES:
Chris Heinsinger says his drive down North Miller Street early New Year's Day continues to replay over and over in his head. He was in his car with a passenger when the Philadelphia Fire Department says there was a possible gas explosion.
"I feel really lucky," Heinsinger said. "I just couldn't believe it, you know, it was so loud and I just remember ash raining down and just debris everywhere. It looked like a war zone or something out of a movie. They all just flattened out right to the ground."
He says the force of it pushed his car, and others, up on the curb and briefly knocked his passenger unconscious.
No firefighter injuries have been reported, and officials say they are confident all residents have been removed from the collapsed homes.
However, residents from several blocks surrounding the scene were evacuated and moved to safety on SEPTA buses and inside the Samuel Recreation Center for a time.
The scene was placed under control in about two hours as public safety crews turned off gas and electric to the area. The safety of surrounding buildings, which also sustained damage, will be confirmed before allowing any residents to return.
Red Cross and Philadelphia Office of Emergency Management among the city's groups at the scene throughout Sunday, as neighbors and restoration companies boarded up windows and cleaned up the aftermath.
"My granddaughter was in the front room. God bless, she didn't get hurt," neighbor Joseph Hinkie said, talking about a window that shattered in his room.
Heinsinger, too, is counting his blessings. He went to the hospital as a precaution, but is home with only some bumps and scrapes. "I mean, it just replays over and over. It's probably going to be that way for a little bit of time, but it's definitely going to be a New Year's that I'll never forget."
The cause of apparent explosion is currently under investigation.