Online school for tech sales lets you pay when you get paid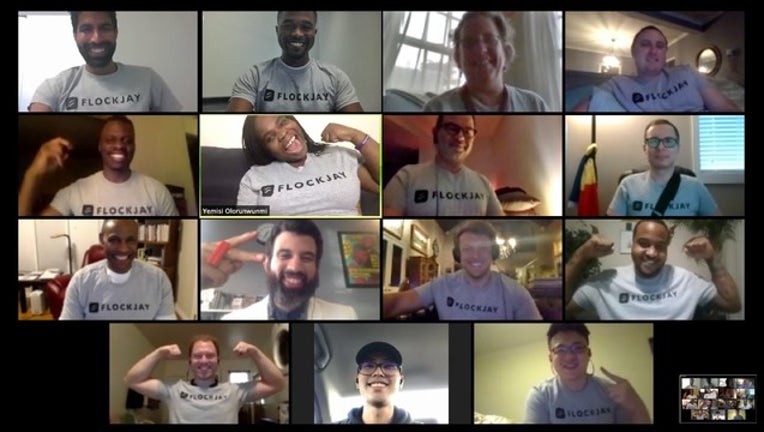 article
San Jose, Calif. (KTVU) - Getting a job at a tech company seems like a remote possibility for most people – the traditional route has been software development – a skill with a steep learning curve. 
But it's not the only skill in demand at tech companies. Flockjay, an early-stage SF-based startup offers training and coaching for another route– sales. Founded earlier this year, the startup has an interesting twist to its business model – students receive coaching and training for free over 12 weeks, and only pay after they land a job. The startup also does the job of a headhunter – lining up prospective employers for these students. 
Flockjay was a part of the recent Y Combinator Winter 2019 batch. KTVU met up with the founder Shaan Hathiramani as they were graduating the first batch of students to know more about their plans for the startup. 
"I was trying to learn what are the hardest roles to hire for. What's the most lucrative and impactful role that affects a company's destiny?" says Shaan Hathiramani, explaining how he crystallized the idea after spending a year working for free as an advisor to startups. "You could have the best product, but if you don't have a good sales team your startup won't grow."
The startup has also made it its mission to increase diversity in tech – and encourages people from underrepresented backgrounds to join them. At present, anyone based in the US can apply. 
"80 percent of students from our last batch were either black, Latinx, or female. It will probably be something similar for this batch as well, because the goal is to make it possible to people from underrepresented communities," Hathiramani says. 
Flockjay sees a big opportunity in imparting a tech sales education – there are half a million tech sales jobs in the US, Hathiramani says, and it's a skill that's not taught at schools. "I spoke to 250 colleges and none of them teach Salesforce," he says, referring to the SF-based cloud-CRM tech giant. The 12-week curriculum includes training in inbound and outbound sales, using sales tools such as Outreach, LinkedIn, ZoomInfo, Zoom, etc. Students are also trained in the skills of persuasion – sales techniques like mirror and matching, and active listening. 
It's still early days for the startup – when KTVU spoke to the founder, Flockjay had just completed training its first batch of students – a total of 17 students. The startup has three full-time and four part-time employees, along with a network of volunteers and teachers.  Thanks to the Y Combinator network, they had onboarded around 30 startups at the time to hire from its talent pool. "Even before they graduated the program, 70 percent of them had jobs," Hathiramani says. 
"My colleagues had diverse and interesting backgrounds and the instructors were knowledgeable and very hands-on with helping us navigate various technologies," said Kwasi Aggor, a student from their first batch. He credits the hands-on nature of the curriculum for landing his current job at Freckle, an SF-based e-learning company. "I really enjoyed hearing directly from guest speakers who had founded technology companies or were currently in leadership roles at high growth tech companies," he adds.
"I'm on track to earn 2x more than the employment prospects I originally sought for myself. Some of my classmates are earning 3x more and beyond," says Yemi Olorunwunmi, who passed out of Flockjay's last batch. 
Aggor and Olorunwunmi will be paying Flockjay 10% of their salary for one year, or $9,000 as a maximum total payment, whichever is lesser. 
"ISAs (income sharing agreements), in general, are cool because they align the school's incentives with the students' goals to actually get jobs (the school doesn't get paid unless they do their job)," says Liz Eggleston, co-founder and editor of Course Report, a website that tracks the bootcamp industry. "There is certainly a demand for folks who can fill these technical sales roles but those roles require a pretty specific skillset, so getting a crash-course that ends with interviews/job opportunities can be a great path into technical sales," she added.
"There are several other bootcamps that offer ISAs but no other sales bootcamps that we know of," says "Technical sales is definitely a category in the bootcamp industry though much smaller than coding, data science, or UX design," she said, over an email conversation. According to Eggleston, companies most similar to Flockjay include GrowthX Academy, PreHired, Humind, and Tradecraft. 
The leading ISA bootcamp is Lambda School. The Y Combinator-backed startup focuses on software development, and has raised close to $50M so far.
Flockjay plans to double the size of its classrooms, with each batch. "Since the training is done online and virtually, we can keep adding students while adding teachers as well without any physical space," says Hathiramani. He believes there's a large addressable market within the US for his startup – starting with SaaS (software as a service) companies, where sales can account for 50 percent of the organization's size.  
"Every company is going to become a tech company. Allstate is going to have to figure out how to sell insurance online. There are 35 million sales reps in this country and they're all going to need technical training. Our ambition is to be the platform to help them be technical," he says.