Oprah Winfrey in 'awe' as book club celebrates 100th pick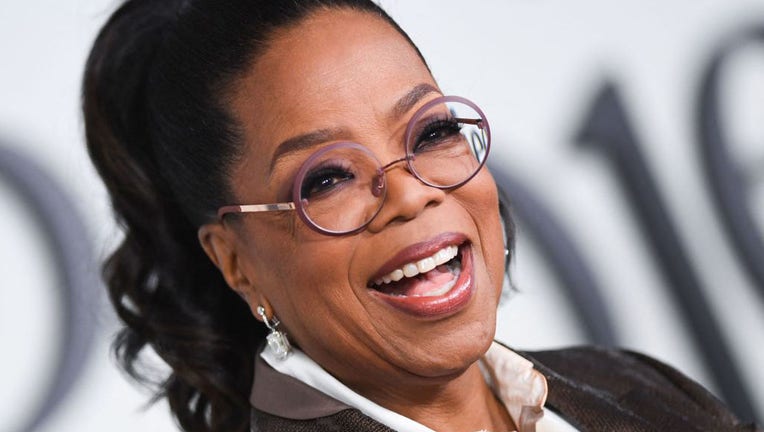 article
For her 100th book club pick, Oprah Winfrey relied on the same instincts she has drawn upon from the start: Does the story move her? Does she think about it for days after? In a work of fiction, do the characters seem real to her?
"When I don't move on, that's always a sign to me there's something powerful and moving," Winfrey told The Associated Press in a recent telephone interview.
On Tuesday, she announced that she had chosen Ann Napolitano's "Hello Beautiful," a modern-day homage to "Little Women" from the author of the bestselling "Dear Edward." The novel was published Tuesday by Dial Press, a Penguin Random House imprint, and Winfrey believes its themes of family, resilience and perspective give "Hello Beautiful" a "universal appeal" that makes it a proper milestone.
A Winfrey pick no longer ensures blockbuster sales, but it retains a special status within the industry; for authors, a call from Winfrey still feels like being told they've won an Oscar. Winfrey told AP that she is in "awe" of the club and its history, "the very notion" that someone might go and buy a copy of "Anna Karenina" simply because she suggested it.
Kristen McLean, an analyst for NPD Books, which tracks industry sales, says that Winfrey is especially effective these days when promoting a known author such as Barbara Kingsolver and her novel "Demon Copperhead," a bestseller since Winfrey picked it last fall.
Since 1996, Winfrey's book choices have set her on a journey of extraordinary influence and success, frequent reinvention and the occasional controversy. It has endured through changes for both Winfrey and the publishing industry, through the rise of the internet and the end of Winfrey's syndicated talk show, through immersions in the classics and unexpected lessons in the reliability of memoirs and the lack of diversity of book publishing.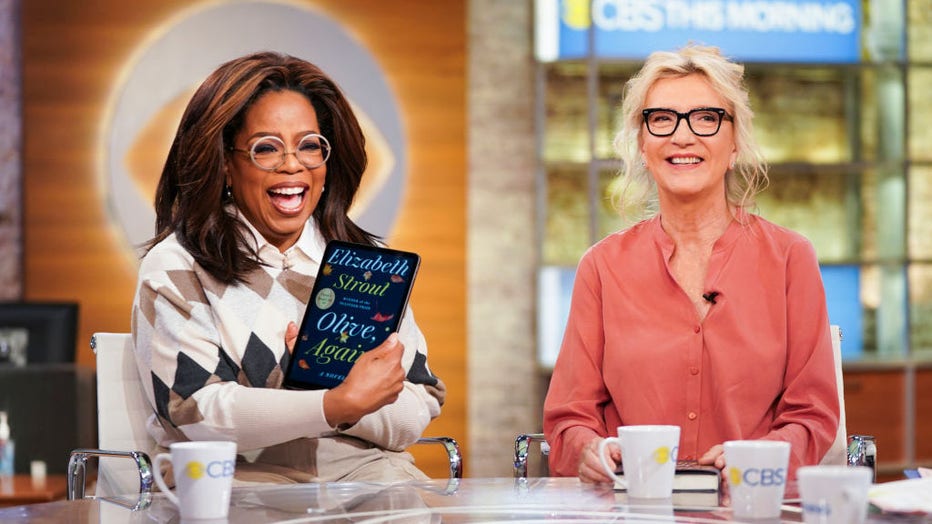 CBS This Morning Co-Anchors Gayle King, Anthony Mason, and Tony Dokoupil interview Oprah on her new Book Club Selection, "Olive, Again" with author Elizabeth Strout. (Photo by Michele Crowe/CBS via Getty Images)
Thanks to Winfrey, contemporary authors such as Jacquelyn Mitchard and Jane Hamilton found audiences they never imagined, while picks published decades or even centuries earlier, from "Anna Karenina" to "As I Lay Dying," placed high on bestseller lists. Winfrey didn't invent the mass market book club, but she demonstrated that spontaneous passion can inspire people in ways that elude the most sophisticated marketing campaigns.
Her most troubled choices — James Frey's fabricated memoir "A Million Little Pieces," Jeanine Cummins' "American Dirt," a novel criticized for stereotypical depictions of Mexicans — made so much news in part because of the spotlight of a Winfrey endorsement.
The club began as the extension of conversations between herself and her producer at the time, Alice McGee. They would talk about the books they liked until McGee finally suggested, in 1996, that Winfrey share the experience with her viewers. The first pick, Mitchard's "The Deep End of the Ocean," has sold more than 2 million copies. Other books also became major bestsellers, whether by established authors like Joyce Carol Oates ("We Were the Mulvaneys") and Toni Morrison ("The Bluest Eye") or then-emerging writers like Janet Fitch and Tawni O'Dell.
The club was so popular that some suspected a catch. Winfrey remembers Quincy Jones asking her: "How much money are they paying you for that book club, baby?" The process was so informal that Winfrey at first didn't even bother going through intermediaries.
"I would just call Wally Lamb," she says of the author of "She's Come Undone," her fourth pick. "In the early stages, I would finish the book and then find the author. When you'd go to the back of the book, it gives you the bio of the author and it would tell you what city the author lives. And, this is when we had phone books, in every instance I was able to get the author's phone number because the author was listed."
RELATED: SF's famed 'Princess Diaries' home hits the market for $8.9 million
Winfrey's system is now only slightly more structured. Leigh Newman, books director of the online/print publication Oprah Daily, will call the publisher first and arrange a "surprise call" with the author and Oprah. Winfrey's staff will research the author's background to make sure nothing problematic turns up — whether criminal charges or allegations of plagiarism. The vetting began, Winfrey says, after "A Million Little Pieces" turned out to have substantial falsehoods, leading to an extraordinary public scolding by Winfrey when she brought Frey back on her show to explain himself. (They have since reconciled).
"I took it so personally," she says. "I probably should haven't taken it so personally but I felt like he had let me down and I let the audience down. ... I was the one saying, 'Can you believe this is a true story?' and shouting that from the rooftops. I felt foolish for doing that, embarrassed for doing that."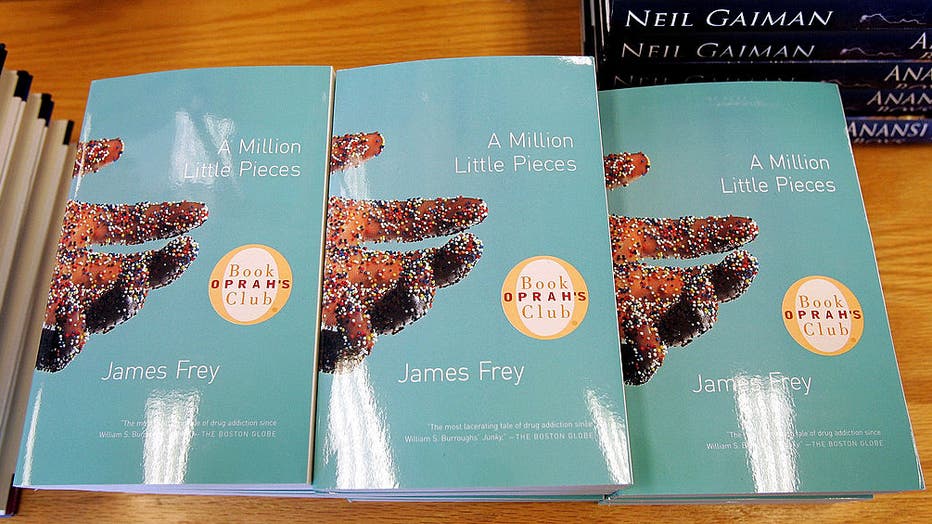 An Oprah's Book Club book titled "A Million Little Pieces" by James Frey is displayed at a Borders Book store September 26, 2005 in Norridge, Illinois. Oprah has once again began to name living authors in her book club as the importance of having an
Winfrey's book choices are still in-house and intimate — mostly just determined by herself and Newman — although Winfrey says she made a rare exception for "Hello Beautiful," recommended to her by the president of Creative Arts Agency, Richard Lovett. Otherwise, Newman will seek out books she thinks Winfrey might respond to — fiction or nonfiction, as long as the story is "compelling," Newman explains. Winfrey will also come upon books on her own.
The club follows no real formula. For the first few years, Winfrey averaged a selection nearly every month, a pace she came to find exhausting. She paused the club for much of 2002-2003, focused on older works in 2004-2005, and in other years only selected one or two titles. After her talk show ended in 2011, she launched Oprah's Book Club 2.0 the following year, with the emphasis on digital media.
She is currently aiming for a new book every eight weeks, with author interviews and interactive reader discussions showcased on OprahDaily.com. Winfrey has no plans to stop, and no specific goals for selections. In the aftermath of "American Dirt," selected early in 2020, she had vowed to open herself up "to more Latinx books." But she has not since picked any for her club and is not committing herself for the future.
"I'd never choose a book because the author is Hispanic, or Black, or Indian. I'm not going to be put in that box," she says. "The book has to live on many different levels to me. It doesn't mean there are not fantastic books by authors of every race and creed. It means I haven't seen one yet (for the club). But we're mindful of it and I've come close a couple of times."
Winfrey's choices are influenced at times by a relatively recent trend — competition.
Over the past few years, Reese Witherspoon and Jenna Bush Hager have demonstrated that they too, can win the trust of large numbers of readers, whether Witherspoon's early promotion of Delia Owens' blockbuster "Where the Crawdads Sing" or Hager reviving interest in Donna Tartt's 1990s bestseller "The Secret History." The exuberance of young people on TikTok helped make Colleen Hoover the country's most popular fiction writer.
Winfrey is respectful: If she hears a book she might choose is also being pursued by Witherspoon or Hager, she will step back and pick another. But she also claims her place. Yes, Witherspoon, Hager and the BookTok kids are all great, but no one should forget who came first.
"We started this conversation," she says. "And I'm very, very proud of that."