Part of Sonoma Overlook Trail to reopen later this month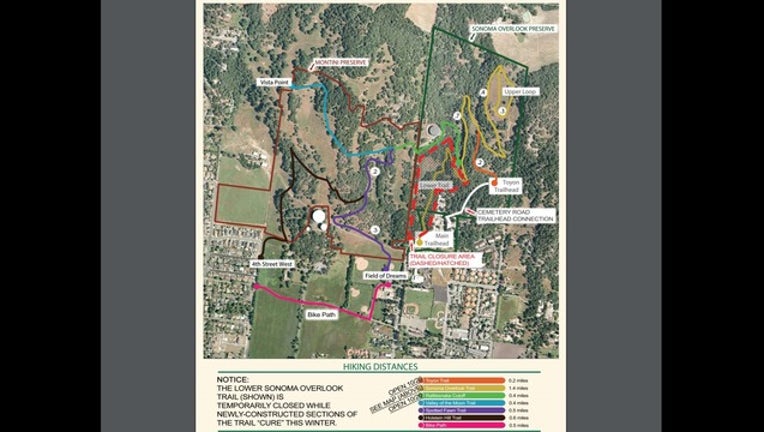 SONOMA, Calif. (BCN) - Part of the popular Sonoma Overlook Trail will be reopening to the public later this month after closing in June for a rehabilitation project because of high usage that led to erosion and unsafe conditions, Sonoma city officials said Friday.
The Upper Meadow Loop trail will reopen Oct. 20. It leads to a scenic outlook and is accessible from the Toyon Trail entrance in the Mountain Cemetery and through the Montini Open Space Preserve, according to the city.
The Lower portion of the trail from the kiosk to the Montini trail junction will stay closed through the winter, or until soil moisture increases.
The high number of hikers led to erosion and the exposure of bedrock that created unsure footing. The city worked with the Sonoma Overlook Trail Stewards on the rehabilitation project that started June 17.
The reopening was initially planned for mid-September but was delayed due to weather and the unavailability of necessary materials, according to the city.
The improvements to the trail include the addition of stone steps at the main trailhead, short runs of steps in other areas, and a 795-foot reroute to avoid a degraded portion of the Lower Trail.
Volunteer work and more than $200,000 in donations from local businesses have helped fund the project, which also received a State Parks Habitat Conservation Fund grant of more than $55,000, city officials said.
The "considerable efforts and generosity have ensured that the community will continue to enjoy the Sonoma Overlook Trail for years to come," Sonoma Public Works Director Colleen Ferguson said in a statement.