Peanuts comic strip creator honored for World War II combat service for Veterans Day
Santa Rose, California - The year marks the 85th anniversary of the national holiday we now call Veterans Day, formerly known as Armistice Day. The holiday is celebrated on Nov. 11 each year because World War I ended on the 11th hour of the 11th day of the 11th month in 1918. Congress declared it a holiday 20 years later. KTVU attended a very special event in Santa Rosa that honored one veteran who happened to be one of the world's most beloved cartoonists.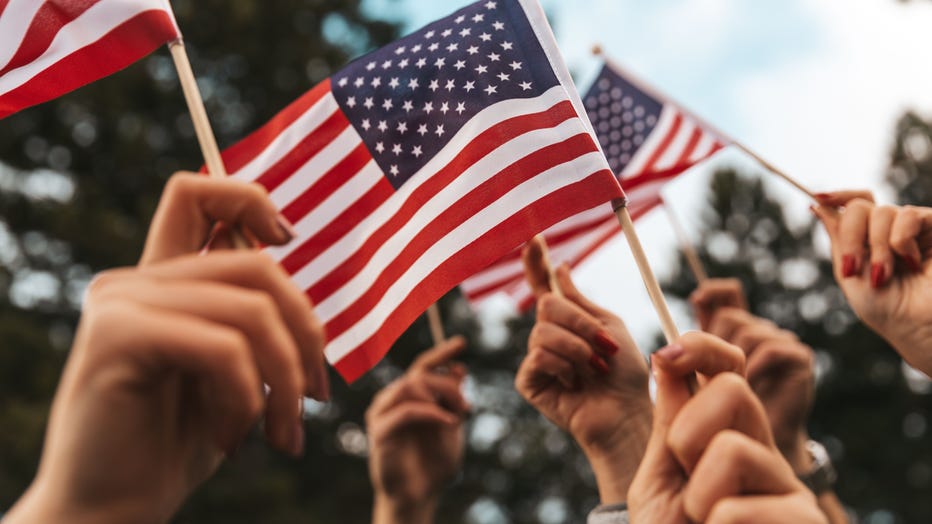 American flags waving on Veterans Day. Getty Images
Veterans Day celebrations got an early start in Santa Rosa on Friday when a plaque was placed in the garden of the Charles Schulz Museum. It commemorates the Peanuts creator's World War II military service.  He was in the 20th Armored Division, a combat unit that fought the Battle of Munich and co-liberated the Dachau concentration camp.
The event included a flyover of prop-driven military trainer planes as well as displays of World War II combat vehicles. Schulz's wife of 27 years spoke at the event. 
 "He felt good about himself because he grew up in the Army, but that made him feel better I think about the whole process of what he went through. He put it into his comic strip which he put everything he lived into," Schulz's widow, Jean Schulz told KTVU. 
The event honored other local veterans as well as the Nation's Finest veterans help group which was founded in Santa Rosa a half century ago. 
"Homeless prevention, behavioral health, mental heal, job placement; anything a veteran needs, we provide," said Chris Johnson, CEO of Naton's Finest.
Army veteran Steven Hernandez has made a career out of helping down-and-out veterans because he feels deeply for them. 
"I think empathetic, sad largely, but also really, just hungry and really dedicated to getting out in the community and being able to provide services to the veterans that served our country," said Mr. Hernandez.
Air Force veteran Janet Doto says Veterans Day is different from Memorial Day. 
"Veterans Day is for living veterans and it's a chance to support and to thank living veterans who need it the most," Doto told KTVU. 
Many women veterans were on hand for the celebrations, including Navy veteran Norma Ibarra who once fueled planes on an aircraft carrier deck. 
"People understand it more because it's out there . People are doing more to celebrate. People are understanding that women can serve just like men," Ibarra said.  
Maura Mooney was a Navy Medical Corpsman, and she says women are capable of handling any military duty assigned to them. 
"They should think, she can do any job, which now they can. They're assigned to almost anything," Mooney told KTVU.
The words of Maya Angelou rang true for Friday's event: "How important it is for us to recognize and celebrate our heroes and our she-roes!"