Suspect shot dead by Hayward police following chase
CASTRO VALLEY Calif. - Hayward police shot and killed a suspect following a chase that ended in Castro Valley on Monday. 
Alameda County sheriff's investigators said the suspect was involved in a kidnapping attempt and robbery at the Home Depot in Emeryville. He then fired a dozens shots near his ex-girlfriend's apartment complex near Gary Drive and Strobridge Avenue in Hayward at about 10 a.m. 
"He took out a handgun, fired multiple rounds in the area even as he continued to leave the scene and getting into his car," said Officer Cassondra Fovel, a Hayward police spokeswoman.
"He had multiple magazines," said sheriff's Lt. Ray Kelly. "We know that he fired close to a dozen rounds at the scene. He was actually an active shooter at one point, and we were getting multiple 911 calls saying there's a man with a gun firing." 
KTVU crime reporter Henry Lee, who has been closely following all the developments in this story, said that the suspect's silver 2001 Mercedes was spotted by Hayward police. Officers tried to pull him over, but he refused to stop and a chase ensued.  
In a news release later Monday night, Hayward police said the pursuit was initiated due to an active and ongoing potential threat to the community. 
Kelly noted that the suspect wasn't going very fast. Officers feared the suspect was trying to lure them into some kind of trap while armed.
"He was actually holding the gun up to the pursuing officers and threatening them with a handgun," Kelly said.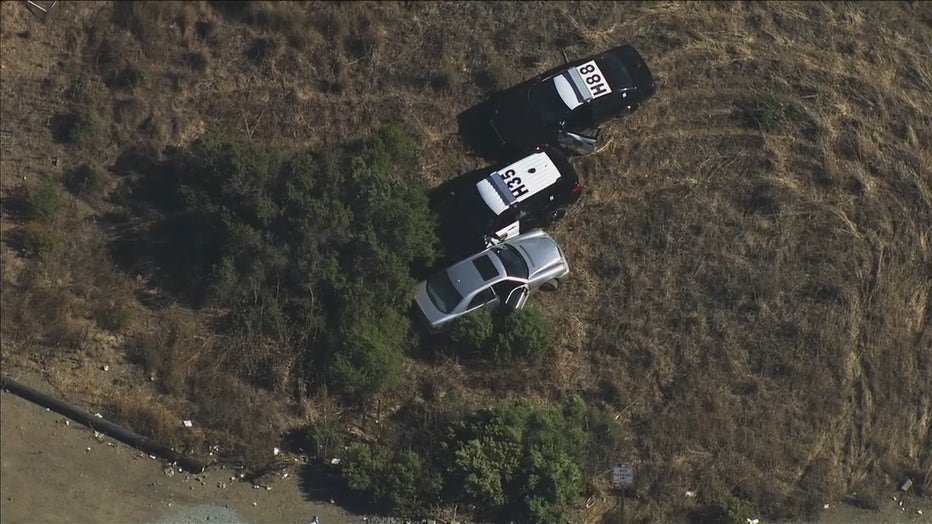 The suspect ended up on Eden Canyon Road off Interstate 580, where he crashed after Hayward police rammed his car to a stop using a tactic called the PIT maneuver. But he refused to stop.
"He rammed one of the patrol cars. We believe the officer's legs were pinned between the door and the frame of the door," Kelly said. Hayward P.D. said the officer's injuries were non-life threatening. 
Authorities said the suspect then tried to carjack another driver. He pointed his gun at a female driver in an attempt to either kidnap the victim or carjack her vehicle, Hayward police said. The victim was not injured. 
Some type of confrontation unfolded involving Hayward police, and at least one officer opened fire.
The suspect was rushed to a hospital and was later pronounced dead.
The deadly shooting by officers is under investigation by Hayward police and the sheriff's office. Alameda County prosecutors will determine later whether the shooting was legally justified. Police said a loaded firearm was recovered from the scene. 
Hayward P.D. said the suspect's identity is known but is being withheld pending notification to next of kin. Police are not identifying the officers' involved at this time.