Police investigating apparent anti-semitic hate crime at UC Hastings dorm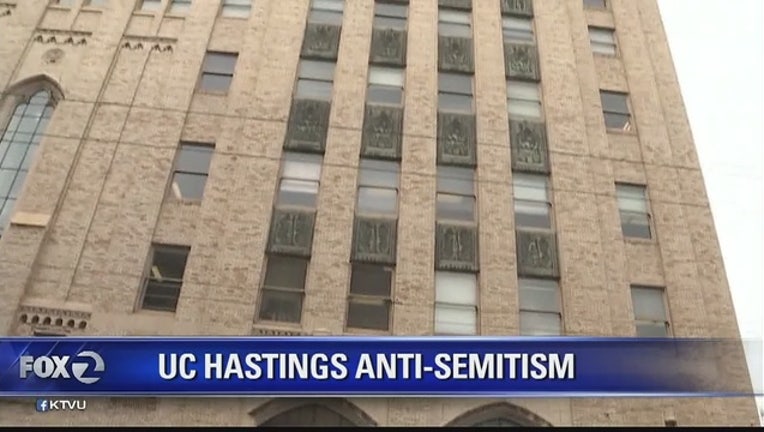 article
SAN FRANCISCO (KTVU) - University of California police are investigating an apparent anti-Semitic hate crime in a dormitory at UC Hastings College of Law in San Francisco.
It was discovered Monday inside McAllister Tower which houses the dormitories.
KTVU spoke with the apparent victim of the alleged crime, a third year law student; on condition we not reveal his name.
He said he noticed his mezuzah was partially burned.
A mezuzah is mounted on the door frame as a sign of a Jewish home.
"When I came home Monday morning or noon, I noticed melting and some black, like someone held a lighter to it. I called UCSF police and they agreed somebody tried to burn it," the student said.
The bottom of the mezuzah appears charred.
In a written statement to students and faculty, law school Dean David Faigman condemned what happened saying in part "We will not tolerate hateful actions of any sort against members of our community."
"People want to feel safe where we work, where people study to learn the law. For a report to come in like this is deeply troubling," said Alex Shapiro, spokesman for UC Hastings.
"It was very shocking someone would try to burn a mezuzah. I don't think it was directed at me. But there is something deeper at play right now," said the student.
In the past few months there have been bomb threats at Jewish community centers in the Bay Area and across the country. Jewish cemeteries have been vandalized.
The Anti-Defamation League says hate crimes have been on the rise since last year's presidential campaign.
"The campaign made certain groups more emboldened. They already existed but they felt their views being mainstreamed and give wider audiences and wider acceptance," said Seth Brysk, regional director for the Anti-Defamation League.
McAllister Tower does have a security guard in the lobby.  Visitors must sign in, but there are no security cameras on that dorm floor.