Popular Shreve & Co. jeweler chased out of retail location after rent hike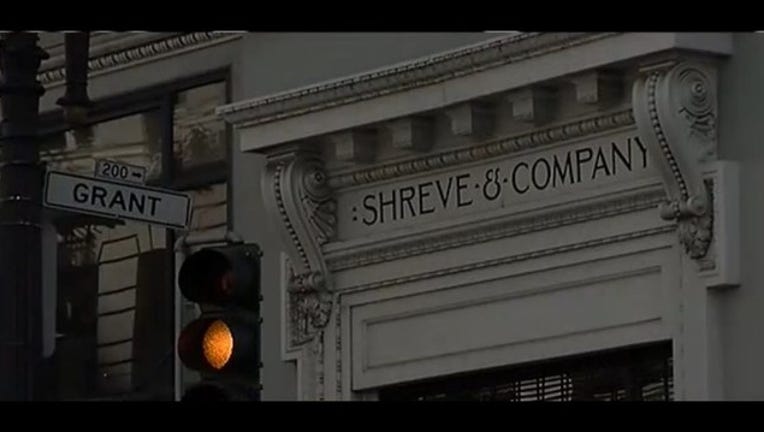 article
SAN FRANCISCO (KTVU) - San Francisco's booming real estate market is not only driving up home prices and rental rates, it's changing the retail landscape too.
Renowned jeweler Shreve & Co., located in San Francisco's Union Square, is in the midst of its first ever moving sale after the owners failed to reach a rental agreement with the landlord.
The high-end jeweler is leaving the building on Post Street it's called home since 1906 and a building bearing its name.
"Basically we were out bid for the space," said Lane Schiffman, the company's managing partner and co-owner. "It didn't make economical sense that we could possibly stay."
Schiffman told KTVU the landlord wanted double the rent.
Julie Taylor of commercial real estate company, Colliers International, says rents for retail spaces are at new highs.
"The prime corners have absolutely taken off," she said. "20 to 25 percent increase in two years."
The overall retail vacancy rate in Union Square has hit below two percent, something Taylor has never seen in her 20 years of tracking the numbers.
"We just have far more retailers chasing far fewer spaces today," she said.
Sadly, Shreve & Co. was chased out.
Management spent several weeks searching for a new location and told KTVU they recently signed a lease on a site for their flagship store.
They wouldn't discuss details about the Union Square location, except to say it's close to the existing store and more than double its size.
Shreve & Co will move into a temporary location on Post Street until the flagship store is completed.
The relocation has led the famed jeweler to clean out the vault and discount its remaining inventory.
Schiffman showed KTVU a 5-karat emerald ring from the company's estate collection that has been discounted from $126,000 to $75,000 and a 15-karat diamond necklace that has been reduced by $53,000 to $35,300.
Never before has the jeweler hosted a sale like this, but never before has it faced a whopping rent increase.
"We're very thankful, enjoyed our run here but you know, got to move on," said Schiffman.