Prime members sue Amazon over Whole Foods delivery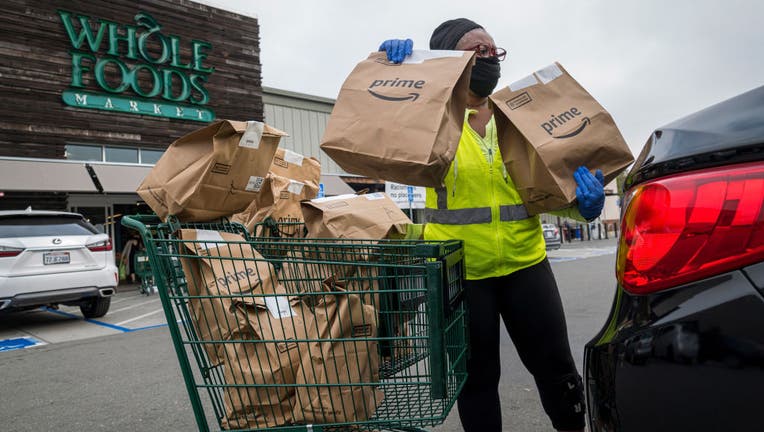 article
Some Amazon Prime customers are suing the e-commerce giant due to a policy change that drops free delivery from Whole Foods. 
The class-action lawsuit was filed in California. 
According to the lawsuit, Amazon started charging Prime customers $9.95 for Whole Foods delivery last year. 
The suit alleges Amazon misled customers by implying free delivery is still part of the Prime subscription and that the company advertised part of a price, revealing the fee at the end of the buying process. 
FOX Television Stations has reached out to Amazon for comment. 
RELATED: Amazon opens 1st physical clothing store in Los Angeles
Amazon will shutter six of its Whole Foods Market stores in the United States, according to FOX Business. 
The impacted stores are located in Montgomery and Mobile, Alabama; Tarzana, California; the Engelwood and DePaul neighborhoods of Chicago, Illinois; and Brookline, Massachusetts. The Englewood location is expected to close in the coming months, while the other five stores are expected to close by May 6. 
"As we continue to position Whole Foods Market for long-term success, we regularly evaluate the performance and growth potential of each of our stores, and we have made the difficult decision to close six stores," A spokesperson for Whole Foods told FOX Business. "We are supporting impacted Team Members through this transition and expect that all interested, eligible Team Members will find positions at our other locations."
The spokesperson declined to disclose the total number of employees that would be impacted by the closures. The company has more than 530 Whole Foods locations nationwide.
During the first quarter of 2022, Amazon reported a loss of $3.84 billion, or $7.56 per share, compared to a profit of $8.1 billion, or $15.79 a share, during the same period a year ago. Revenue in the company's physical store segment grew 17% year-over-year to $4.59 billion.
This story was reported from Los Angeles.