Roberta McCain, mother of late Sen. John McCain, dies at 108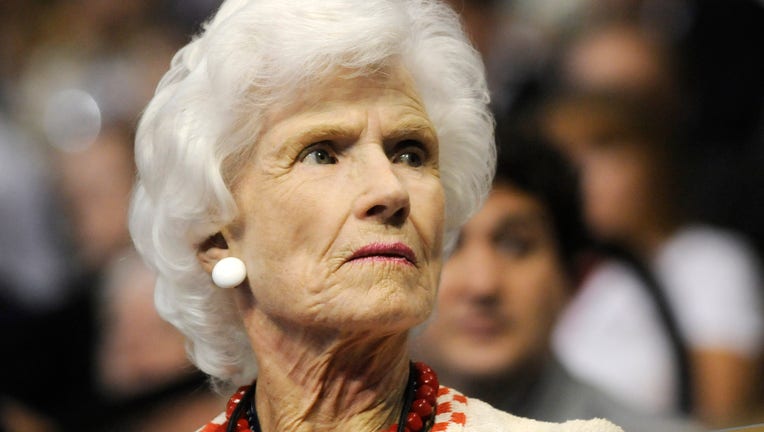 article
PHOENIX - Roberta Wright McCain, the mother of Sen. John McCain who used her feisty spirit to help convince voters during his 2008 presidential campaign, has died. She was 108.
A spokesperson for daughter-in-law Cindy McCain says Roberta McCain died Oct. 12. A cause of death was not immediately released.
At 96, Roberta McCain became the Republican senator's secret weapon at campaign stops as evidence that voters need not worry about her son's age — past 70 — as he sought the presidency.
She remained energetic and active into her 90s, traveling often with her identical twin sister Rowena, who died at age 99. She attended the 2008 Republican National Convention, where her son credited "her love of life, her deep interest in the world, her strength, and her belief we are all meant to use our opportunities to make ourselves useful to our country. I wouldn't be here tonight but for the strength of her character."
It was 1933 when a 20-year-old Roberta Wright defied her family and eloped with John McCain Jr. Documents released in 2008 showed that as a young ensign, John Jr. got into trouble when the couple decided to marry and he left his ship without permission.
"I got married young," she told The Muskogee Phoenix in her native Oklahoma in 2008. "I was 20 years old, and it was the best decision I ever made."
She married into a storied military family — her husband retired in 1972 with the rank of four-star admiral, the same rank held by his father, John S. "Slew" McCain Sr. Her son was later held as a prisoner-of-war in Vietnam even as his father was commander in chief of Pacific forces by the late 1960s.
Roberta McCain also was a young mother when her three children were born, later telling the Oklahoma paper that she was "too young and irresponsible to know you were supposed to worry about them. I just let them go. I got a kick out of watching them."
The senator, who died in 2018, said in 2008 that his "father was often at sea, and the job of raising my brother, sister and me would fall to my mother alone."
Her other son, Joe, told The Associated Press in 2007 that the family had endless dinner-table discussions about history, politics and legislation led by their mother.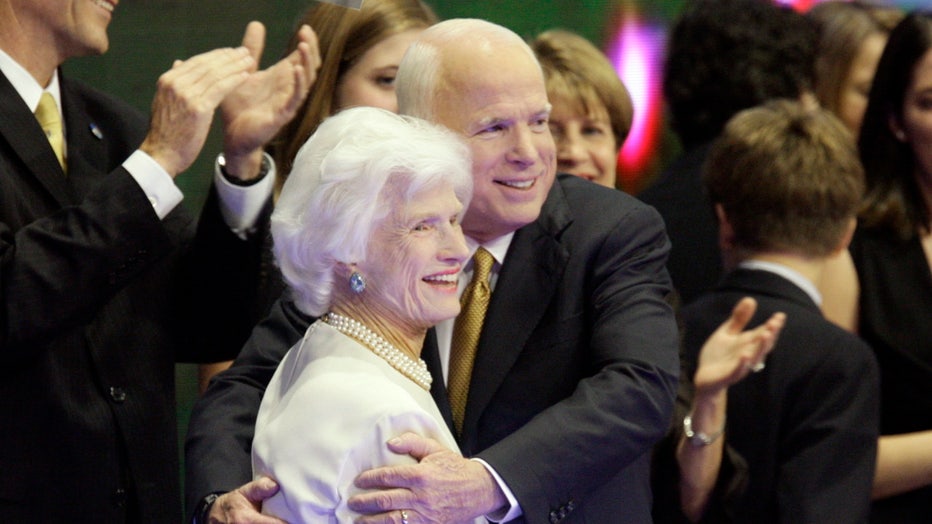 Surrounded by his family, Republican presidential candidate John McCain embraces his mother, Roberta, following McCain's speech to the Republican National Convention in St. Paul, Minnesota, Thursday, September 4, 2008. (Photo by Chuck Kennedy/MCT/Tri
"We were all basically on the same side of the fence," Joe McCain said. "But it was like Talmudic scholars arguing about a single word or an adjective in the Testament."
When Sen. John McCain wrote a memoir about his experience as a POW for nearly six years in a north Vietnamese prison, he described times when he swore in English at his Vietnamese guards, who didn't understand.
This story was reported from Phoenix.
Get breaking news alerts in the FOX 10 News app. It is FREE! Download for Apple iOS or Android.