Florida couple welcome third baby girl born on same day as their other daughters: 'Our mouths dropped'
OCALA, Fla. - A Florida couple welcomed a baby girl into the world on Sept. 3 — their third baby to be born on that date.
"Our mouths dropped," dad Jeremy Turner, 33, of Ocala, Florida, told Fox News Digital. 
"We were like, 'It's happening all over again.' When we were at the hospital, the doctors kept telling us that they've never heard of a case like this ever before happening in Ocala."
That's true — and the hospital confirmed it to Fox News Digital.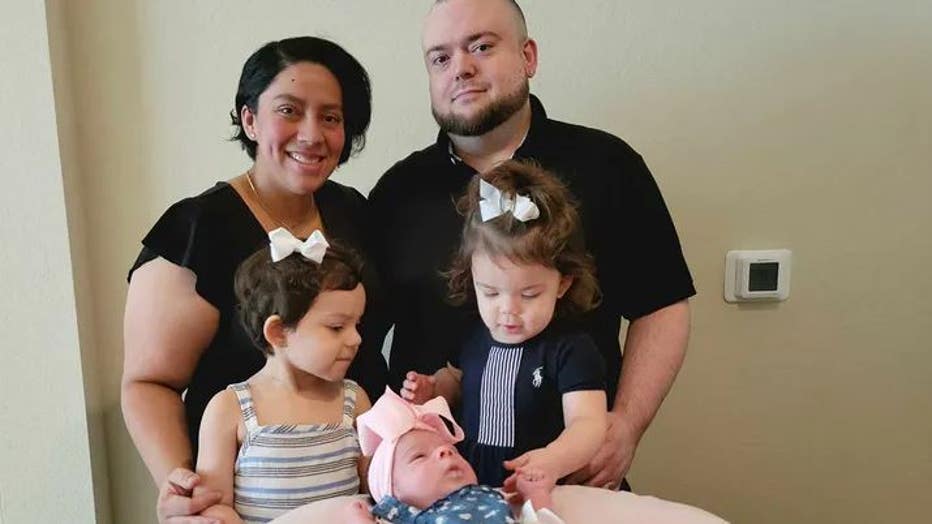 Sauhry and Jeremy Turner welcomed their three daughters into the world on the same calendar day across a span of four years. (Jennifer Turner)
"We celebrated the extraordinary when our team delivered the Turner family's third child in four years with all three children sharing the same birthday," Cindy Poirier, assistant vice president of Women's and Children's at AdventHealth Ocala, said in a statement.
She went on, "Such a rare and exciting event reminds us of the magic of life and the connections we foster here in our community."
All three births were natural, Sauhry Turner, 26, the girls' mom, said.
"People have asked me if I had C-sections," Sauhry Turner noted.
"No. No C-sections. All the girls were natural births and unplanned," Sauhry Turner added.
Jasmine Turner was born at 3:24 p.m. after 17 hours of labor, on Sept. 3, 2020. 
She weighed 7 pounds, 13 ounces, and measured 20 inches.
Exactly one year later, Jasmine's little sister Jessica was born, also on Sept. 3 — and the date wasn't the only similarity.
Jessica weighed 7½ pounds and measured 20 inches long. 
She also shares a birthmark in the same spot as Jasmine.
Jessica was due to be born on Sept. 7 – nearly missing the chance to be born on her sister's birthday.
"She came early," Sauhry Turner said. "But it was close to midnight, so Jessica almost didn't make it. She was born at 11:15 p.m.."
Sauhry said she did not go to any extreme efforts to make sure little Jessica was born before the stroke of 12.
It just happened on its own," Jeremy Turner said. "She was there at the hospital for a very long time almost the whole day. And then it just happened almost close to midnight."
When the Turners found out they were pregnant with a third baby, they were shocked when the ultrasound revealed a due date of Sept. 4.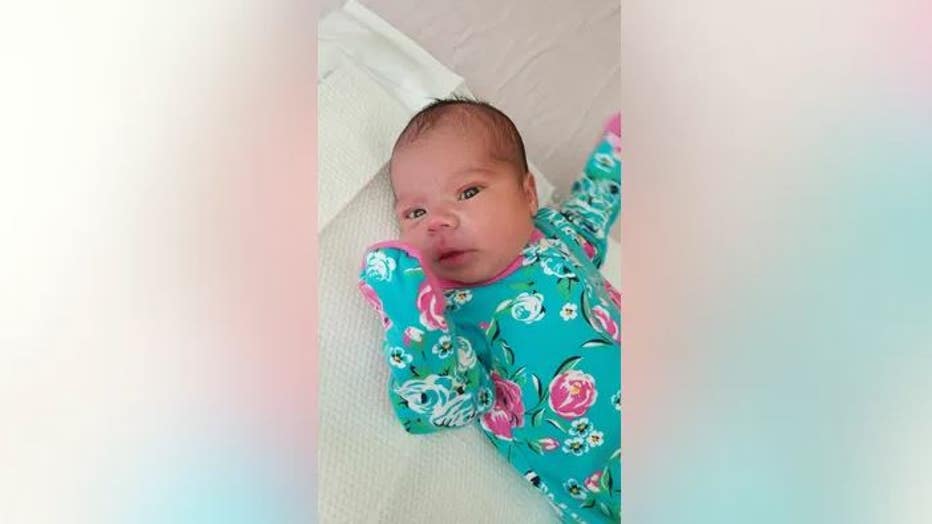 The family's newest addition, Juliet Turner, was born at 6:44 p.m. on Sept. 3, 2023. (Jennifer Turner)
"That blew our minds," Jennifer Turner, Jeremy's mother, who lives with the family, told Fox News Digital. 
"I was like, 'That's close. That's going to happen again,'" she said.'
Like clockwork, Juliet Turner was born at 6:44 p.m. on Sept. 3, 2023.
"It was just random," Sauhry Turner said. 
Jasmine, age 3, and Jessica, 2, have embraced their roles as big sisters.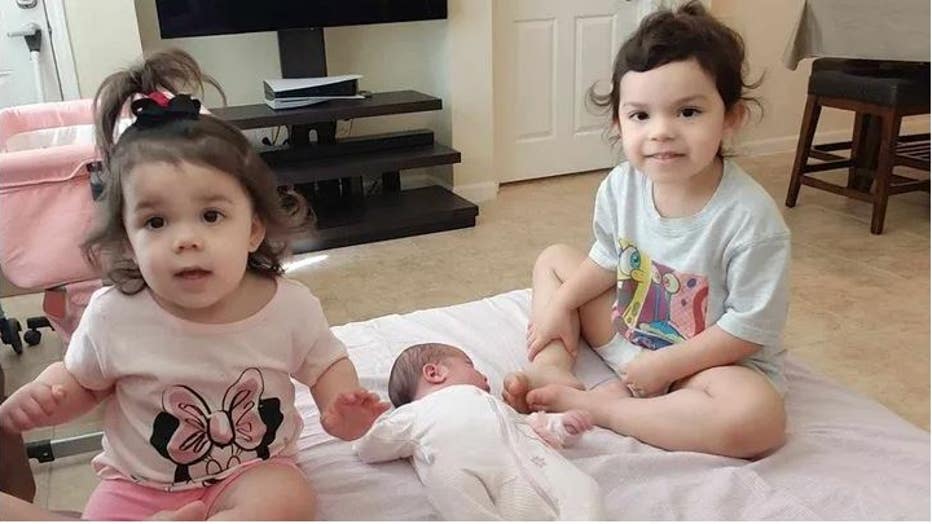 Jasmine and Jessica Turner have gladly taken on the role of big sisters. (Jennifer Turner)
The two share a room and their dad said they do not yet understand that they share the same birthdays with each other — and now with baby Juliet.
But Jeremy Turner said he's come to the realization that he's way outnumbered — mostly by girls who were born on Sept. 3.
"I'm the only guy in this home," he said. "I live with a bunch of girls now, but I love it. I know it's something unique that doesn't happen a lot. I'm the happiest father in Ocala. I am lucky to have these three girls born on the same day," he said.
While it does not happen often, there are families with even more children born on the same day. 
A Pakistani family of nine — the Mangi family — all share the same birthday: Aug. 1, Guinness World Records reports.
The father, Ameer Ali, mother, Khudeja, and seven children aged 19-30, hold the world record for the most family members born on the same day.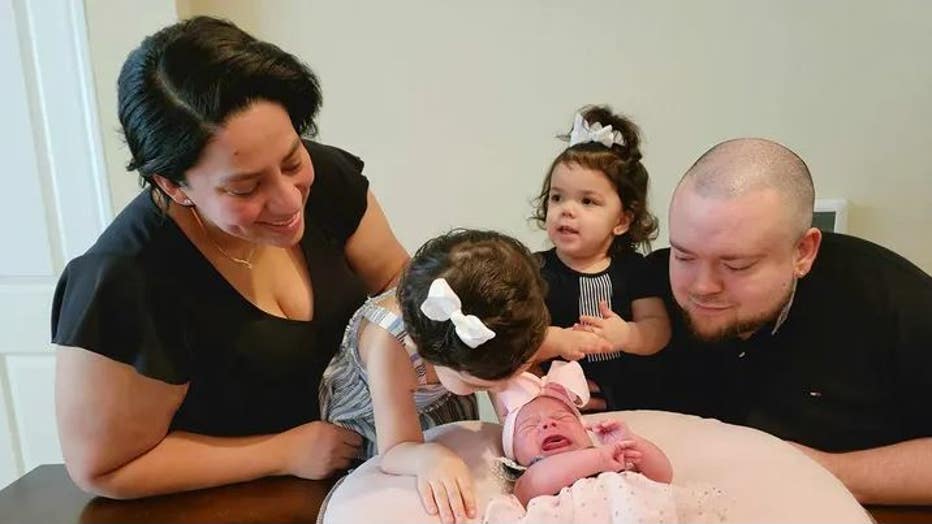 Jeremy Turner laughs as he realizes how outnumbered he is with the four girls in the house. (Jennifer Turner)
Making it even more special, Aug. 1, 1991, is also Ameer and Khudeja Mangi's wedding anniversary.
In 2021, a Minnesota family welcomed their third child in four years — all born on April 6.
As for the Turners, they said they feel "blessed."
"I just want them to be happy and healthy. Hopefully we can move to a house with more room to play," Sauhry Turner said.
Even with mom Sauhry Turner being in the hospital on her older daughters' birthdays, the celebrations have been plentiful.
"My dad came from out of town from Port St. Lucie to see Juliet and also came to celebrate Jessica and Jasmine's birthdays," Jeremy Turner said.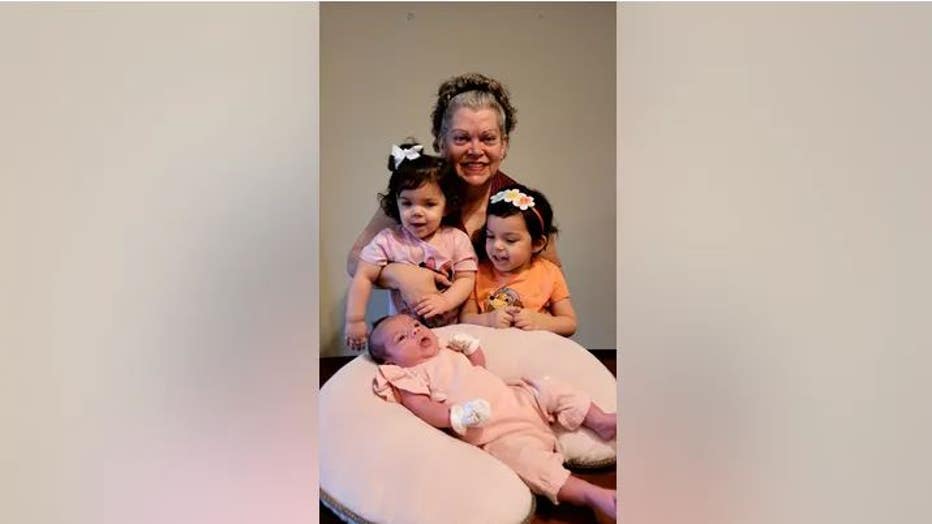 Dad Jeremy Turner celebrated the older girls' birthday before returning to the hospital to be with Sauhry Turner and newborn daughter Juliet. Shown here with the children is the girls' grandmother, Jennifer Turner. (Jennifer Turner)
Jeremy Turner said he thinks that aside from his girls sharing a birthday, they will also share a special bond.
"I think being born on the same day — that is something special they'll carry with them as they get older," Jeremy Turner said. 
"They will always have a close relationship since they share the same birthday." 
The hope is that next year, no one will be in the hospital, Jeremy Turner said — and that the family can take a trip to Disney World.