See it before it sees you: New species of jellyfish found with 24 eyes
Researchers say they have unearthed a new species of jellyfish – one with two dozen eyes.
The Hong Kong Baptist University-led team said Tripedalia maipoensis is the first discovery of a new box jellyfish species from the waters of China. The discovery also adds a fourth species to the Tripedaliidae family.
The detection of the jellyfish was recently published in a paper describing the new species in the international academic journal Zoological Studies.
THOUSANDS OF JELLYFISH-LIKE CREATURES DUBBED 'BY-THE-WIND SAILORS' SPOTTED ALONG CALIFORNIA BEACHES
The new box jellyfish species Tripedalia maipoensis. (Hong Kong Baptist University)
Researchers said they collected the jellyfish samples, which contained the new species from a brackish shrimp pond, locally called "gei wai," in the Mai Po Nature Reserve during the summers of 2020 to 2022.
"We named the new species Tripedalia maipoensis to reflect its type locality – where the new species was first found," said Qiu Jianwen, a professor of the Department of Biology at HKBU.
While the species is currently known only in Mai Po, Qiu believes that this species is also distributed in the adjacent waters of the Pearl River Estuary.
WHY JELLYFISH SHOW UP ON SHORE DURING A STORM – AND WHY MOST FISH DON'T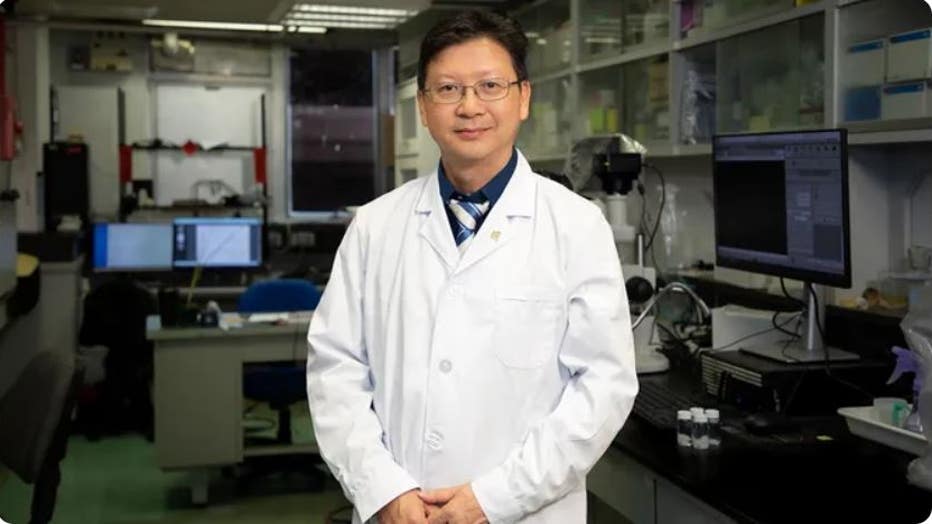 The research team was led by Qiu Jianwen, a professor of the Department of Biology at HKBU. (Hong Kong Baptist University)
According to scientists, Tripedalia maipoensis is a closely related species widely reported in the tropics and subtropics, including Jamaica, Florida, Singapore, Australia and India.
In addition to its transparent and colorless body, Tripedalia maipoensis has 24 eyes like other box jellyfish -- equally divided into four groups.
Researchers believe two eyes in each group have lenses that enable image-forming, while the other four can only sense light.
The species has an average length of 1.5 cm. That does not include its three tentacles, up to 10 cm long at each of its four corners.
It also has a pedalia, a flat pedal-shaped structure at the base of each tentacle that looks like a boat paddle. Researchers say this allows box jellyfish to produce strong thrusts allowing them to swim faster than other jellyfish.
"Box jellyfish are a small group of cnidarians with only 49 species reported worldwide," Qiu said. "They are poorly known in Chinese marine waters."
The discovery of the new jellyfish species in Mai Po, Qiu adds, highlights the rich diversity of marine life in Hong Kong and even the whole of China.