SF Pride Parade and Celebration canceled due to coronavirus concerns
SAN FRANCISCO - The 2020 San Francisco l Pride Parade and Celebration is the latest large event to be canceled in California due to the coronavirus social distancing concerns.
Organizers announced Tuesday that the annual event, which would have been celebrating a special 50th anniversary will not be held June 27-28 as scheduled.
"The restrictions on large-scale gatherings in the Bay Area and beyond really made it impossible to proceed responsibly with producing an event of our size," said Fred Lopez, the San Francisco Pride Executive Director. The milestone anniversary was expected to attract upwards of a million people, according to organizers.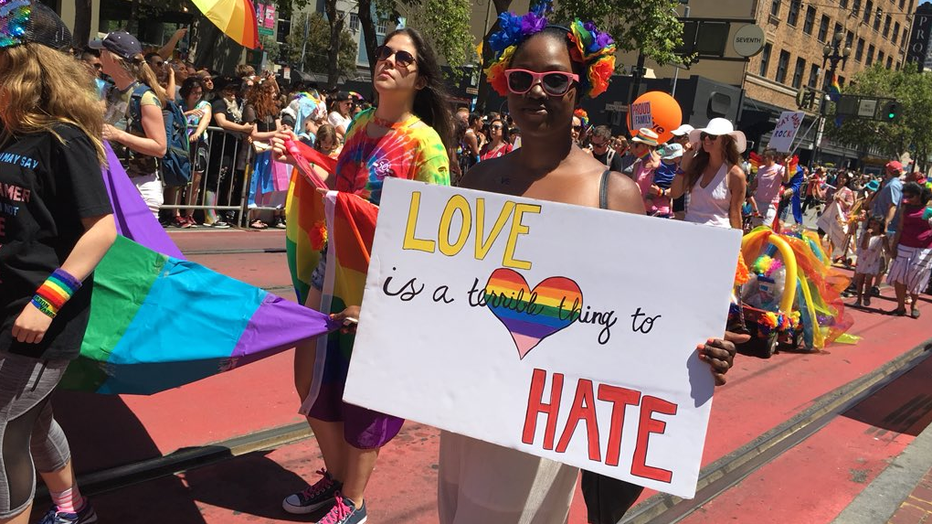 California's governor Gavin Newsom warned the public at his daily address Tuesday that mass gatherings likely would not be taking place over the summer, due to continued efforts to stop the transmission of the coronavirus until a vaccine is widely available to provide the public with immunity.
SF Pride organizers looked at postponing festivities, but said the idea of having a smaller event later in the year wasn't feasible.
"This was not a decision we arrived at lightly," said Lopez. In a statement he explained that the decision was made with heavy hearts and came after in-depth conversations with members of the board and production team, along with city officials, other Pride organizations around the world and "most of all, our LGBTQ communities."
San Francisco Mayor London Breed called the annual event one of her favorites but said the decision to cancel was in the best interest of public health. "The City will continue to work with SF Pride to celebrate everything Pride stands for in the weeks and months to come," the mayor said. "San Francisco will emerge from this pandemic stronger than ever."
SF Pride organizers said plans were already in the works to take part in a "Virtual Global Pride" celebration on Saturday, June 27 in partnership other Pride organizations around the world. The group said that in the coming weeks and months, it will also be announcing other collaborative Pride events to commemorate and celebrate the LGBTQ community this summer.
San Francisco hosts hundreds of festivals, cultural celebrations, and sporting events that bring an estimated 28 million people to the Bay Area every year.
Now, it's looking like a spring and summer of empty streets and plazas
"It's going to have a major impact on the businesses. The reason is cause of all the visitors that would come to the city and the neighborhood," said Masood Samereie, President of the Castro Merchants Association and a real estate business owner of Aria Properties.
Samereie says so far, he has heard of some furloughs but no closures among the members of the Castro Merchants Association. He says shops are hanging on, barely, thanks to loyal local customers. There is concern though, if cancellations continue.
"There's a possibility that other events may be canceled such as Castro Street Fair that is the first week of October," said Samereie.
In the city's arts district, theaters are closed. The War Memorial Opera House stage is dark, as the San Francisco Opera canceled its summer season Tuesday.
The San Francisco Symphony at Davies Hall also has canceled or postponed concerts.
Stern Grove, the popular outdoor music and arts series, will also postpone its summer festival season according to the website.
On Tuesday, the PGA said it still is considering what to do about its 2020 tournament at San Francisco's TCP Harding Park that had been rescheduled for August 6th. One option is whether it can hold the event in San Francisco with no spectators.
Meantime, Major League Baseball's season is still up in the air after spring openers were canceled.
Some event organizers are waiting a bit longer to decide or turning to virtual options.
The big music festival Outside Lands in Golden Gate Park has not announced a decision about its August 7-9 event, but has posted its cancelation policy online.
In San Francisco's Japantown, cherry blossoms are blooming, but the Northern California Cherry Blossom Festival has fallen victim to the coronavirus. A video posted on the official websited explains that it will be going virtual.
"On April 18-19 from 12-4 we will have a virtual Cherry Blossom Festival," explains Kiyomi Takeda, NCCBF Co-Chair who appears in a video with Co-Chair Greg Viloria explaining the need to maintain social distancing.
Joe D'Alessandro from Travel SF says the event cancelations will be difficult, but safety and health are critical priorities.
"I think we have an obligation, communities like ours, also event producers, to be responsible to make sure these events don't cause issues," said D'Alessandro.