Shooting stirs questions about arming military recruiters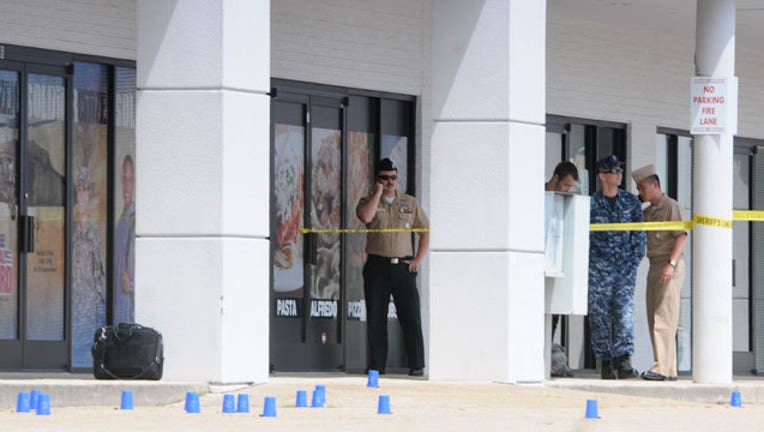 article
WASHINGTON (AP) — As Navy Petty Officer 2nd Class Randall Smith fights for his life after being shot at a military support center in Tennessee, his grandmother wonders why troops at recruiting and reserve offices aren't allowed to have guns.
It's a question many were asking Friday, a day after the deadly shooting that killed four Marines and injured three others in Chattanooga. Military officials say the Pentagon shouldn't rush to change the ban, which is governed in part by century-old law, because arming troops in those facilities could cause more problems than it might solve.
Speaking by phone Friday, Linda Wallace of Midlothian, Texas, said she was upset to learn there was no security outside where the shootings took place. "A lot of people are learning our bases aren't guarded," she said.
Military officials said security at recruiting and reserve centers will be reviewed, but the Army's top officer said it's too early to say whether the facilities should have security guards or other increased protection.
"I think we have to be careful about over-arming ourselves, and I'm not talking about where you end up attacking each other," Gen. Ray Odierno, chief of staff of the Army, told reporters. Instead, he said, it's more about "accidental discharges and everything else that goes along with having weapons that are loaded that causes injuries."
His comments came as Navy officials confirmed a separate incident outside Atlanta, where a recruiter accidently shot himself in the leg with his personal .45-caliber pistol while discussing the Tennessee shootings with one of his recruits. Officials said he showed the sailor the unloaded gun, then reloaded it and inadvertently discharged it as he was putting it back in his holster.
Tucked in strip malls in rural and suburban communities and in high-traffic city spots like New York's Times Square, military recruiting and reserve stations are designed to be open and welcoming to the public. The troops inside aren't allowed to carry weapons.
The ban is largely due to legal issues, such as the Posse Comitatus Act of 1878, which prohibits the federal government from using the military for domestic law enforcement. U.S. forces don't routinely carry guns when they are not in combat or on military bases. And Pentagon officials are sensitive to any appearance of armed troops within the United States.
"We're always going to be somewhat vulnerable to a lone wolf, or whatever you want to call it, a surprise shooter, because we are out there with the population and that's where we have to be," said Odierno.
This is not the first time that recruiting offices were targeted. In June 2009, one soldier was killed and another injured when self-proclaimed jihadist Abdulhakim Muhammad shot them outside a military recruiting center in Little Rock, Arkansas. In October 2013, Tennessee National Guard recruiter Amos Patton shot and wounded three people in the Millington armory after learning that he was being removed from his job because a female soldier had accused him of sexual assault.
"It makes no sense that recruiters are not allowed to carry at least a sidearm," said Craig Cook, who owns a car repair shop behind a military recruiting center in Brookfield, Connecticut. "They are trained. Most of them are trained infantrymen. That definitely would make it a lot more safe."
In San Diego, Army Sgt. Brandy Solis, 31, said he and his fellow recruiters would prefer to be armed at their office, which in a shopping plaza near a bakery, noodle restaurant and barber shop.
"Me, my colleagues and my boss, man, we would probably prefer being armed just for our own protection," said Solis, adding that recruiters were on high alert and working in pairs for added protection.
In the Thursday shooting, authorities said Kuwait-born Muhammad Youssef Abdulazeez, 24, of Hixson, Tennessee, unleashed a barrage of fire at a recruiting center in Chattanooga, then drove several miles away to a Navy and Marine reserve center, where he shot and killed the Marines, and wounded Smith. Abdulazeez was shot to death by police.
The military services strengthened security precautions at the centers in recent years. Odierno said there are currently no plans to have security personnel posted at recruiting centers.
Navy officials said Smith, a reservist serving on active duty at the Chattanooga center, was badly injured and is still hospitalized. It's something his grandmother said she'd never really worried about, because he'd always been stationed in the U.S.
"A lot of people are praying for him," said Wallace, who was flying to be with him, his wife and three daughters. "He's a very good, God-fearing man and he's a great father. I'm very proud of him."