Simone Biles and NFL player Jonathan Owens are married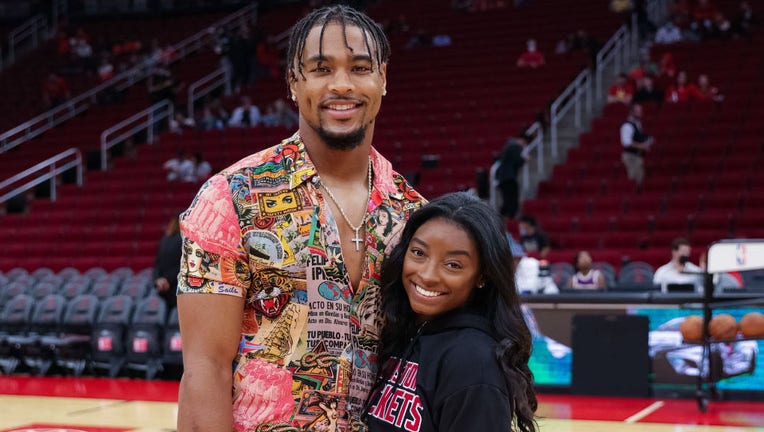 article
Olympic great Simone Biles and NFL player Jonathan Owens have officially tied the knot. 
The two elite athletes shared photos Saturday on social media from their special day.
The ceremony appeared intimate, as Biles and Owens are the only two people standing in front of the person presiding over the ceremony in a large hallway. 
"I do … officially owens," Biles wrote, along with two white heart emojis. 
"My person, forever," Owens wrote next to a red heart and diamond ring emoji. 
The two have been engaged for a little over a year; Owens proposed last Valentine's Day. Before the engagement, they'd been dating for about two years.
Biles has been sharing her journey towards marriage on social media. 
In February, she posted about her bachelorette party wearing a 'Bride and Boujee' shirt standing next to giant yellow balloons that spelled out "bride." 
She also posted a luxury bag in an Instagram story post, saying Owens surprised her with the special gift.
"The sweetest surprise from my future husband," she wrote.
In another Instagram post, Biles mentioned that the celebratory weekend started with a "pajama party game night."
And earlier this month, she shared a video showing off her dreamy bridal shower. 
In a past interview, Biles mentioned that both being athletes helped her and Owens understand each other in the early days of their romance.
"We clicked really, really well in the beginning because we're athletes, and we have the same busy schedules," Biles said in 2022 during an interview with the "Today" show. 
"But, other than that, since it was kind of a COVID relationship, we're with each other 24/7, so I feel like now when we're not with each other, it's almost weird," Biles said of Owens, who she connected with on Instagram in March 2020."
RELATED: 'A different level of happiness,' Simone Biles, Jonathan Owens talk engagement with FOX 26 Sports
Owens finished his fourth season in Houston and became a free agent in March at the start of the NFL's new league year.
This story was reported from Detroit. FOX News Digital contributed.