SJ mayor, state legislator announce net neutrality bill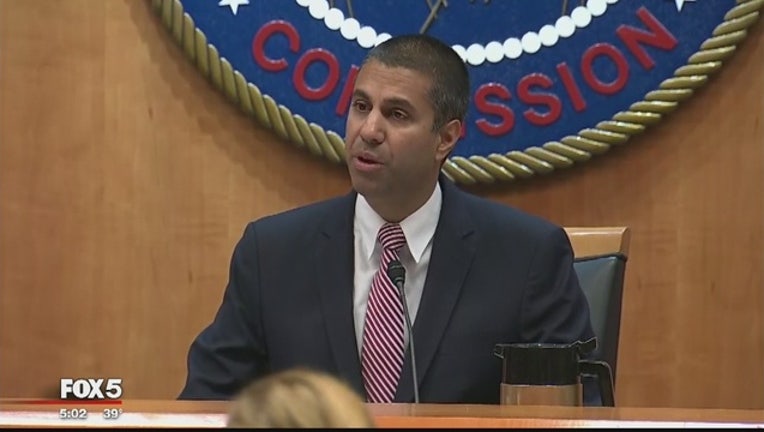 article
SAN JOSE (BCN)-- San Jose Mayor Sam Liccardo hosted state Senate President pro Tempore Kevin De Leon in a news conference outside City Hall this morning to introduce a new net neutrality bill.
Senate Bill 460, the California Consumer Protection and Net Neutrality Act of 2018, proposes blockiing internet service providers from using deceptive and discriminatory business practices.
Specifically, it bans bandwidth throttling or the intentional slowing of service and paid prioritization or the option for an internet service provider to pay a fee to get ahead of their competitors.
De Leon said the bill aims to preserve the heart of the original net neutrality rules before they were repealed by the Federal Communications Commission last month.
He said the biggest motivation for creating this bill is the protection of the fundamental rights of free speech and free expression.
Liccardo's role on the advisory board for the FCC is one of the main reasons he is backing De Leon on the senate bill.
Liccardo went into detail about "regulatory capture," a term used for agencies that are stripped of their independence to the liberties they regulate. He said he believes the FCC is victim to that process and can no longer act in the best interest of the public, but rather of larger profits.
Liccardo emphasized that the preservation of net neutrality is imperative in California not just because it is an issue of equity but also because of the need for growth and innovation.
While Silicon Valley and its use of free and fair internet within the tech industry were discussed, De Leon said the bill would aid the everyday man in California as well.
De Leon discussed how the FCC's repeal of net neutrality contradicts the will of the vast majority of Americans, as well as allows internet providers to pass their competition by slowing down service speed.
"There's nothing then that can stop the companies that already monopolize the internet from blocking websites or information altogether," De Leon said. "We cannot allow the interests of the internet providers outweigh the public good."
The bill is brand new but is already backed by the California Public Interest Research Group, or CALPIRG, a consumer group that advocates for consumer health and safety, financial security or right to full participation in society.
Organizing directors Ana Montes of The Utility Reform Network and Tim Molina of the Courage Campaign were among the speakers at today's news conference.
Montes elaborated on how the use of the internet has become an irreplaceable commodity for many. She talked about how it is utilized for opportunities that could potentially change someone's quality of life, like scheduling appointments with doctors or applying to job opportunities.
Molina discussed a petition in favor of SB 460 that was created last week and already has over 10,000 signatures. It asks all California legislators to support the bill in an effort to lead the pursuit for unimpaired access to free internet.
Another state senator, Sen. Scott Wiener, D-San Francisco, introduced a net neutrality bill last week that requires cable franchise agreements as a condition for use of public internet infrastructure and 
adherence to net neutrality as a condition for attaching wireless communications equipment to utility poles.
De Leon said that the state Assembly and Senate will be working together closely to further the defense of net neutrality for California.
"I do think that the bills will complement each other," De Leon said. "No one is going to have ownership specifically when it comes to this measure. It's all about finding common ground to move forward quicker."
De Leon said he plans to meet with Gov. Jerry Brown next week to walk him through the details of the bill and expects him to support the idea of protecting consumers' right to the internet.