Small World: Soldier discovers unlikely connection when finding old letter from child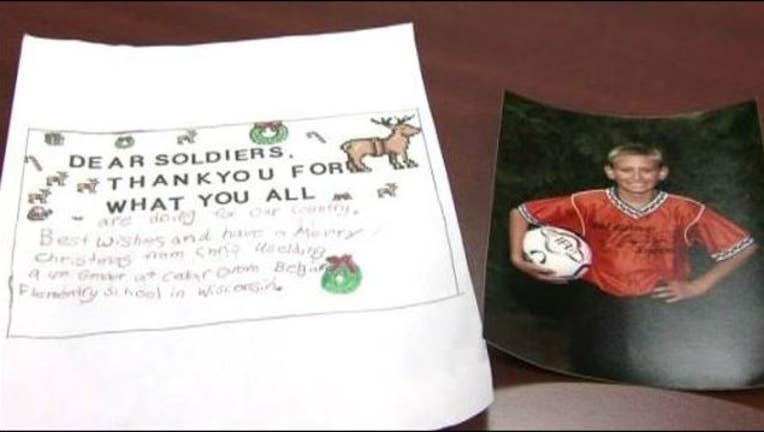 article
OZAUKEE COUNTY, Wisc. (WDJT) - Ozaukee County Sheriff Jim Johnson was going through some of his old boxes that contained mementos from when he served overseas - and that's when he rediscovered a letter with a name he recognized.
Before becoming sheriff, Johnson served about 14 months in Baghdad with the Wisconsin Army National Guard. 
According to a report by WDJT, as Sheriff Johnson found the letter, he realized the name on it was actually one of his young deputies. 
It turns out Deputy Chris Uselding wrote the letter to soldiers overseas when he was a 4th grader. 
Years later - with the letter long forgotten - Deputy Uselding was hired to work under Sheriff Johnson. 
Sheriff Johnson recently made the connection and realized the letter was from Deputy Uselding.
The letter says, "Dear soldiers. Thank you for what you all do and are doing for our country. Best wishes and have a Merry Christmas. From Chris, a 4th grader at Cedar Grove Belgium Elementary School in Wisconsin."
The deputy wrote the letter when he was a 4th grader in 2003.
Sheriff Johnson hired him before re-discovering the letter and putting it up at the department as a surprise. 
Uselding said he didn't remember the letter very well and was kind of stunned thinking back to it, trying to remember. 
"It's crazy to think about that this letter touched Sheriff Johnson and he was able to share that with me and keep it for all these years," said Uselding. Johnson added, "it makes you realize how small the world is. It truly does."
Sheriff Johnson said there was an employee at the school who had a previous connection to the Wisconsin Army National Guard - and that is why the students probably sent the letters.