Stolen cello dropped off at San Francisco Chinatown bar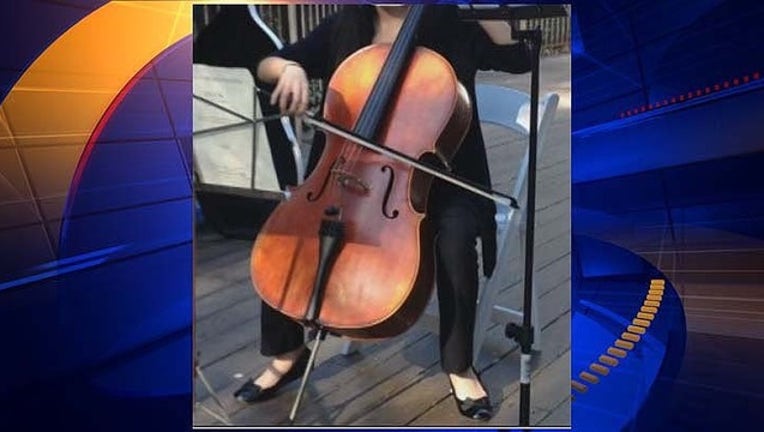 article
SAN FRANCISCO (KTVU and wires) – A 16-year-old San Ramon musician has been reunited with her beloved cello that had been stolen from her mom's SUV on a San Francisco shopping trip, authorities announced Thursday.
San Francisco police said an anonymous citizen walked into a Chinatown bar in the 900 block of Grant Street at around 11:30 p.m. Tuesday and dropped the stolen instrument off with an employee.
The person told the employee to call the police and tell them they had the cello and then quickly left.
Officers came and got the cello and then reunited the girl with it at the Central Police Station.
The two suspects who were captured on surveillance video stealing the cello out of the SUV remained at large.
The incident began on April 11th when the mother and daughter went on a shopping trip to San Francisco's Union Square for an outfit for an upcoming recital.
They parked at the Ellis-O'Farrell garage near Macy's at around 8 p.m. that night. When they returned an hour later, the back windshield was smashed and the cello was gone.
San Francisco Police released surveillance video from the parking garage on the night of the auto burglary. It shows a woman rifling through the vehicle.
A male accomplice pulls up in a four-door sedan and the woman is seen putting the cello in the back of the car.
The male suspect was described as being white and standing approximately 5'09," weighing 170 lbs. with a shaved head between 30 to 40 years of age. The female suspect was described as being white, standing approximately 5'5" with a medium build, brown hair and between 20 to 30 years of age.
As this is still an open and active investigation, anyone with further information is asked to contact Sergeant Alicia Castillo of the Tenderloin Station Investigation Team (SIT) at (415) 345-7300, the SFPD Anonymous Tip Line at (415) 575-4444, or "Text-a-Tip" at TIP411 with "SFPD" at the beginning of the message.