Taylor Swift guitar, Eminem shoes among items in charity auction
LOS ANGELES - Taylor Swift's acoustic guitar, Eminem's signed tennis shoes and an ensemble worn by a BTS member are among the items to be auctioned for charity next month.
Julien's Auctions said Tuesday the memorabilia from some of the most popular music performers will be auctioned at the MusiCares Charity Relief Auction on Feb. 5.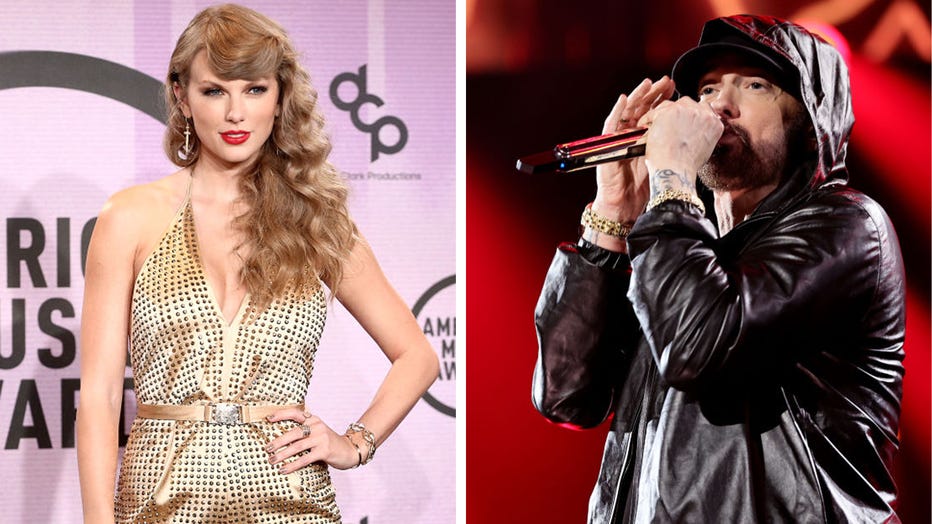 (L) Taylor Swift poses in the press room during the 2022 American Music Awards at Microsoft Theater on Nov. 20, 2022, in Los Angeles, California. (Photo by Tommaso Boddi/WireImage) (R) Eminem performs onstage during the 37th Annual Rock & Roll Ha
All proceeds from the event following the Grammy Awards ceremony will go toward MusiCares, an organization dedicated to helping musicians in times of financial and medical crisis.
A signed Epiphone acoustic guitar that appeared on Swift's 2020 "evermore" album artwork could draw between $5,000 and $10,000. Eminem wrote the words "Shady" on a white pair of Nike Air Max that could go for up to $3,000. A black utility-style jumpsuit and buckle belt worn by BTS's J-Hope during a photo shoot for his debut solo album "Jack In the Box" could garner up to $4,000.
The signed Epiphone acoustic guitar that appeared on Taylor Swift's 2020 "evermore" album. (Credit: Provided / Julien's Auctions)
Snoop Dogg and his son, Cordell, will donate sound systems signed by both, along with a special NFT that could go for up to $8,000.
Joni Mitchell will have several items auctioned including a signed print of her original oil painting of Jimi Hendrix. Another painting on the auction block will come from former Van Halen lead singer David Lee Roth, a signed acrylic on canvas called "Dark Ocean."
Olivia Rodrigo's custom-made "Chopova Lowena" 2022 Glastonbury Festival ensemble and Katy Perry's 2019 FIFA Live Performance are expected to be auctioned.
The rest of the items to be auctioned come from a wide range of entertainers including Barbra Streisand, Daft Punk, Jimmy Buffet, Ozzy Osbourne, Paul McCartney, The Rolling Stones, and Jon Batiste.