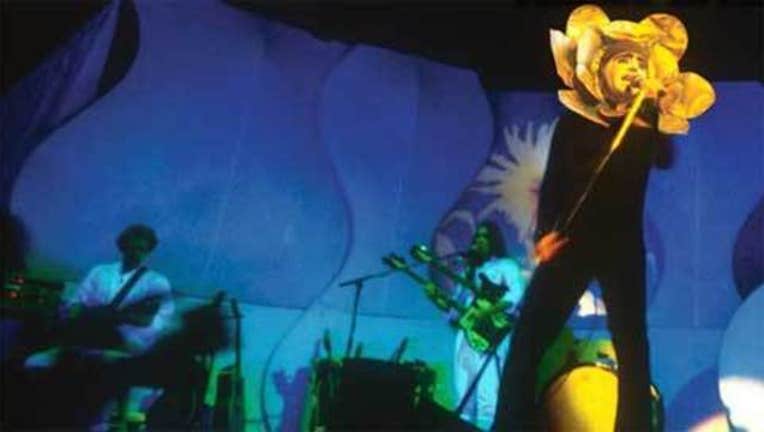 Plenty of musicians make their living in cover bands, tapping into the nostalgia fans have for their favorite groups by offering a reasonable facsimile in small and inexpensive clubs. Canadian outfit the Musical Box stands apart from the crowd with their detailed recreations of classic live tours undertaken by British progressive rock pioneers Genesis when they were still fronted by visionary singer Peter Gabriel.
The idea of performing the early epics of Genesis complete with intricate costumes, elaborate staging and visual effect and vintage instrumentation might sound like an oddly specific niche to fill, but the Musical Box has played for more than a million people since their formation in 1993. Carefully studying old films, recordings and photographs of concerts by Genesis, the musicians and their extensive support crew have spared no expense in rendering the mind-blowing stage extravaganzas of the group as accurately as possible.
The Musical Box made its first departure from the Gabriel era in 2008 when it recreated the "Trick of the Tail" tour (the first tour Genesis embarked on with Phil Collins as frontman), but after taking a year off, the group revisited one of its most ambitious shows. Having received full licensing from the original members of Genesis (who have watched them perform and, in some instances, have even shared the stage with the tribute group), the Musical Box will deliver a start-to-finish rendition of the classic Genesis concept double album The Lamb Lies Down On Broadway complete with the 1,100 slides that were used for background projections when Gabriel and company first toured with the landmark show in 1974. 
The band would visit San Francisco to perform the epic rock opera several times since that first appearance back in 2004, but last year for the first time the Musical Box presented two concerts that presented earlier Genesis tours for the albums Foxtrot and Selling England By the Pound. While not as elaborately costumed as the Lamb tour, both concerts will offer up a spectacular rendition of the side-long Foxtrot religious allegory "Supper's Ready" along with other dramatic songs. This return visit by the group is sure to bring progressive rock fans out of the woodwork as they once again present Selling England By the Pound (Friday, March 13) and Foxtrot (Saturday, March 14).
The Musical Box
Friday-Saturday, March 13-14, 8 p.m. $45-$100
Regency Ballroom