Thinx period underwear lawsuit over PFAS settles for $4 million
Thinx, the first and arguably most well-known brand of period underwear on the market, has been sued over the alleged presence of PFAS in its product. 
A class action lawsuit claims the toxic "forever chemicals" were found in the underwear, which Thinx has branded and advertised as safe, organic and chemical-free. Studies have found PFAS are linked to a number of adverse health effects.
Thinx has denied the allegations in the lawsuit and settled for $4 million, which includes a payout to those who have purchased the often-costly underwear. A pair of Thinx costs on average about $35, depending on style. 
Here are details of the lawsuit and how to get reimbursed:
What is period underwear?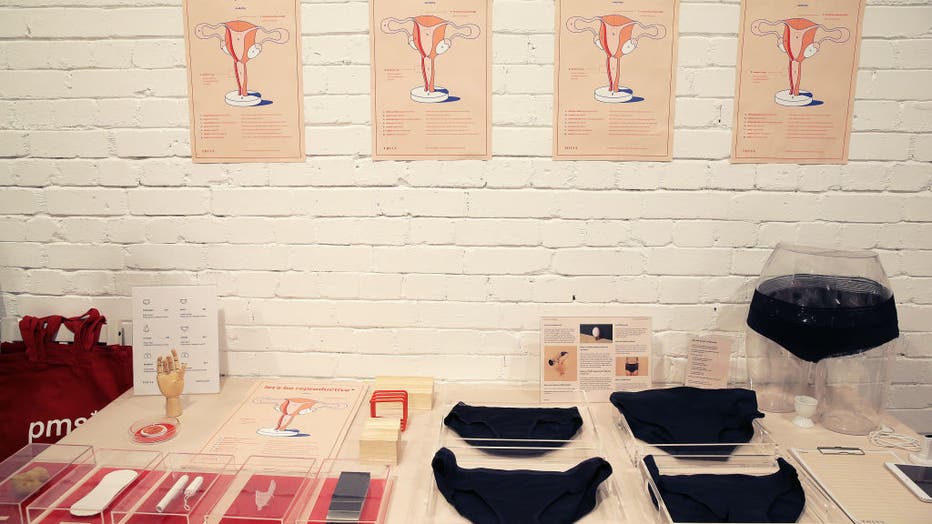 Details at the Fearless Bleeding Cocktail Hour with THINX on December 13, 2017 in London, England. (Photo by Ricky Vigil/Getty Images for Thinx)
Period-absorbing underwear is the newest menstrual product to hit the market. Thinx launched its product in 2013, touting them as "the first period innovation in 76 years." (The menstrual cup as we know it today was invented in 1937.) 
Since then, several other companies have rolled out their own version. 
The underwear wears and looks like normal underwear, but includes an absorbent and leak-resistant liner.
The underwear are washable and reusable — a more environmentally conscious option than their single-use pad and tampon counterparts.
Styles come in a variety of absorbencies and cuts, such as bikinis and even thongs.
What are PFAS?
PFAS is short for per- and polyfluoroalkyl substances, and you may see them also called "forever chemicals." 
PFAS have been used widely since the 1940s in consumer products ranging from nonstick frying pans, water-repellent sports gear, stain-resistant rugs, to cosmetics.
The chemical bonds are so strong that they do not degrade or do so only slowly in the environment and remain in a person's bloodstream indefinitely — hence the name "forever chemicals."
PFAS are commonly ingested, most commonly through drinking water, but studies have found exposure to PFAS through the skin — such as through clothing — could pose the same health hazards. 
Countless studies have found various ways that PFAS adversely affect one's health, most commonly through cancer risk. 
Additionally, the NIH found exposure in food packaging can lead to premature births. This study found a link to a risk of high blood pressure in middle-aged women. And the U.S. Centers for Disease Control and Prevention says they can affect a woman's chance of getting pregnant. 
The EPA has moved to designate them as hazardous substances. 
READ MORE ON PFAS: 
PFAS and Thinx underwear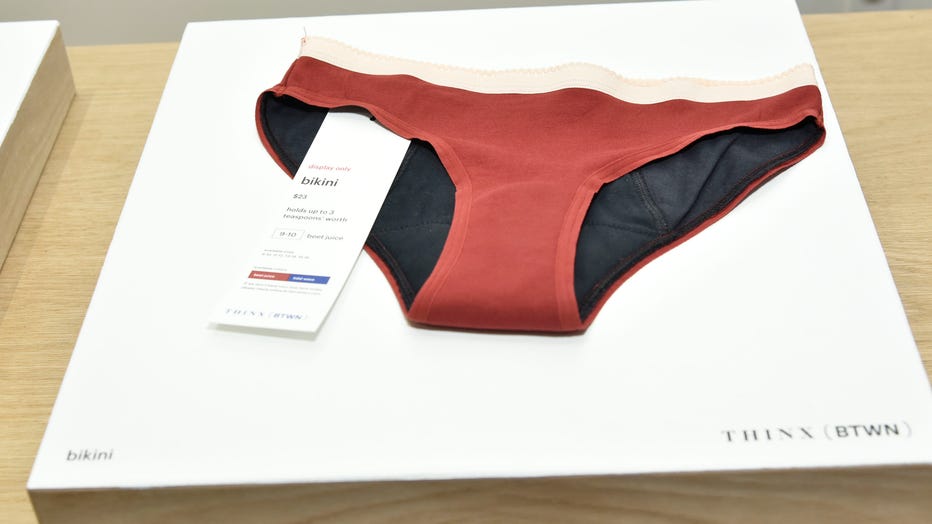 Atmosphere at the Sip 'n' Shop At The THINX Pop-up Store With Jill Zarin at 199 Lafayette Street on December 18, 2018 in New York City. (Photo by Eugene Gologursky/Getty Images for THINX, Inc.)
Thinx underwear first came under scrutiny in 2020 when a journalist for the Sierra Club sent a pair to the scientist who discovered PFAS chemicals in fast-food wrappers. She reported high levels of PFAS were found, "especially on the inside layers of the crotch."
In May of 2022, a class action lawsuit was filed after a Florida resident's independent testing "confirmed the existence of these harmful chemicals." Several other women joined the complaint later that summer. 
Thinx has advertised its underwear as a safe and effective menstrual product alternative. At the time of the lawsuit's filing, Thinx's FAQ section of its website is said to have included the question, "Are Thinx free of harmful chemicals?" with a short answer of, "Absolutely!"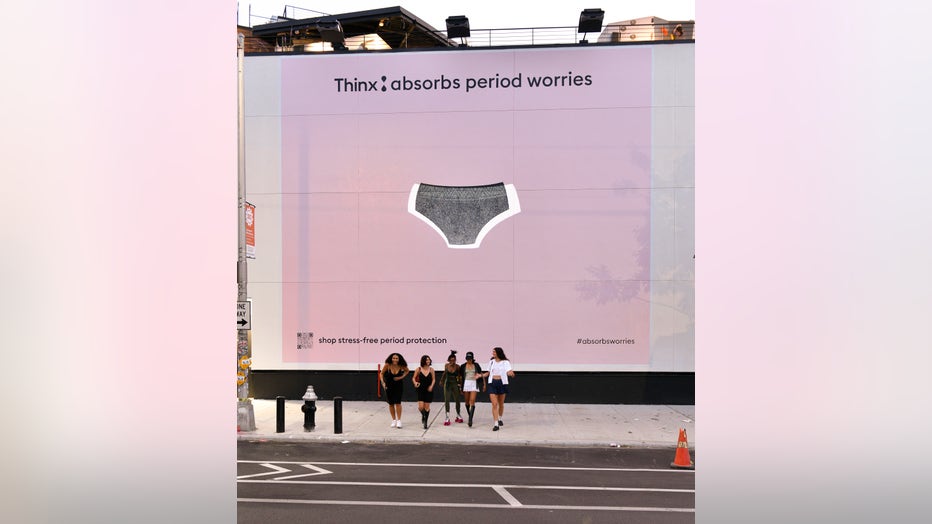 Thinx Unveils Interactive Billboard Experience In Brooklyn, NY To Launch "Thinx Absorbs Worries," A Campaign Destigmatizing Good, Bad, Ugly And Funny Period Moments on September 12, 2021 in New York City. (Photo by Eugene Gologursky/Getty Images for
The lawsuit also alleged Thinx product labels indicate they're made of several different fabrics, such as cotton and elastane, but do not list additional ingredients. 
"Based on information and belief, Thinx uses PFAS chemicals to enhance the performance of the Underwear, including but not limited to, its "moisture-wicking" and "leak-resistant" qualities," the lawsuit alleged — specifically spotlighting the chemical Agion, which the lawsuit says is an antimicrobial treatment which uses silver and copper nanoparticles to reduce odor in textiles. 
Thinx denies all of the allegations made in the lawsuit, and denies that it "did anything unlawful or improper." 
"We take customer health and product safety seriously. We can confirm that PFAS has never been part of our product design," a spokesperson for Thinx told FOX Television Stations. "We will continue to take measures to ensure that PFAS are not added to our products. 
"The litigation against Thinx has been resolved, the settlement is not an admission of guilt or wrongdoing by Thinx, and we deny all allegations made in the lawsuit. We will continue to focus on bringing innovative, safe, and comfortable leak protection underwear to consumers."
The lawsuit was settled for $4 million and, in addition to paying partial reimbursement to customers, Thinx must take additional measures to never intentionally add PFAS to the underwear and disclose the use of anti-microbial treatments on its website, including Agion.
If you've purchased Thinx, you can submit a claim to get in on the class action settlement. 
Thinx is reimbursing $7 per pair, up to three pairs, with valid proof of purchase; $3.50 per pair, up to three pairs, without proof of purchase; or by providing a voucher for a discount of 35% off a future purchase. 
Claims must be filed by April 12, 2023. 
You can get more information on the lawsuit and file your claim at thinxunderwearsettlement.com. 
This story was reported from Detroit.