Tom Steyer won't run for president in 2020, will focus all efforts on Trump impeachment campaign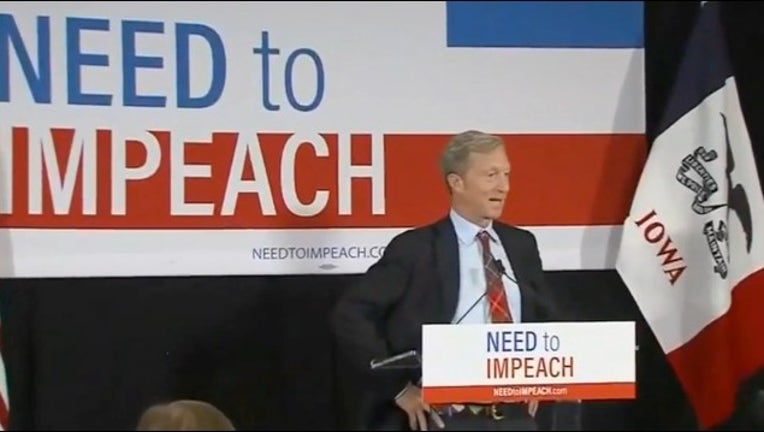 article
(KTVU) - San Francisco billionaire impeachment activist Tom Steyer announced from Iowa on Wednesday that he will not run for president in 2020 and instead will focus all of his efforts on impeaching President Donald Trump. 
Standing at a podium in front of a "Need to impeach" sign, Steyer officially announced he is taking on what he believes is most important and the biggest challenge he could face at this time. The decision came was surprising, as the billionaire investor has publicly suggested a run at the White House in recent months. 
"Most people come to Iowa around this time to announce a campaign for presidency," said Steyer, who chose the premier caucus state to make his statement. "But I'm proud to be here to announce that I will do whatever it takes, for as long as it takes, to remove a president." 
Steyer, who has spent $50 million on his Need to Impeach campaign, said he plans to spend $40 million this year. "I said last year that I'm willing to do whatever I can to protect our country from this reckless, lawless and dangerous president," Steyer said. "Therefore, I will be dedicating 100 percent of my time, effort and resources working for Mr. Trump's impeachment and removal from office. 
And the reason for doubling-up on his Trump-removal efforts is because the nation's elected officials are not holding the president accountable, according to Steyer. Given that Democrats have taken majority control of the House, the impeachment talk has reached an "inflection point" and Steyer is asking officials to act immediately. The $40 million pledge for 2019 was positioned to put pressure on the Democratic-controlled house to begin the impeachment process. 
Steyer added that Congress has a constitutional obligation "to end this shameful presidency" and he is asking that they put aside their political considerations. And while Steyer's call for impeachment comes after House Democrats have taken the majority, House Speaker Nancy Pelosi has said that more facts are necessary before trying to impeach Trump and that unveiling the effort could be divisive. 
"Mr. Trump has made division itself the centerpiece to his presidency. He does not govern. He creates crises to remain in power and he will not stop spreading lies to the American people." 
KTVU reported this story from Oakland. The Associated Press contributed to this report.