Tornadoes kill at least 5 in Texas and Arkansas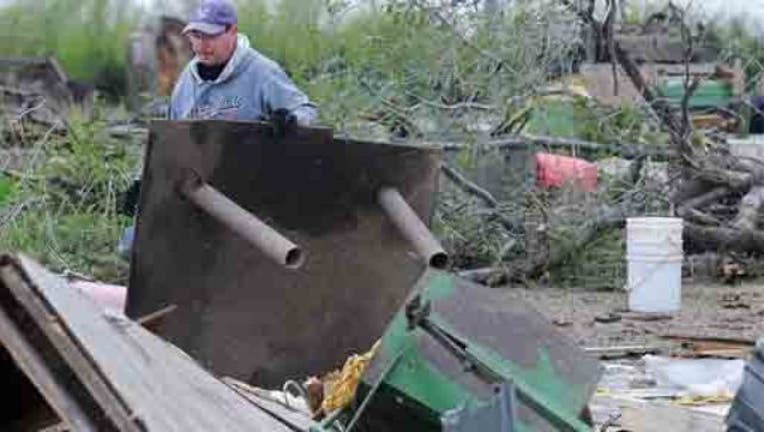 article
VAN, Texas (AP) — Emergency responders searched through splintered wreckage Monday after a line of tornadoes battered several small communities in Texas and Arkansas, killing at least five people, including a young couple who died trying to shield their daughter from the storm.
Eight people were still missing in a rural East Texas town, raising the possibility that the number of dead could climb. Scores of others were hurt, some critically.
The couple, in their late 20s or early 30s, died when a twister hit their mobile home late Sunday in the Arkansas town of Nashville.
Michael and Melissa Mooneyhan were trying to protect their daughter when the parents' trailer flipped over and "exploded," Howard County Coroner John Gray said.
"It's a miracle that little girl survived," Gray said. The girl, who is about 18 months old, was taken to the hospital and later released to relatives.
Once the word spreads, he added, the deaths will be a blow to the community.
"That's what it's like in a small town," Gray said. "You either know them or you know somebody who knows them."
In neighboring Texas, a likely tornado pummeled the small town of Van, damaging about 30 percent of the community, according to Chuck Allen, fire marshal and emergency management coordinator for Van Zandt County.
Authorities confirmed at least two deaths. Eight people were still unaccounted for in Van, population 2,600, about 70 miles southeast of Dallas.
Rescuers went door to door checking on neighbors. Damage was widespread, with trees uprooted and numerous homes and buildings flattened or ripped apart.
At least 42 people were injured, according to two East Texas hospitals. Four patients were in critical condition.
James Crawford and his wife, Thelma, rode out the storm in their mobile home in the area with some Van's worst damage.
They were in bed and did not have time to run, she said. All she could do was roll over and give her husband a bear hug while they held on.
Thelma Crawford said she believes their home lifted off the ground a bit, then came back down.
"We're like family in that neighborhood," she said. "When one of them gets hurt, I hurt."
Fifty to 100 homes were either damaged or destroyed, Allen said.
In some cases, the fronts of homes were sheared off, revealing living room furniture tossed in a jumble. Houses were spray painted with an X to indicate they had been searched by emergency workers.
The town's elementary and intermediate schools were also heavily damaged.
Kimberli Shane held a muddy hand to her forehead as she watched friends and neighbors salvage furniture from the home she rented.
"All I could really hear was the house pulling apart," she said. "And my son saying, 'Oh no, it's right over us.'"
Preliminary reports indicate 20 to 25 tornadoes formed Sunday in South Dakota, Iowa, Oklahoma and Texas, according to meteorologist Greg Carbin of the Storm Prediction Center in Norman, Oklahoma.
The storm system was expected to slowly move east, he said, with a low possibility of tornadoes in lower Michigan on Monday. Thunderstorms were forecast from Texas to the Great Lakes region.
"This is certainly not an atypical system for spring where you've got the remnants of winter but the onset of summer," Carbin said.
The same storm system dumped 11 inches of rain in some places and caused widespread flooding. Firefighters in Corsicana, 60 miles southwest of Van, recovered the body of a driver who had ventured into the floodwaters after his vehicle stalled in a swollen creek.
The heavy rain caused a huge sinkhole to open up in Granbury, some 40 miles southwest of Fort Worth. The 40-foot-wide sinkhole swallowed the parking lot of a supermarket and damaged water and sewer lines beneath, WFAA-TV reported.
Farther north, in Lake City, Iowa, a suspected tornado tore the roof from a high school as about 150 students, family and faculty attended an awards ceremony inside Sunday night.
Dave Birks, girls' basketball coach at South Central Calhoun High School, said people were able to flee to the basement and locker room area about two minutes before the twister arrived.
"The lights went off, and everyone's ears kind of popped," Birks said, adding that school windows were blown out and insulation was scattered nearby. He also said the high jump pit from the school's outdoor athletic complex was missing, and hurdles were scattered everywhere.
Much earlier Sunday, storms struck the small town of Delmont in South Dakota and hurt nine people.
"Our house is flat. There is nothing left," said Stephanie Lunder, 34, who took shelter with her husband and four children in the basement.
Elsewhere, winter seemed to return briefly to parts of the Dakotas.
Winter weather advisories and warnings were posted for southeastern North Dakota and north-central South Dakota, with a couple of inches of snow and strong winds expected. The same area experienced more than 8 inches of snow over the weekend, breaking snowfall records for those dates in Rapid City.