Turpins married 31 years, had at least three wedding renewal ceremonies at Elvis Chapel in Las Vegas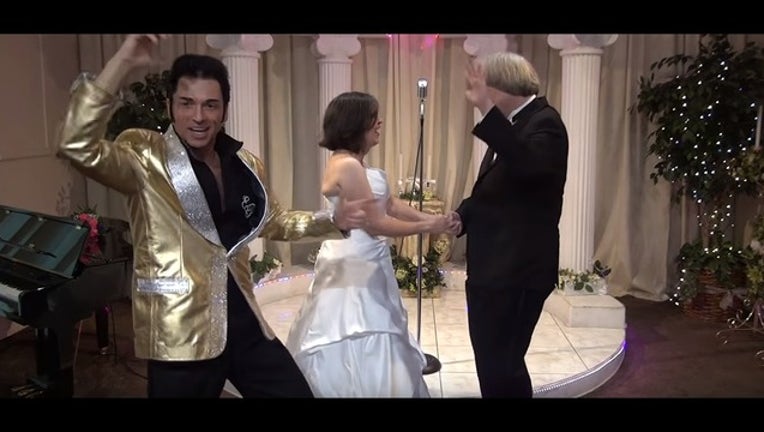 article
LAS VEGAS - David and Louise Turpin, the parents in Southern California charged with chaining up their 13 children and nearly starving them for a "prolonged period of time," have been married for 32 years and have renewed their vows at least three times, according to a series of videos put out by the Elvis Chapel in Las Vegas.
The ceremonies posted on the chapel's YouTube channel date back to 2015, 2013 and 2011.
In the most  recent, there are 13 children, including a new baby girl in the picture. The daughters are wearing purple-checked dresses and the boys are sporting the same bowl cut worn by their dad. Everyone is smiling in the photos. There is music and dancing and laughter. And there is no apparent evidence of physical abuse. 
If the couple has been married for more than 30 years, as the Elvis impersonator says on the 2015 video, then Louise Turpin married her husband at age 18 or 19.
A representative at the chapel took a message on Tuesday for the highly sought-after Elvis impersonator Kent Ripley, who remarried them. Ripley was too busy to return the call to KTVU, but he told several outlets including Heavy.com there seemed to be nothing amiss. He said the couple renewed their vows at the Elvis Chapel at least three times, including for their 30th wedding anniversary.
Efforts to speak to the Turpins, who are in custody on $9 million bail, also were not immediately successful. 
The Turpins were arrested Sunday after their 17-year-old daughter - who was so malnourished she looked like she was 10 - called 911 to report she and her siblings had been chained up and padlocked. 
On Tuesday, the Riverside County Sheriff's Office held a news conference, saying that they were not aware that the Turpins were part of any religious cult.
The Turpins had lived in their current home in Perris, south of Riverside, since 2014, and before that, had lived in Murrietta, California and possibly Texas, the sheriff's department said.
Ivan Trahan, an attorney who represented the couple in their latest bankruptcy in 2011, told the Los Angeles Times on Monday he was shocked at news of the arrests. He also said that Turpin worked as an engineer at Northrop Grumman, an aeronautics and defense technology company. A spokesman for Lockheed Martin told the Times that Turpin worked for the company until 2010.
It's unclear if David Turpin currently held a job, but he is listed as the principal of Sandcastle Day School, where authorities say he homeschooled his children.