Volvo aims for all cars to be leather-free and fully electric by 2030
GOTHENBURG, Sweden - Volvo announced this week that its vehicles will be completely leather-free by 2030, an effort the Swedish automaker called "a step in the right direction" as more consumers seek ethical and sustainably sourced products.
The company said Thursday it will launch a "completely new family of pure electric cars" in the coming years, and by 2030, it aims to only offer fully electric leather-free cars.
Volvo's new all-electric C40 Recharge model is already leather-free amid a conscious effort to address "all areas of sustainability" in vehicle production. The company first announced its intent to make only electric cars by 2030 earlier this year.
The company has also created a new interior material called Nordico, which consists of textiles made from recycled bottles, bio-attributed material from forests, and wine corks. The Nordico material will make its debut in the next generation of Volvo models, the company said.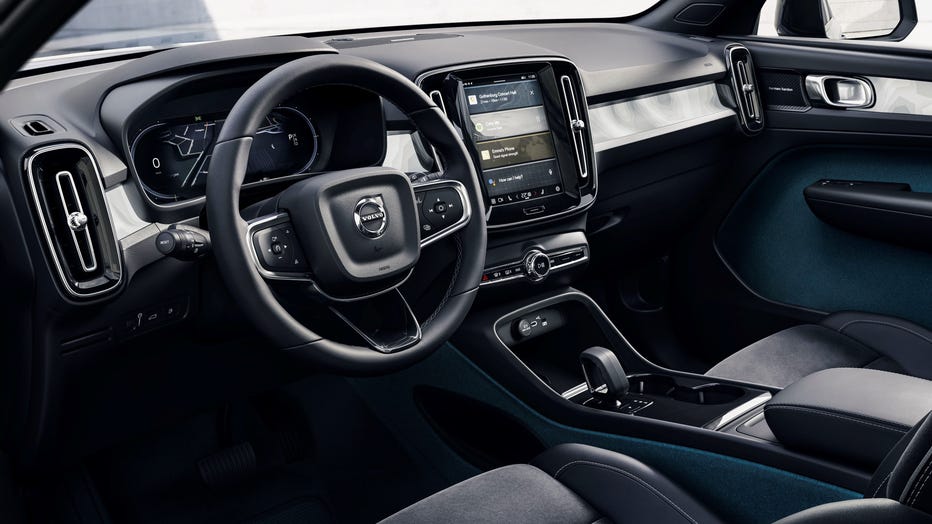 The leather-free interior of Volvo's C40 Recharge is pictured in a provided image. (Photo credit: Volvo Car Group)
While it intends to end the use of leather in its vehicles, the company said it would "continue to offer wool blend options from suppliers that are certified to source responsibly."
"Being a progressive car maker means we need to address all areas of sustainability, not just CO2 emissions," Stuart Templar, director of global sustainability at Volvo Cars, said in a statement. "Responsible sourcing is an important part of that work, including respect for animal welfare. 
"Going leather-free inside our pure electric cars is a good next step towards addressing this issue," Templar added.
Volvo said by 2025, it aims for 25% of the material in new cars to consist of recycled and bio-based content as it looks to become "a fully circular business" by 2040. The company has also set a goal for all of its suppliers, including material suppliers, to use 100% renewable energy by 2025.
Volvo listed the negative environmental impacts of cattle farming, including deforestation, for its move toward becoming leather-free. Livestock is estimated to be responsible for around 14% of global greenhouse gas emissions from human activity, with the majority coming from cattle farming, the company said.
In the statement, Volvo noted that going leather-free is "a step in the right direction," but doing so alone "does not make a car interior vegan." It seeks to help reduce demand for these materials industrywide. 
"Finding products and materials that support animal welfare will be challenging, but that is no reason to avoid this important issue," Templar said. "This is a journey worth taking.
As more officials have sounded the alarm on climate change, automakers around the world have also ramped up the production of electric vehicles amid charging technology improvements and governments imposing stricter pollution regulations.
General Motors, the Detroit automaker making an aggressive push into EVs, established a goal in January of offering electric-only vehicles by 2035 and becoming carbon neutral in both its global products and its operations by 2040.
Ford said 100% of its passenger vehicle range in Europe will be all-electric by 2030.
RELATED: 12 governors urge Biden to back phasing out gas-powered vehicle sales in US by 2035
This story was reported from Cincinnati.