West Coast sardine season called off amid population decline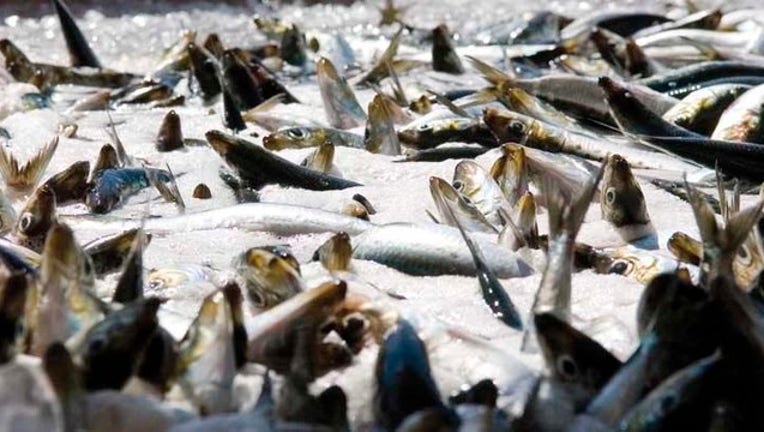 article
SANTA ROSA, Calif. (AP) -- Fisheries managers have decided to call off the West Coast sardine fishing season that starts in July because of rapidly dwindling numbers, hoping to save an iconic industry from the kind of collapse that hit in the 1940s and lasted 50 years.
Meeting outside Santa Rosa, the Pacific Fishery Management Council voted Sunday to close the season starting July 1.
It had little choice. Estimates of sardine abundance have fallen below the level for a mandatory fishing shutdown.
"We know boats will be tied up, but the goal here is to return this to a productive fishery," David Crabbe, a council member and commercial fishing boat owner, said in a statement.
The council next will decide whether overfishing has been a factor in the latest collapse, which could trigger an emergency shutdown of the current season, which runs through June. It votes Wednesday.
Made famous by John Steinbeck's novel "Cannery Row," the once-thriving sardine industry crashed in the 1940s.
It revived in the 1990s when fisheries developed in Oregon and Washington waters, but population estimates have been declining since 2006, and catch values since 2012. The reasons are not well-understood, though it is widely accepted that huge swings in populations are natural, and generally are related to water temperatures.
Council member Frank Lockhart of NOAA Fisheries Service noted that several other fisheries — such as salmon, lingcod and rockfish — have recovered after going through steep declines.
Today, about 100 boats have permits to fish for sardines on the West Coast, about half the number during the heyday. Much of the catch, landed from Mexico to British Columbia, is exported to Asia and Europe, where some is canned, and the rest goes for bait.
West Coast landings have risen from a value of $1.4 million in 1991 to a peak of $21 million in 2012, but are again declining.
Geoff Shester, California campaign director for the conservation group Oceana, said this is the first shutdown of sardine fishing on the West Coast since the council began regulating harvests in 2000. He added the fishery should have been shut down years ago, when it first became clear more fish were being harvested than reproduced.
Shester said every ton of sardines left in the ocean is important as a food source for other wildlife and as a foundation for rebuilding the population.
The council allowed some sardines to be caught inadvertently in the course of related fisheries but reduced the amount. That means boats targeting anchovies, mackerel and herring won't have to stop fishing but could run up against limits in sardines caught that would shut them down, as well.
The council also allowed the Quinault tribe in Washington state to go ahead with a small sardine fishery.