Who is Robert Card? Maine authorities identify suspect in deadly shooting rampage
LEWISTON, Maine - At least 18 people were killed and 13 more injured following a shooting in Lewiston, Maine, which took place at two locations on Wednesday night, Maine Gov. Janet Mills said Thursday morning.
The Lewiston Police Department identified Robert R. Card of Bowdoin, Maine, as a person of interest in a Wednesday night Facebook post. On Thursday morning, Card was considered a suspect after authorities issued an arrest warrant for eight counts of murder, law enforcement said.
Card, 40, is being sought after the shootings at Schemengees Bar and Grille and Just in Time Bowling, which was recently renamed from Sparetime Recreation. He should be considered "armed and dangerous," and authorities asked the public to contact law enforcement about his whereabouts.
A Maine law enforcement bulletin shared with Fox News Digital states that Card is a "trained firearms instructor believed to be in the Army Reserve stationed out of Saco, ME."
ACTIVE SHOOTER SITUATION IN MAINE, HOSPITAL SAYS 'MASS CASUALTY, MASS SHOOTER' EVENT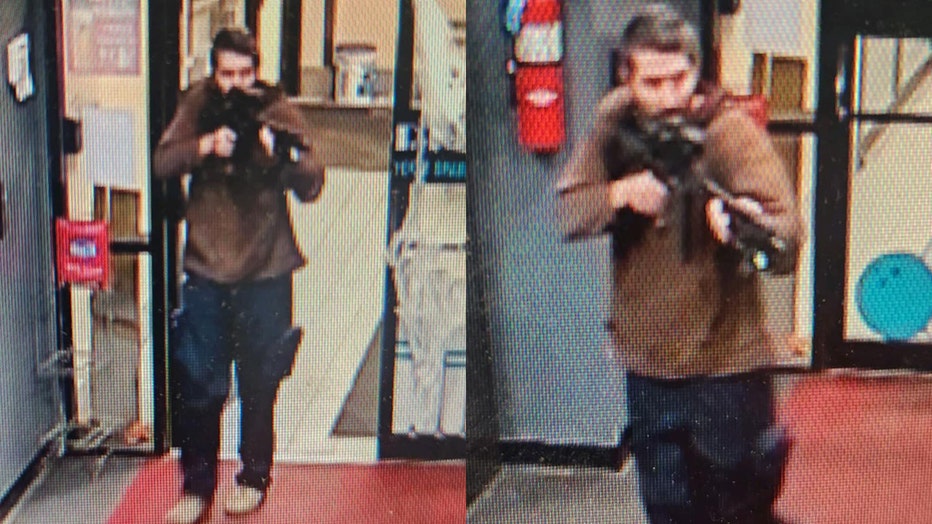 The Androscoggin County Sheriffs Office has released images of a suspected gunman in an active shooter alert. 
An Army spokesperson confirmed to Fox News on Thursday morning that Card has been in the Army Reserve for over two decades, receiving multiple awards for his service.
"Sgt. 1st Class Robert R. Card II is a Petroleum Supply Specialist in the Army Reserve, enlisting in December 2002. He has no combat deployments," Army spokesperson Bryce Dubee said.
"His awards include the Army Achievement Medal, Army Reserve Component Achievement Medal x2, Humanitarian Service Medal, National Defense Service Medal and Army Service Ribbon."
The Maine bulletin also states that Card recently reported mental health issues, including "hearing voices and threats to shoot up the National Guard Base in Saco, ME." No details about his treatment or condition were immediately provided.
According to the document, Card was committed to a mental health facility for two weeks over the summer before he was released.
Fox News' David Spunt reported, citing a senior law enforcement source, that authorities are aware Card may have a police scanner and could be actively listening to some of their movements. 
He should be considered "armed and dangerous," according to the law enforcement bulletin.
A security guard escorts people out of Central Maine Medical Center, Lewiston, ME on Thursday, October 26, 2023. Many victims of last night's mass shooting were taken to Central Maine Medical Center. (David McGlynn for Fox News Digital)
Card studied engineering at the University of Maine from 2001 to 2004, a school representative said.
FLORIDA DUO ALLEGEDLY STABBED MAN REPEATEDLY, THREW HIM OVER BRIDGE, STOLE CAR AND SET IT ON FIRE: AUTHORITIES
Card's white Subaru Outback was found near the Lisbon boat dock on Frost Hill Avenue near Route 196, authorities said.
The Central Maine Medical Center said in a statement it is reacting to a "mass casualty, mass shooter event," but couldn't state the number of victims.
Auburn Mayor Jason Levesque confirmed on NBC's "Today" that the bowling alley was hosting a youth league at the time of the shooting.
Pictures shared by the Androscoggin County Sheriff's Office show the suspect wearing a brown sweatshirt and holding a rifle.
Residents of Lewiston were told to "shelter in place" and to "stay inside your home with the doors locked." Maine State Police later said that the shelter in place advisory and school closures expanded to the town of Bowdoin.
CLICK HERE TO GET THE FOX NEWS APP
In a post on X, FBI Boston said it is coordinating with local and state law enforcement.
"The FBI Boston Division continues to coordinate with our local, state, and federal law enforcement partners in Maine, and we stand ready to assist with any available resources they need, including evidence response, investigative and tactical support, as well as victim assistance," FBI Boston wrote in an X post. "We continue to urge the public to remain vigilant and report any and all suspicious activity and/or individuals to law enforcement immediately. As this situation is still very fluid, we have no further comment at this time and will refer you to the Maine State Police."
Fox News' Sarah Rumpf-Whitten, Jacqui Heinrich and Liz Friden contributed to this report.