Wild chase on top of roofs in San Francisco; suspect falls onto empty Audi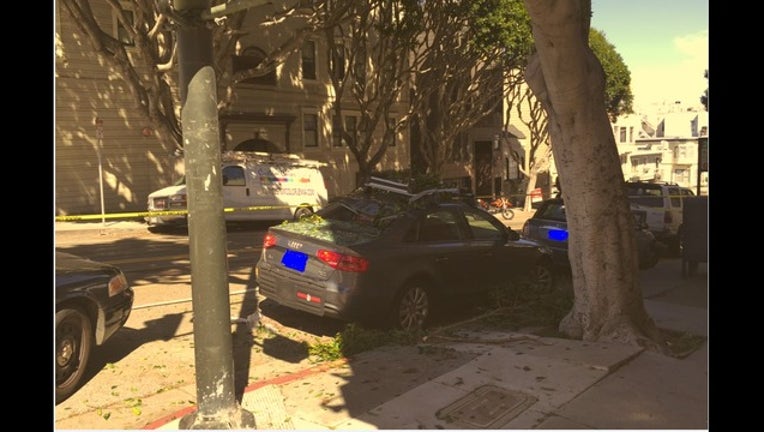 article
SAN FRANCISCO (KTVU) - A San Francisco burglary suspect is in the hospital, after police chased him from roof to roof of buildings in the city's Nob Hill neighborhood.
Investigators say the chase ended, when the suspect fell, went through a tree, and onto the rear of an empty Audi that was parked along the sidewalk.
The impact left a dent on the vehicle.
In a press release, police said officers responded to a burglary call on the 1300 block of Pacific Street just after 8:30 a.m.
Officers then found luggage taken in the burglary on the roof of the building..
Shortly afterwards, police received a report of a burglary on the 1500 block of Leavenworth.
In a press release, investigators said that both break-in's involved the suspect pointing a gun at the victims.
Police later found the suspect, and ordered him to drop the weapon.
But police said he failed to comply, and started running onto the roofs of homes.
At one point, authorities said he pointed the gun at them, but no shots were ever fired.
During the pursuit, the suspect dropped the gun on the roof of a home, fell several stories, and landed on the car, according to police.
He was taken to San Francisco General Hospital, where he was being treated for non-life threatening injuries.
Investigators have not identified him, but he will likely face charges, including multiple burglaries, false imprisonment, and assault with a deadly weapon.