Woman arrested in Mountain View on suspicion of murdering, discarding baby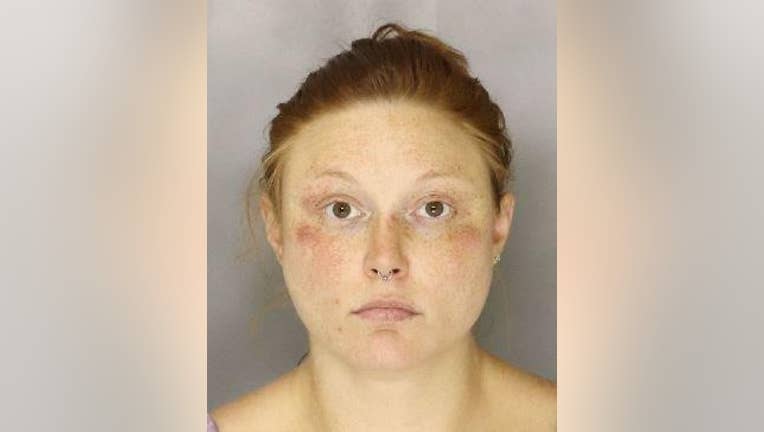 MOUNTAIN VIEW, Calif. - Police in Mountain View made a tragic discovery of a baby's body found dead outside a home. The baby's mother is suspected of killing him. Police arrested 31-year-old Jennifer Tupper of murder and child abuse resulting in great bodily injury or death.
Police said the baby was just hours old. They found the newborn's body outside a home on Leghorn Street after the mother's friend called police.
The friend had told authorities the baby was stillborn but an autopsy revealed the boy was alive at birth and died of significant injuries.
"All life is significant and important and valuable and sacred so the loss of a child is heartbreaking," said Megan Cole of Mountain View.
Cole saw the massive police and fire response on Leghorn Street Monday afternoon. Police received a call from Tupper's friend of a stillborn baby.
SEE ALSO: 'Life is truly fragile:' Family of dead East Bay runner thanks community
"She got that funny feeling when she wasn't getting full information so she made a call to the county communications," said Sgt. David Fisher of Mountain View Police.
Police found the baby deceased and interviewed the mother.
"She made varying statements that were somewhat consistent with what she told, with what the friend told us but there was also several inconsistencies as well," said Sgt. Fisher.
An autopsy revealed the boy, close to full term, had died of trauma after birth. Police believe Tupper gave birth on the property and acted alone. The police chief said homicides are rare in Mountain View especially of a baby.
SEE ALSO: 'I am not going to let you die': California deputy saves colleague's life after fentanyl exposure
"We all know just how vulnerable babies are and innocent they are so it hits home on a lot of different fronts for a lot of us," said Chief Chris Hsiung.
Tupper is divorced and hails from Washington. According to her Facebook page, she was once a salon manager there.
Police are not disclosing the address of her home. Leghorn Street is a mix of residential and commercial buildings and a Christian church. The church director wishes she had sought help.
"I wished she had a community of support that could have supported here, intervened, encouraged her to seek the help she needed," said Cole.
Police want to remind anyone unable to care for an infant that they can safely surrender a baby at fire stations and hospitals.
"This could have been a lot different if the baby was turned over to the fire department," said Chief Hsuing. "To think of what could have been is hard to bear as well."
Police are not aware the mother has any other children. They did not reveal details about her mental health or prior criminal history. They are also trying to gather more information about the baby's father.
Azenith Smith is a reporter for KTVU.  Email Azenith at azenith.smith@fox.com and follow her on Twitter and Instagram @AzenithKTVU or Facebook or ktvu.com.
Resources on where to surrender a baby in Mountain View: 
Mountain View Fire Station 1: 251 Shoreline Boulevard

Mountain View Fire Station 2: 160 Cuesta Drive

Mountain View Fire Station 3: 301 North Rengstorff Avenue

Mountain View Fire Station 4: 229 North Whisman Road

Mountain View Fire Station 5: 2195 North Shoreline Boulevard

El Camino Hospital: 2500 Grant Road