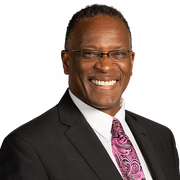 Dave Clark
Mornings on 2 Anchor
Dave has been with KTVU since 2007 and is an award-winning newsman with more than 40 years of broadcasting experience.
Dave has covered many of the biggest news stories of our time — including the tragic Oscar Grant killing by a BART police officer, the award-winning team coverage of the "North Hollywood Shootout", the "O.J. Simpson Trial", the "Northridge Earthquake" (the largest earthquake in U.S. history), and numerous other noteworthy news stories.
After attending Philadelphia public schools and Temple University, Dave began his broadcasting career as a Radio Newscaster in his hometown of Philadelphia, PA. He then became a Radio News Anchor in New York City.
Clark also worked at stations in Washington, DC, Florida, and Pittsburgh, PA.  It was in Pittsburgh, that Dave transitioned to television news and shortly, thereafter, he received the call from KCAL-TV in Los Angeles, CA.
Dave Clark's news reports have been broadcast nationally and internationally over multiple networks including CBS, CNN, Disney, MSNBC, NBC News, United Press International, The Associated Press, and The Armed Forces Radio Network.
Dave is also a highly sought after professional announcer. His engaging and commanding vocal talents have been utilized as a Talk Show Host, Master of Ceremonies, Narrator, and Actor. His acting roles include major motion pictures "The X-Men", "Bulworth" and "Scream 2" and several television series.
Dave and his wife, Lucretia, a Certified Lifestyle Strategist and award-winning Artist, enjoy watching sunsets along the water, attending art exhibits and diverse cultural events, and experiencing the eclectic culinary offerings of the Bay Area. In addition to meeting and talking with Bay Area residents, Dave makes public appearances for worthy philanthropic organizations and serves as an Advisory Board Member for Joshua's Gift, an organization supporting families living with autism.
The latest from Dave Clark
Ranza Ray Harvey-Devereaux was born on Aug. 18, 1916. Today marks her 105th birthday.
For the past 50 years, there's been an exodus of African Americans from San Francisco to the suburbs. At that time, thousands of homes and businesses were demolished in the Fillmore neighborhood as part of an urban renewal project.