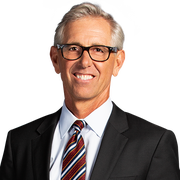 Bill Martin
Chief Meteorologist
As a 5th Generation Northern Californian, I am very proud my ancestors were some of the earliest settlers in San Francisco. My great uncle was the sheriff of Vacaville in the late 1800's. Joe was known as the Sampson of Vacaville because of his 6-foot 4-inch frame and his willingness to get into scraps! He once sparred with "Gentlemen Jim"Corbett, the most famous boxer of his time. I grew up in Paradise (Butte Co), and I graduated from the University of California Berkeley (1982) with a degree in Physical Geography (emphasis in Climatology). During these years I spent many hours surfing the California coast from Oregon to Mexico, and became passionate about forecasting waves and weather. This enthusiasm led me back to college where I spent 3 years postgraduate at San Francisco State studying Atmospheric Science. After San Francisco State, I did an internship at KRON Television (NBC), in San Francisco for 1 year, and then took a job as a Chief Meteorologist at KFTY(Ind) in Santa Rosa for 2 years. I moved to KPIX(CBS) in San Francisco and was their morning show meteorologist for 2 years, and in 1993 I landed at KTVU doing weekends. At that time KTVU did not have a weather department, and I was given the opportunity of creating and building KTVU's weather brand from the ground up. I worked weekends until I became the Chief Meteroolgist in 1995. In 2014, after over 25 years forecasting weather in the Bay Area, I was one of 6 meteorologists in the country chosen to go to the White House to interview President Obama on Climate Change. There I had the opportunity to attend meetings with the President and his top science advisors. Without a doubt, this was a career highlight. The American Meteorological Society has awarded me the CBM (Certified Broadcast Meteorologist) which is the highest level of certification available, and has been awarded to only a handful meteorologists on the West Coast. One of my claims to fame is that I have read nearly every book ever written on California history. I am fascinated by this state and the people that were drawn here, from the Native Americans to the Spanish to the pioneers. In 2015 I was awarded a Northern California Emmy for best on-air meteorologist. This is my dream job, to be able to think about and talk about weather for a living, and I am thrilled to be part of the KTVU Family.
The latest from Bill Martin
Already this year, wildfires have scorched an unprecedented 3.6 million acres of earth in California.