Aaron Rodgers says joining Jets his 'intention'
MILWAUKEE - Green Bay Packers quarterback Aaron Rodgers said on The Pat McAfee Show Wednesday that it is his "intention" to play for the New York Jets.
"At this point, as I sit here, I think since Friday I've made it clear that my intention was to play and my intention was to play for the New York Jets," Rodgers said. "I haven't been holding anything up at this point. It's been compensation the Packers are trying to get for me, kind of digging their heels in."
The 39-year-old Rodgers said he believes the Packers want to move on and make 2020 first-round pick Jordan Love their starting quarterback. Rodgers expressed his appreciation for his 18 seasons in Green Bay throughout his Wednesday appearance but added that it's time for the Packers "to do the right thing."
RELATED: Check out the new and improved FOX Sports app
"I have nothing but love in my heart for every Packer fan and everybody who works in the organization," Rodgers said. "My life is better because of my time in Green Bay. But we've just got to look at the reality. They want to move on. They don't want me to come back and that's fine. They're ready to move on with Jordan. That's awesome. Jordan's going to be a great player."
Packers president and CEO Mark Murphy has acknowledged the team granted the Jets permission to talk to Rodgers. The Jets sent a contingent that reportedly included owner Woody Johnson, coach Robert Saleh and general manager Joe Douglas to Rodgers' home in Southern California last week.
"We had a nice conversation and I told them, I'm not ready to make a decision about anything. I want to get back into my workouts and see how it feels to really hit it hard for a week," Rodgers said of his meeting.
The Jets' interest in Rodgers has been apparent as they seek to end the NFL's longest active playoff drought. They lost their final six games while going 7-10 last season and haven't reached the postseason since 2010.
SIGN UP TODAY: Get daily headlines, breaking news emails from FOX6 News
Their new offensive coordinator is former Denver Broncos head coach Nathaniel Hackett, who earned raves from Rodgers while coordinating Green Bay's offense from 2019-21. Saleh and Johnson have both expressed their interest in adding a veteran quarterback to a roster that already features one of the league's best defenses.
"There's a lot of reasons why the Jets are attractive," Rodgers said Wednesday. "But there's one coach that has meant as much to me as any coach I've ever had. And he happens to be the coordinator there."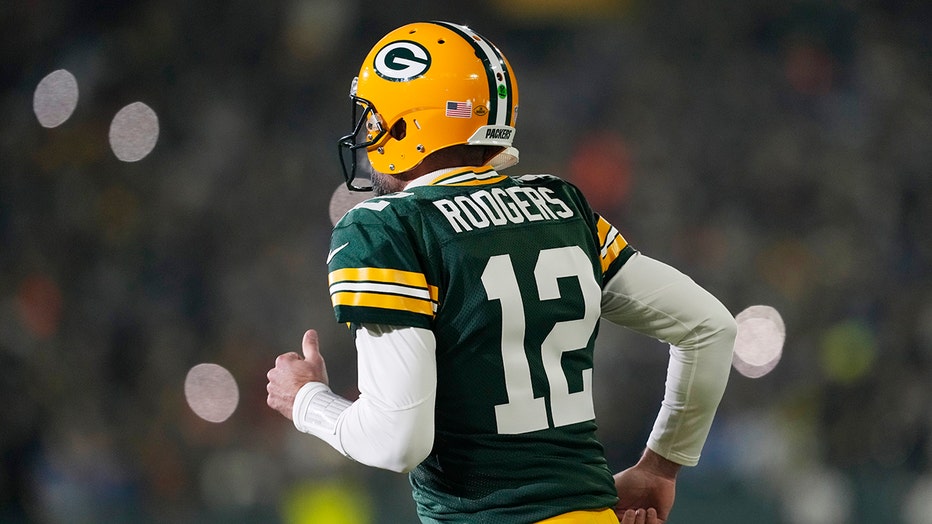 Aaron Rodgers (Photo by Patrick McDermott/Getty Images)
Earlier, Rodgers said he would make a decision regarding his football future upon completing an "isolation retreat" after the Super Bowl. The retreat, he said, was several days of total darkness an isolation inside a house – no sound, music or any entertainment – just him and his thoughts. On Feb. 23, it was reported he had emerged from that retreat.
After the retreat, Rodgers told the show something changed. Before he went in, he was "90%" leaning toward retirement, but then he spoke to people, mostly players, about how the situation regarding his decision developed while he was away.
"Everything that I was told in the week that I was in Green Bay was 'Take as long as you want, and we want you to retire a Packer. You want to come back and play, obviously the door is wide open,'" said Rodgers. "That was the information I was going on. Now when I came out of the darkness something changed. I'm not exactly sure what that was, but something changed.
"It was clear to me at that point that although the Packers were going to say the right thing publicly, they were ready to move on."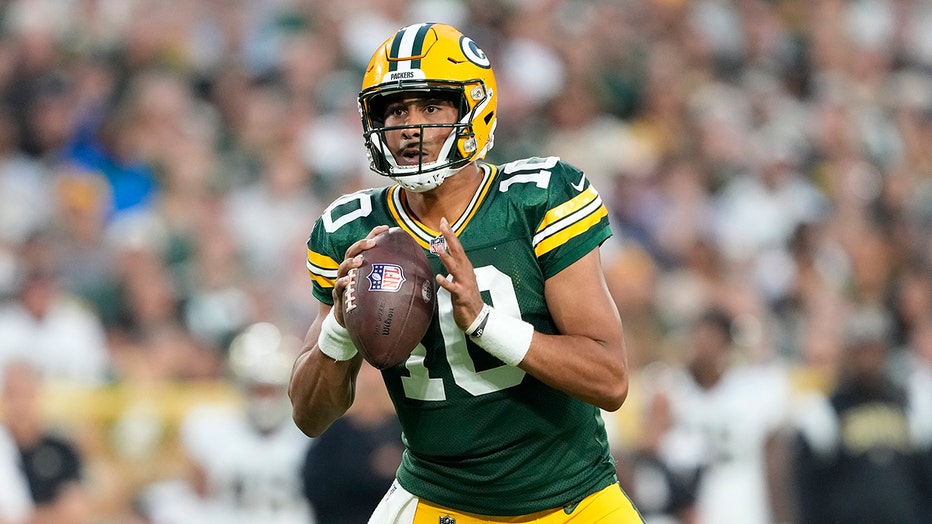 Jordan Love. (Photo by Patrick McDermott/Getty Images)
The Packers had no immediate comment on Rodgers' remarks, which follow days of speculation that his time in Green Bay might be done.
Rodgers won four MVP awards, the second most ever by a single player, and was the MVP of Super Bowl XLV after the Packers beat the Pittsburgh Steelers in 2011. His 59,082 career passing yards rank ninth in NFL history, 475 touchdowns rank fifth in NFL history, and 103.6 passer rating ranks second in NFL history.
The quarterback was named a five-time All-Pro by the Associated Press, including four first-team selections. Rodgers' 10 Pro Bowl selections are the most in Packers history. He is also a member of the NFL's 2010s All-Decade Team, Tom Brady the only other quarterback.
FREE DOWNLOAD: Get breaking news alerts in the FOX6 News app for iOS or Android.
Rodgers led the NFL in passer rating four times, passing touchdowns twice and completion percentage once. He also holds the NFL record for passer rating in a season, 122.5, as well as records for the lowest interception rate in a season and for a career, consecutive passes without an interception and best career touchdown-to-interception ratio.
Drafted in the first round of the 2005 NFL draft out of California, Rodgers took the reins from Hall of Fame quarterback Brett Favre after three seasons on the Packers' bench. 
Rodgers holds the Packers franchise record for passing touchdowns and passer rating (among quarterbacks with at least 50 attempts). He is second in team history for passing yards, games played and game-winning drives, trailing only Brett Favre who played 25 more games with Green Bay than did Rodgers.
In 2014, Rodgers won the Bart Starr Award for exemplary leadership on the field and in the community.
The Associated Press and FOX News' Paulina Dedaj contributed to this report.