That Kid's Got Game: 6-year-old golfer hits flop shot over dad's head and makes it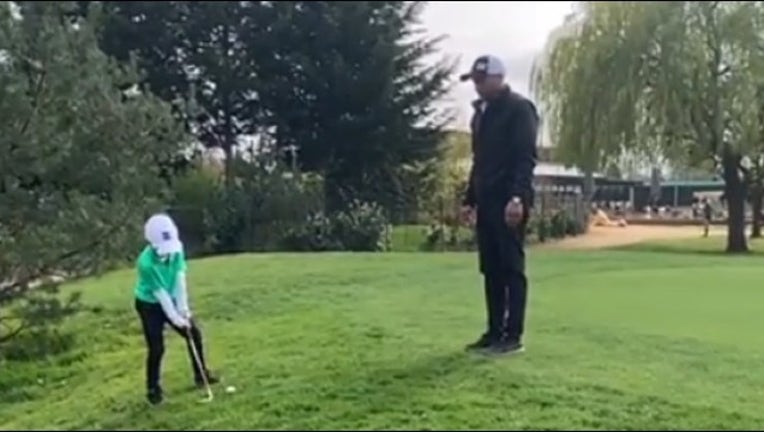 article
OAKLAND, Calif. (KTVU) - A young golfer from London who is headed to the Junior World Golf Championship this year in San Diego shook Instagram viewers when he stood a few feet from his father and hit a flop shot over his head straight into the cup. 
And those who visited the rest of Leo Boniface's Instagram account quickly realized this remarkable shot was no fluke for the six-year-old who has been playing golf since he was three. Leo, who's biggest struggle on the course right now is finding gear that fits his under four-foot-frame, is this week's talent on That Kid's Got Game.
When England's Cuddington Golf Club saw him play, they were willing to break a 120-year-old rule and allow Leo, who has a 19 handicap, to become a member at five years old. Previous members had to be at least seven.
"It was quite a big deal at the time, I mean I believed in his potential, but for a club to notice his skill and bend the rules, that was quite an achievement for him," said Lester Boniface, Leo's dad.
Boniface said Leo is like a normal six-year-old off the course, but when walks on it he acts "very grown up." At a young age, Leo was able to make consistent contact with the ball. Since then it's been Ricky Fowler tips at breakfast, YouTube tutorials before bed and practice on the golf course with dad in between. Boniface said Leo absolutely loves the game.
He said he realized his son has serious skill when he began competing in 10 and under tournaments at five years old. Leo quickly joined up with the British Junior Golf Tour, which allowed the youngster to travel around the country. But Golf isn't cheap and getting around isn't either. 
Fortunately, once Leo made local London news, VBS Building Services Engineers reached out to the family and offered to sponsor Leo. This took pressure off Boniface and allowed Leo to focus on playing the sport that's limiting in some cases due to such high costs associated. It's particularly useful because in order for 3-foot 9-inch tall Leo to play with advanced clubs, Boniface is forced to buy a more expensive set that's too large and cut them down.
The patience and focus required to even play golf, let alone play well, is not the kind you often see from a kid Leo's age. But neither is his competitiveness. Boniface said Leo knows where he wants to put the ball before every shot. If he misses that spot, even if he has a great day or wins a competition, he revisits the moment to see how he can improve. 
"Sometimes I have to reassure him, this is for fun, let's just enjoy the game," Boniface said. "He's determined to make every shot count."
Leo and his dad, like the rest of the golf world, are still talking about Tiger Woods' epic comeback to get his fifth Masters win last weekend. Boniface shared a moment between he and Leo from the course a few days before the tournament at Augusta. 
"[Leo] came up to me and said, 'Dad I'm going to win a green jacket one day," said Boniface, who questioned if Leo even knew what that meant.
"You know, like Tiger Woods?" Leo said. "I'm going to play Augusta and win."
*****
That Kid's Got Game was created as a fun way to display kids with standout sports skills. If you have game, or you want know someone with game, we want to see it. Visit here for information on how to submit.