San Francisco 49ers playoff tickets skyrocket for game against Cowboys
SAN FRANCISCO - Playoff football can be an expensive hobby.  
If you're a fan of the San Francisco 49ers, and want to see Brock Purdy, George Kittle and Fred Warner take on the Dallas Cowboys in the divisional round, it'll cost you. 
"I think I'd be scared to look at tickets," Paul Saporita of San Francisco said. "They're probably more than I can afford."
As of Tuesday afternoon, the cheapest set of two tickets on Seat Geek in the 400 section of Levi's Stadium, was going for $434 each.
Stubhub, had the game listed as a fast-selling event, and more than 5,000 people were looking at tickets an hour. 
Their cheapest seats rang in slightly higher at $472 each. 
Stubhub's most expensive tickets are two seats in section 204, they are selling for $9,699 apiece. 
On Ticketmaster.com the cheapest ticket price cost $476 in the upper decks. Some of the most expensive seats range anywhere from $4,000 to $10,000 in the VIP sections.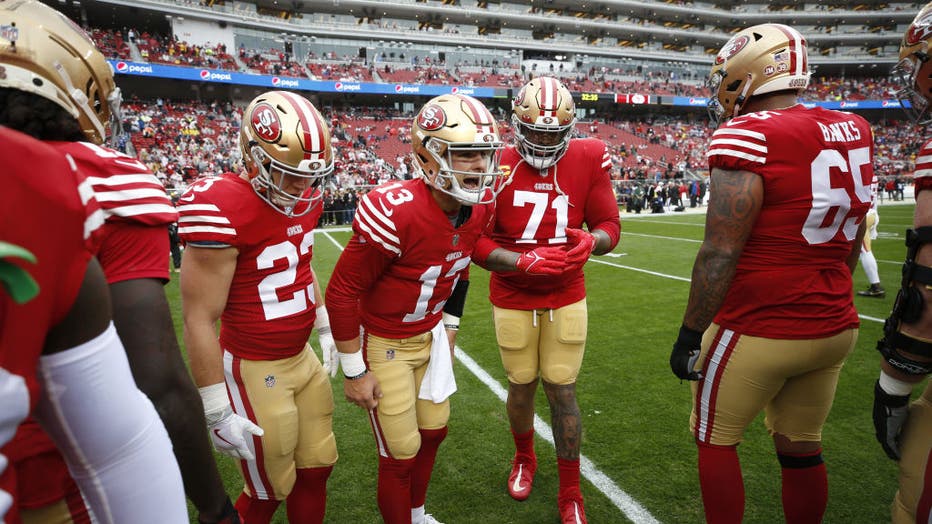 SANTA CLARA, CA - JANUARY 14: Brock Purdy #13 of the San Francisco 49ers on the fields before the NFC Wild Card playoff game against the Seattle Seahawks at Levi's Stadium on January 14, 2023 in Santa Clara, California. The 49ers defeated the Seahawk
SEE ALSO: Brock Purdy's high school teachers tell sweet stories about QB's past
That's a significant jump in prices from last week's game. 
49ers fans told KTVU they bought tickets the night before the game in section 413 for $70 apiece. The rainy weather in the Bay Area was likely the cause for the bargain price. 
That's six times lower for the same seats one week later. 
Silvina Arce works at Levi's Stadium in the section for season ticket holders. She said she started looking at prices on Saturday because she wanted her boyfriend to buy a ticket.
"Standing room only was $300 yesterday," Arce said. "There's no more standing room only… Now that we know who we're playing it's like $400, $500 and those are minimum prices. They have jumped from one day to another."
According to a spokesperson for the 49ers organization, most tickets were sold to Season Ticket Members at rates between $165 to $250. The rest were mostly sold out prior to our Wild Card game on Saturday.
 "I'll pay the price," Allison Cruz, a Niners fan, said. "It's a once in a lifetime thing so… I'm excited."
If you do buy tickets, plan to shell out more money for parking. Fans told KTVU they paid approximately $100 for parking at last week's game.