Brock Purdy's high school teachers tell sweet stories about QB's past
SANTA CLARA, Calif. - When Brock Purdy asked to go to the bathroom during English class his junior year of high school, he wrote his name on the white board at the front of Mrs. Cambra's classroom before heading out down the hall. 
While he was gone, his classmates took the liberty of writing "G.O.A.T" under his name. 
When Purdy returned and saw greatest of all time written under his name, he shook his head and blushed with embarrassment. 
"He never acted like he was the best," Cambra said. 
Brock Purdy –- the last overall pick in the 2022 NFL draft — is now front and center on one of football's biggest stages. 
On Saturday, he will make his NFL playoff debut, leading the 13-4 San Francisco 49ers in a wildcard matchup against the Seattle Seahawks. 
He's come a long way from playing football at Perry High School in Gilbert, Ariz. But as Purdy's surprising success has swept the nation-- the question remains, who is the person underneath the golden helmet?
His past teachers and coaches offered these insights. 
They all say he hasn't changed much since he was 14; he's always been disciplined, serious and a natural leader. 
"They don't make perfect people but if they did, he's about as close to perfect kid that I've had the privilege of coaching," said Preston Jones, Purdy's high school football coach.
Brock Purdy with his high school football coach, Preston Jones. 
In the classroom and around campus, Purdy was beloved by everyone from substitute teachers to janitors and coaches to cafeteria workers. 
"He was in a culinary class and his teacher really took a liking to him, and she didn't know he played football," Jones said. 
If Purdy had it his way, no one would know he's star quarterback underneath the helmet.
Jones described Purdy as an old soul who acted like he was 40-years-old when he was just a freshman in high school. 
He has always put being a good person ahead of being a good football player.
"What you see is what you get," Cambra said. "The 'yes ma'am' or 'no sir' you hear in press conferences and on TV is the same way he spoke in class."
In the classroom, Cambra said Purdy excelled, because he worked hard and went the extra mile. 
After reading The Great Gatsby, Cambra gave students the opportunity to earn extra credit if they dressed up or helped with a Gatsby themed class party. 
Many students came dressed in full tuxedos, and flapper dresses. 
Purdy came dressed as a cowboy.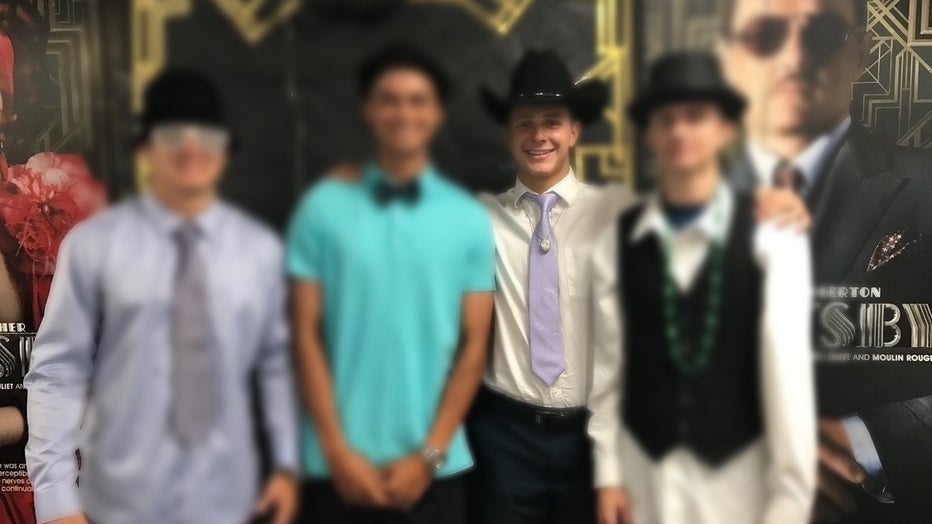 Brock Purdy attends a class Great Gatsby themed party in high school. 
"That's just who he was, he didn't change who he was…ever," Cambra said. 
His competitive side also shined wherever and however it could in the classroom. 
Purdy and a few classmates started a paper-ball to classroom trashcan basketball-esque competition. 
"He would get into it with any kid, and they would go toe to toe," Cambra said. "It was not about only competing with his friends he would compete with the kid who sat quietly in the back of the room."
SEE ALSO: Steve Kerr's Doppelganger makes special visit to Warriors game
Purdy's competitive drive, of course, translated to the football field at Perry High School. He led the Pumas to back-to-back state championship games his junior and senior seasons. 
"He was definitely a once in a lifetime type of kid to coach," Jones said.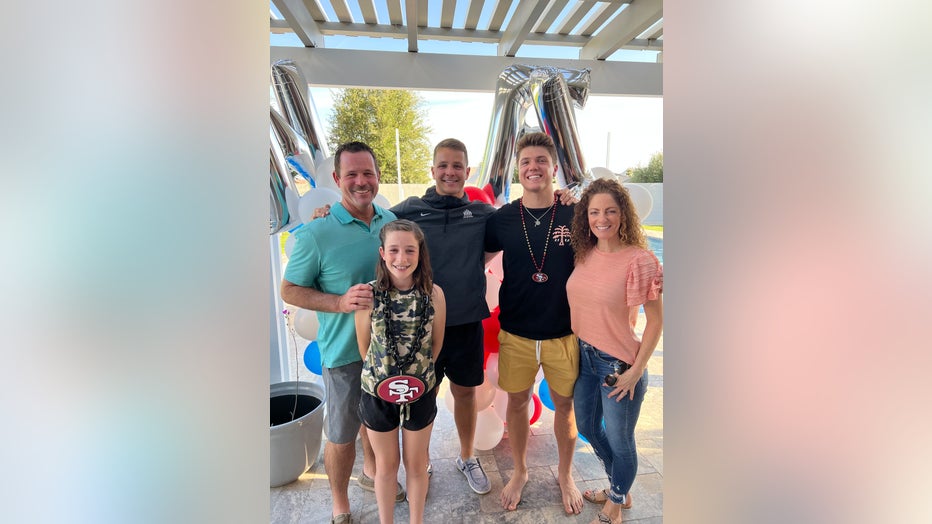 Brock Purdy and Preston Jones' family at Purdy's NFL draft party in Arizona. 
Neither Jones or, Cambra are surprised by Purdy's success. 
They say they're only surprised it took the rest of the world as long as it did to see what they've seen in Purdy since he was walked the Perry hallways. 
"They could make a movie out of Brock," Jones said. "Maybe they will one day, we'll see."