World Series Game 5: Rangers beat the D-backs to win the World Series
PHOENIX, Ariz. (AP) - Nathan Eovaldi pitched six gutsy innings, Mitch Garver broke a scoreless tie with an RBI single in the seventh and the Texas Rangers are World Series champions for the first time in their 63-year franchise history after beating the Arizona Diamondbacks 5-0 in Game 5 on Wednesday night.
Marcus Semien homered late and the Rangers,  held hitless for six innings by Zac Gallen, finished a record 11-0 on the road this postseason by capping the Fall Classic with three straight wins in the desert.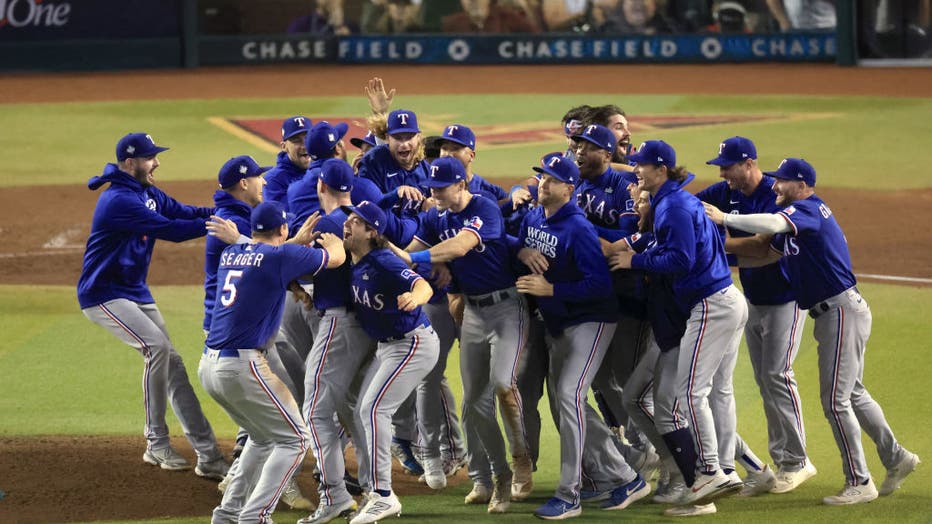 PHOENIX, ARIZONA - NOVEMBER 01: The Texas Rangers celebrate after beating the Arizona Diamondbacks 5-0 in Game Five to win the World Series at Chase Field on November 01, 2023 in Phoenix, Arizona. (Photo by Sean M. Haffey/Getty Images)
In his first season with Texas, manager Bruce Bochy won his fourth title 13 years to the day after his first, which came in 2010 when the Giants beat the Rangers. He also won it all with San Francisco in 2012 and 2014.
"I was sitting in a recliner there in Nashville, just enjoying myself," said the 68-year-old Bochy, who came out of retirement to take over the Rangers.
One night after Texas took a 10-run lead by the third in a Game 4 snoozer, it finished baseball's third all-wild card Series by outlasting the Diamondbacks in a white-knuckle pitchers' duel, piling on four runs in the ninth for good measure.
Gallen took a no-hitter into the seventh before giving up an opposite-field single to World Series MVP Corey Seager, whose weak grounder found a hole. Rangers rookie Evan Carter - all of 21 years old - followed with a double into the right-center gap. Garver then delivered the first run, pumping his fist as a hard-hit grounder got through the middle of the infield to score Seager and make it 1-0. 
Garver was 1 for 17 at the plate in the World Series before his huge hit.
"Everything I've ever worked for is for this moment," Semien said. "Gallen was unbelievable tonight. But we came through. Once Corey got the first hit, everybody kind of woke up. Pitching was unbelievable."
The Rangers tacked on four more runs in the ninth to break open the game. Semien's two-run homer off Paul Sewald made it 5-0. The outburst was typical of the Texas offense, which scored at least three runs in an inning 13 times this postseason.
Eovaldi pitched out of trouble all night before Aroldis Chapman and Josh Sborz finished it.
"I kind of joked around: I don't know how many rabbits I have in my hat," said Eovaldi, who improved to 5-0 this postseason. "I didn't really do a great job tonight in attacking the zone. But our defense, incredible again."
Sborz struck out four in 2 1/3 innings of one-hit ball for his first save this postseason. He threw a called third strike past Ketel Marte to end it.
It's the first title for the Rangers, whose history dates back to 1961 when they were the expansion Washington Senators. They moved to Texas for the 1972 season and came agonizingly close to a World Series championship in 2011, needing just one strike on two occasions before eventually falling to the St. Louis Cardinals.
Now, after five stadiums, roughly two dozen managers and 10,033 games, the Rangers are champions.
"We go into hostile territory everywhere we went," Sborz said. "And we just stayed calm, did our job and played the way the way we played all year."
It wasn't easy. Texas led the AL West for a big chunk of the season, but coughed up the division title on the final day of the regular season to rival Houston. The Rangers also weathered injuries to key pieces, particularly ace pitcher Jacob deGrom.
That 1-0 loss in the regular-season finale at Seattle left the Rangers with the No. 5 seed in the AL playoffs and it sent them across the country to open the playoffs at Tampa Bay, part of two-week trip that took them to four cities - two on each coast. Then Texas got its revenge against Houston, winning a hard-fought series in seven games that brought them to the World Series.
"We've just got a group of winners," first baseman Nathaniel Lowe said. "When the bus driver's driving slow, we tell him, `Hey man, you know you're driving a group of winners,' so we believed it through and through. Maybe we struggled at home, but we got it done on the road, and we've got a special group."
Finally, the Rangers had to get past the Diamondbacks, who won just 84 games during the regular season but beat the Brewers, Dodgers and Phillies in a  remarkable postseason run that finally fizzled.
"I'm sorry I didn't do my job to get us there," manager Torey Lovullo said, pausing as his voice cracked with emotion. "But I will. We all will."
Gallen was one of the best pitchers in the majors this season, starting for the National League in the All-Star Game. But the 28-year-old hadn't been as sharp in the playoffs, with a 2-2 record and 5.27 ERA over five starts.
That changed on Wednesday. With some help from his defense, the bespectacled righty was at his best, mowing down the first 14 hitters he faced before walking Lowe. 
Eovaldi wasn't quite as sharp, but still matched Gallen's zeros on the scoreboard despite walking five, his most in an outing since 2013.
The Diamondbacks had some juicy opportunities to score in the first five innings, but couldn't convert, going 0 for 9 with runners in scoring position.
Eovaldi made it through six, giving up four hits and striking out five on 97 pitches.
"He was a traffic cop tonight," Rangers pitching coach Mike Maddux said.
FOUR FOR BOCHY
Bochy is the sixth manager to win four titles, joining Casey Stengel (seven), Joe McCarthy (seven), Connie Mack (five), Walter Alston (four) and Joe Torre (four). All of them are in the Hall of Fame and when Bochy's career is over, it seems a given he'll be enshrined in Cooperstown as well.
The Rangers have been on track for this moment since Dec. 1, 2021, when they committed more than a half-billion dollars to sign Semien, Seager and pitcher Jon Gray, who delivered a crucial three-inning relief performance in Game 3. Big spending doesn't always lead to titles - just ask the Mets, Yankees and Padres - but for the Rangers, it worked.
VALUABLE COMPANY
Seager, who also led the Los Angeles Dodgers to a championship in 2000, joined Hall of Famers Sandy Koufax, Bob Gibson and Reggie Jackson as the only players to win two World Series MVP awards.
THEN THERE WERE FIVE
Five major league franchises remain without a championship: Colorado, Milwaukee, San Diego, Seattle and Tampa Bay. The Diamondbacks won their only title in 2001.
Updates
Below are play-by-play updates on the game between the Texas Rangers and Arizona Diamondbacks. Mobile users click here.
More Texas Rangers Coverage