14 times Congress couldn't decide on a House speaker after the 1st-round vote
As the House continues its stalemate over choosing a new speaker, let's not forget that this is not the first time this has happened.  
In fact, there have been 14 previous instances throughout history when lawmakers were unable to decide who would be the speaker of the House on the first vote, according to the History, Art & Archives website. 
In fact, a speaker's election has not gone to multiple ballots since 1923.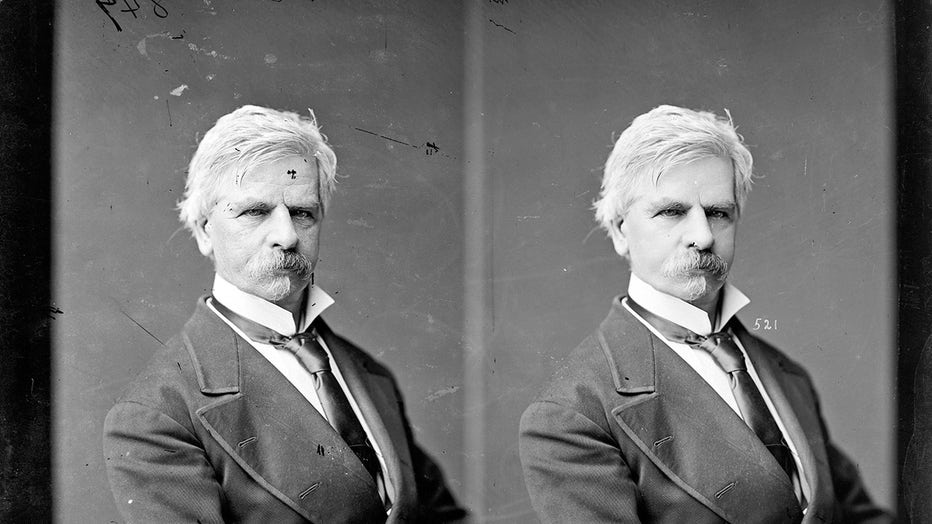 Hon. Nathaniel Prentice of Mass. General in Union Army, between 1865 and 1880. Speaker of the United States House of Representatives and Governor of Massachusetts. Artist Unknown. (Photo by Heritage Art/Heritage Images/via Getty Images)
Since 1789, the House has elected a speaker approximately 127 times with representatives capable of voting for someone without much conflict. 
However, lawmakers aren't always able to agree; not the first time, not the 12th and not even the 133rd time (yes, the House once got to 133 roll call votes before electing a speaker). 
Here's a look at House speakers who were finally elected by way of multiple ballots. 
3rd Congress (1793-1795): Frederick Augustus Conrad Muhlenberg of Pennsylvania. Voted House speaker on the 3rd ballot.
6th Congress (1799-1801): Theodore Sedgwick of Massachusetts. Voted House speaker on the 2nd ballot.
9th Congress (1805-1807): Nathaniel Macon of North Carolina. Voted House speaker on 3rd ballot.
11th Congress (1809-1811): Joseph Bradley Varnum of Massachusetts. Voted House speaker on 2nd ballot.
16th Congress (1819-1821): John W. Taylor of New York. Voted House speaker on 22nd ballot.
17th Congress (1821-1823): Philip Pendleton Barbour of Virginia. Voted House speaker on 12th ballot.
19th Congress (1825-1827): John W. Taylor of New York. Voted House speaker on 2nd ballot.
23rd Congress (1833-1835): John Bell of Tennessee. Voted House speaker on 10th ballot.
26th Congress (1839-1841): Robert Mercer Taliaferro Hunter of Virginia. Voted House speaker on 11th ballot.
30th Congress (1847-1849): Robert Charles Winthrop of Massachusetts. Voted House speaker on 3rd ballot.
31st Congress (1849-1851): Howell Cobb of Georgia. Voted House speaker on 63rd ballot.
34th Congress (1855-1857): Nathaniel Prentice Banks of Massachusetts. Voted House speaker on 133rd ballot.
36th Congress (1859-1861): William Pennington of New Jersey. Voted House speaker on 44th ballot.
68th Congress (1923-1925): Frederick Huntington Gillett of Massachusetts. Voted House speaker on 9th ballot
2023: Voting for a House speaker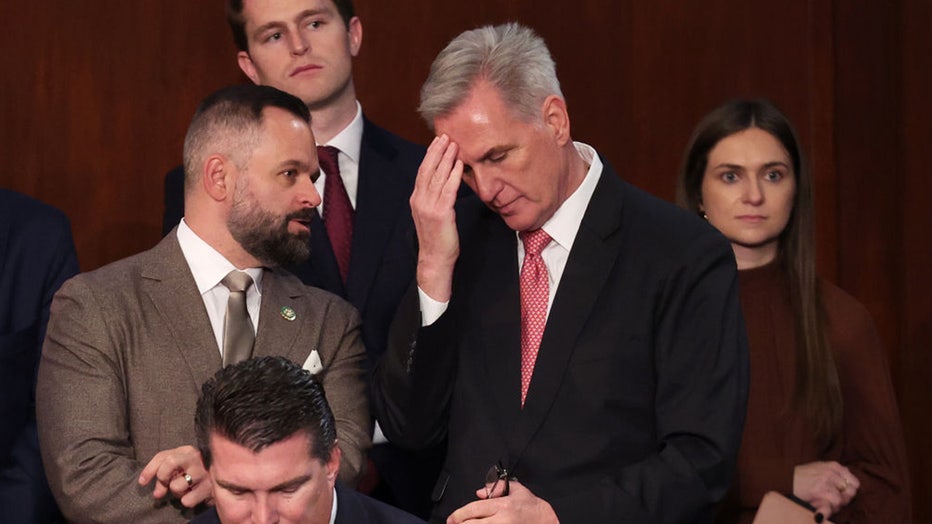 U.S. Rep.-elect Cory Mills, R-FL, (L) talks to House Republican Leader Kevin McCarthy, R-CA, in the House Chamber during the third day of elections for Speaker of the House at the U.S. Capitol Building on Jan. 05, 2023, in Washington, DC. (Win McNamee/Getty Images)
The House, which is one-half of Congress, is essentially at a standstill as GOP leader Kevin McCarthy has failed, one vote after another, to win the speaker's gavel in a grueling spectacle for all the world to see. The ballots have produced almost the same outcome, 20 conservative holdouts still refusing to support him and leaving him far short of the 218 typically needed to win the gavel. 
In fact, McCarthy saw his support slipping to 201, as one fellow Republican switched to vote simply present. 
Some Republicans appear to be growing uneasy with the way House Republicans have taken charge after the midterm election only to see the chamber upended over the speaker's race in their first days in the new majority. 
The disorganized start to the new Congress pointed to difficulties ahead with Republicans now in control of the House, much the way that some past Republican speakers, including John Boehner, had trouble leading a rebellious right flank. The result: government shutdowns, standoffs and Boehner's early retirement. 
The longest fight for the gavel started in late 1855 and dragged on for two months, with 133 ballots, during debates over slavery in the run-up to the Civil War. 
The Associated Press contributed to this report. This story was reported from Los Angeles.