19 new recruits graduate from San Jose Police Department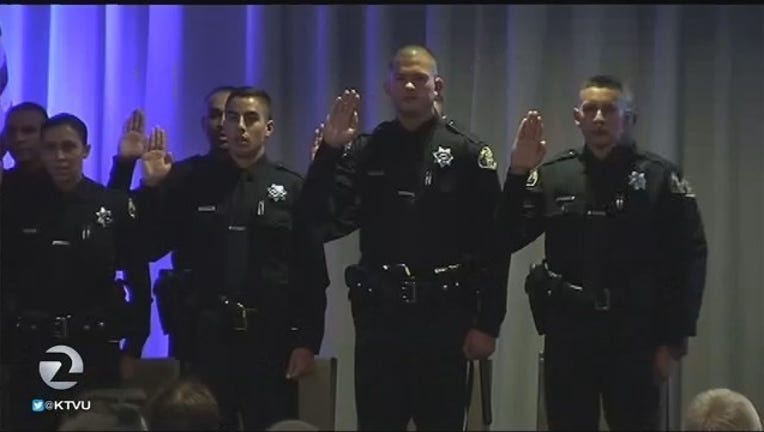 article
SAN JOSE, Calif. (KTVU) - On Friday, the San Jose Police Department ushered in 19 new recruits to be among San Jose's finest. The police chief said the new batch of officers will bring new energy to the department.
For San Jose native Steven Aponte, it was a life-long dream to wear a SJPD badge.
"I think it's the ultimate achievement for anybody who's really into public service and wants to help people," said Aponte.
The new breed of officers is joining the force when the department is still mourning the death of 14-year veteran Michael Johnson who was killed last month in a gunfight with a suicidal man. He's the first officer killed in the line of duty since 2001.
"It was definitely a gut check at the time," said Aponte. "Since then we have put it out of our minds momentarily. It's obviously something that's going to linger throughout our careers."
San Jose Mayor Sam Liccardo touched on the inherent dangers that officers face every day. He also alluded to the department's staffing shortage.
"Because you are the best and the brightest and because you chose to serve here in San Jose, my second message for you is thank you," said Liccardo. "We know there are many challenges here in San Jose. You know and we know our officers ranks are very thin."
Currently the department has roughly 900 active on duty officers when at its peak, it was 1,200 strong. This current police academy that could hold a maximum of 48 recruits graduated 19.
However, the police chief is optimistic with current talks surrounding pension reform and benefits.
"I wish our numbers were higher," said Chief Esquivel. "We have 19 but as time grows, I know that our union and city leaders are moving along with the process of negotiating so that's a big step for us."