2 Investigates: Safety concerns surround medical transportation company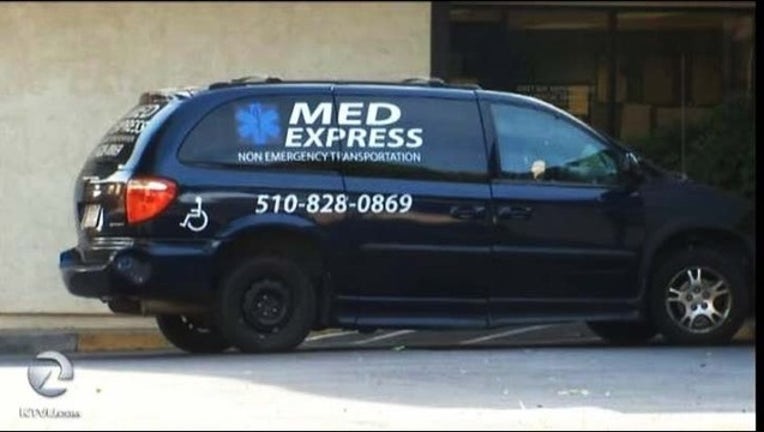 article
SAN PABLO, Calif. - SAN PABLO, Calif. (KTVU) - A month-long investigation by KTVU uncovered safety concerns about a fleet of vans operated by Med Express Transportation.  A way for the sick and the poor to get to doctor's appointments, state records show the non-emergency medical transportation provider has billed Medi-Cal for more than $3 million since 2010.
Since April, 2 Investigates recorded Med Express drivers picking up and dropping off patients at a dialysis clinic in vans with body damage, broken mirrors, missing license plates and a missing headlight.
Unfit for the Road?
 
Records show the California Highway Patrol stopped Med Express vans twice in April.  One ticket shows a driver was cited for driving on a suspended license and not having proof of insurance or registration.  A check of that vehicle's license plate with the DMV revealed the registration had been expired for more than a year.
 
2 Investigates learned that an officer could not find any seat belts in a second van pulled over about a week later.
 
By phone, the owner of Med Express, Nathan Rabah, insisted all of his vans are properly registered and insured, but KTVU's investigation revealed conflicting information.
 
Over several weeks, 2 Investigates recorded video of seven vans with Med Express logos on the side.  In addition to one van with no license plates, the DMV reported five out of the other six vans had expired registration.
 
Hit from Behind
 
The owner of a recently restored 1971 Camaro says he was sitting at a stoplight in October 2014 when he was hit from behind by a Med Express van.
 
"I think he was doing probably about 20, 25 miles an hour when he hit me. I don't think he put on his brakes at all," said the Camaro owner who asked not to be identified.
 
According to the owner, a dialysis patient in the back of the minivan was not hurt, but the Med Express driver offered a strange explanation for what happened.
 
"He said, exactly, that he wasn't sure if he fell asleep or if he passed out," said the Camaro owner.
 
While the owner of the Camaro has insurance, he says his agent told him he would likely be stuck with the $19,000 repair bill.
 
"I found out that (Med Express) had no insurance coverage whatsoever -- for the van, for the driver, or for the company," said the Camaro owner.
 
The Alameda County District Attorney confirms it recently opened an investigation into Med Express based on the complaint from the driver of the Camaro.
 
The Drivers
 
About six months after the accident, 2 Investigates observed a Med Express van with the same license plate as the van that hit the Camaro.  Based on images of the driver recorded by a KTVU camera, the Camaro's owner identified him as the same one involved in the October accident.
 
Investigative reporter, Eric Rasmussen approached the driver outside a dialysis clinic in San Pablo to ask him about the incident and apparent body damage on the van he was driving.
 
"I was attacked," said the driver.  "Some guy attacked me.  The vehicle just started ramming me."
 
When Rasmussen asked the driver if he felt safe driving patients in the van, the man said, "as long as they keep the maintenance up."  He added that the company "swaps vans quite frequently."
 
The conversation was interrupted by another Med Express driver who didn't want to be interviewed and directed Rasmussen to contact the company's owner.
 
Billing Millions
 
Records show the owner of Med Express, Nathan Rabah, was licensed by the state to operate one van as a Medi-Cal provider in 2006.
 
The California Department of Health Care Services (DHCS) told 2 Investigates that Rabah and Med Express billed Medi-Cal for $3.6 million between 2010 and April 15, 2015.
 
However, an administrative law judge ordered Med Express to pay back $1.7 million dollars in claims when it couldn't provide records of some services.  The company also billed for transporting some patients after their "date of death," according to a state audit.
 
Rabah blamed "not knowing all the rules" in a phone conversation with KTVU.  His attorneys did not dispute the state's findings, but said Rabah still has the option to appeal and that the mistakes were only "clerical errors."
 
DHCS told KTVU the problems it identified are not minor infractions.
 
"It's never a small thing when records don't reflect what is billed to Medi-Cal," said DHCS Deputy Director of Public Affairs Norman Williams.  "These are taxpayer dollars.  We take it very seriously and we work to make sure these dollars are spent the way they're intended."
 
Past Problems
 
2 Investigates discovered the recent judgment against Nathan Rabah is not the first time he's been in trouble.
 
Daly City Police arrested Rabah in July 2014 for driving on a suspended license and have a concealed weapon in his pick-up truck.
 
On the phone, Rabah denied he was driving at the time and said officers approached him at someone's house.  Rabah insisted the gun was legally his and he had only taken it out to show someone before officers arrived.
 
Before starting Med Express, some neighbors say a corner market owned by Rabah in Oakland was a magnet for drugs and crime.
 
"It was a nightmare," said former neighbor Janice Kendrick.  "I offered Nathan ten-thousand dollars to move to another location. And he was like, 'oh no, I'm going good here.'"
 
In 2006, the Oakland City Attorney's Office and other agencies declared Rabah's business a public nuisance and forced it to shut down.
  
Two former drivers for Med Express vans told 2 Investigates they witnessed van with various mechanical problems and missing proof of insurance and registration.
 
"They need to be shut down. The state needs to shut them down because it's not safe in these vehicles," said former driver, Leslie Dunbar.
 
Nathan Rabah disputed many of the allegations made against his company.  However, after Rabah agreed to a recorded phone interview with KTVU, Rabah stopped answering calls from KTVU and did not respond to repeated requests for further comment.
 
While DCHS says it has the power to suspend or revoke a Medi-Cal provider's license, it would not confirm or deny whether it has opened another investigation into Med Express.