21-year-old's new ID shows an old white man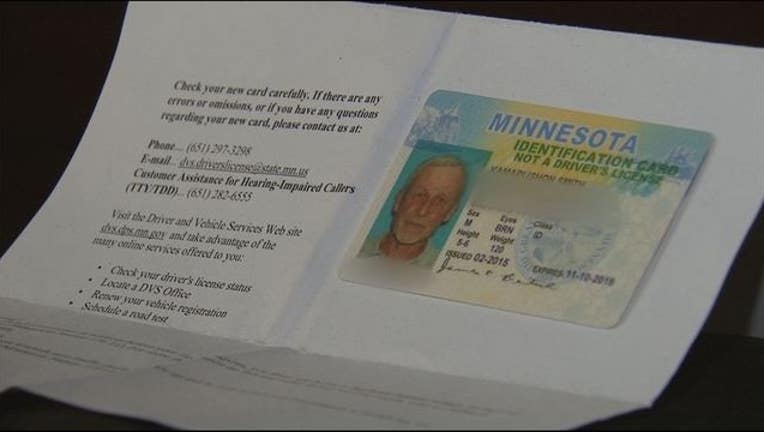 article
(KMSP) - Kamari Smith and his mother Toya Smith could only laugh when his new, official Minnesota issued ID card arrived in the mail Tuesday.
"When I looked, I looked at the name again, and again. Just started cracking up, what the hell? Too much," Toya Smith laughed
Kamari Smith is black and he just turned 21. The guy photographed on his brand new ID is a white senior citizen.
"This is something they should have looked at and seen. There's no way that should have been put in the mail and sent," his mother said.
Having celebrated his 21st birthday recently, Smith needs his new photo ID that denotes he is over 21 to have a little adult fun. This still begs the question of what happened.
The state's division of driver and vehicle services didn't address his case specifically. A spokesman told Fox 9 of the 1.6 million state-issued photo identifications printed annually, there are on average 10 errors a month. Most of those are considered typos or spelling mistakes, not the wrong photo.
Smith applied for the ID last month at a Hennepin County license service center where he filled out the $20 application and got his picture taken. Clearly, the wrong photo and the wrong signature ended up on his ID and Smith has no interest in finding out what happens if he actually tries to use it, say, for happy hour.
"I might go to jail with that one right there. That's off limits. That one stays in the house," he laughed.
While the family is having some fun with the mistake, it is going to cost Smith some extra time and hassle. He has been told he needs to return to the license service center to once again fill out the paperwork and get another photograph taken. He's been assured that application will be free.
It turns out, this isn't his first ID snafu, either. He recently signed up for a cell phone contract and was told by the store clerk his social security number somehow shows him as dead, which clearly isn't true.
"So he's deceased and he's 93 at 21," Smith's mother laughed.