3 Oakland teens arrested after driver rams car into Union City cannabis dispensary
UNION CITY, Calif. - Three Oakkland teens were arrested on Tuesday after a driver rammed a car into a Union City cannabis dispensary, leaving products and merchandise scattered all over the ground. It's the third time Flor dispensary has been hit in the last two years. 
Union City Police Sgt. Jiminez said the teens were arrested on suspicion of commercial burglary, stemming from a break-in at Flor dispensary and an attempted break-in at Lemonade dispensary, both in Union City. Fremont police helped find the suspects. 
Police said the teens used a car to break into Flor about 3 a.m. on Courthouse Drive in Union Landing Shopping Center.
Video from the scene shows the car backed up to the rolled garage door, and cannabis products scattered all over the ground. The owner told KTVU that it looks like less than $1,000 in merchandise was taken, if any. 
Crews towed the car away about 5:15 a.m. 
Customers began arriving at 6 a.m., when doors usually open, and they were turned away as workers were busy trying to fix the busted door and clean up shattered glass. 
The dispensary should open by 11 a.m. 
The owner, who preferred to remain anonymous, said this is the third time his dispensary has been hit since 2021. He said he regularly adds security measures, such as the rolled up door and barricades, to try to prevent these smash and grabs. 
The car used in this latest heist was small enough to squeeze through the pole barricades he had set up. 
A security guard was inside the store at the time and pushed the panic button during the robbery.
The same burglary crew tried to break into another dispensary, Lemonade, not too far away about 10 minutes beforehand, that owner and police said. 
The thieves tried to get in with a crow bar, but couldn't actually break in. 
Union City Councilman Jamie Patino came to the scene to show his support for Flor's owner, saying the dispensary has been a good neighbor.
"They give back to the community, they give a lot of money to local charities. They hire locally and they promote from within," said Patino.  
Patino also expressed his frustration with Alameda County District Attorney Pamela Price, saying criminals like the ones that broke into Flor keep getting released. 
"The chances of them actually going to juvenile hall are basically non existent under this current DA so they're probably going to get released and they'll be out doing the same thing within a day or two," said Patino.  "We need a district attorney that's finally going to start clapping down on these people and say 'You're going to jail. You're not getting a hug. You will be held accountable for your actions.'"
Police said about five to eight people were spotted in the Lemonade burglary, so it's unclear where the remaining suspects are. 
Anyone with information should contact Detective Fordham at 510-513-3826 or ZacharyF@UnionCity.org. Information may be left anonymously at 510-675-5207 or at
tips@unioncity.org.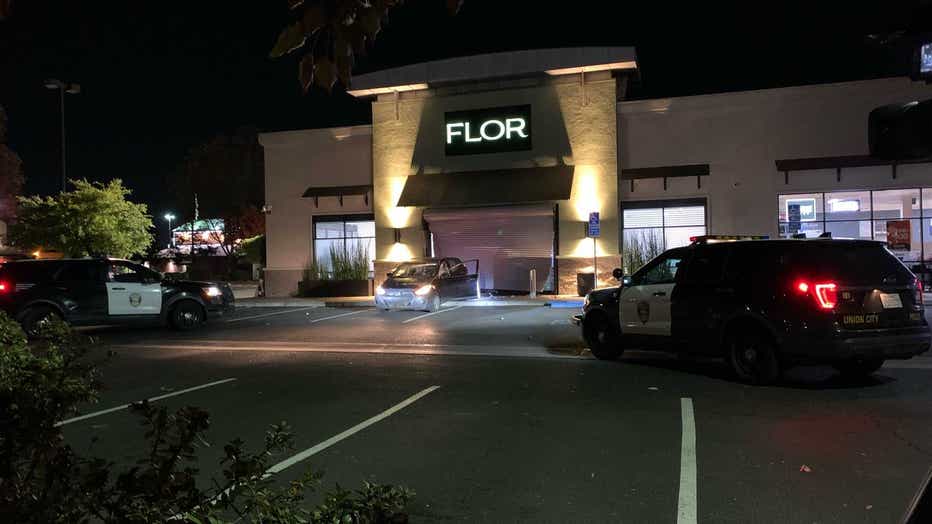 The driver of a car rammed into Flor dispensary in Union City. Nov. 21, 2023