3-year-old Gunnar has leukemia, becomes honorary firefighter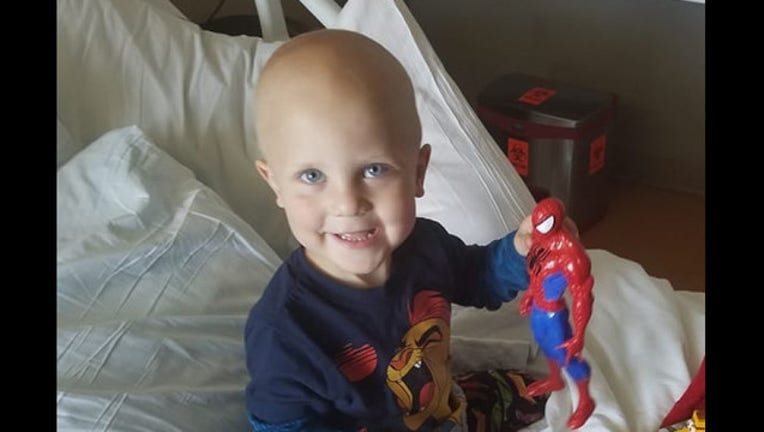 article
NAPA, Calif. (Rob Roth/KTVU) - A three-year-old boy's dream came true Wednesday. Gunnar Church is  battling leukemia, but he was able to forget about that for a day as he became an honorary member of the City of Napa Fire Department.
Gunnar's day started when a fire engine made a surprise stop at his home in Napa where he lives with his parents and sister.
"To see him and my daughter smile and laugh and get to be like regular kids for a day, that's huge," said Gunnar's mother Amanda Brockway.
In short order, Gunnar received his very own uniform, had the run of the fire engine, even rang the bell.
His mom says he has always been fascinated by firefighters.
"When we had all the Napa fires going he was very concerned about the fire dept whether they were safe. If there were enough of them. If they were ok. If the fire was hot. Just real genuine questions," she said.
Fortunately, Gunnar was having a good day physically Wednesday.
Ever since his diagnosis last year at the age of two, Gunnar has been receiving chemotherapy regularly which often saps is strength and spirit.
"A few days ago Gunnar didn't want to get off the couch. He didn't want to eat. He didn't feel good," said Brockway. 
A Napa firefighter heard about his plight and helped organize the day for Gunnar, and his nine-year-old sister Melia.
"These are the days he live for right here. I enjoyed just siting back and watching him smile and enjoy the day," said fire capt. Mike Dombrowski.
"There isn't the words to explain how much we appreciate it," said Gunnar's mother.
The firefighters wan to promote Gunnar's Gofundme account to help with medical expenses.