4-year-old girl drowns at Point Reyes National Seashore
MARIN COUNTY, Calif. - A Thanksgiving outing to the beach ended in tragedy for a family whose 4 year old daughter was swept away by a wave. 
It happened about 4 pm at McClure's Beach, a remote stretch on the west side of Tomales Bay.
"With the beauty of our coastline comes quite a bit of danger," said Battalion Chief Graham Groneman, of the Marin County Fire Department, which responded to the incident.
The youngster drowned steps away from her parents and sister.
McClure's is the northernmost beach in Point Reyes National Seashore, a somewhat secluded beach that drops steeply into the ocean.
The call came in as a water rescue, and Marin Fire, along with the CHP helicopter and the Coast Guard, expected to be saving someone in the water.
Instead the Park Ranger who was first to arrive, found the young victim had already washed ashore.
He started CPR and other first responders alternated on resusitation efforts too, until she could be airlifted.   
"It went for about 45 minutes to an hour before we could get her moved to the hospital," said Groneman. "We continued efforts because we will go the extra mile for anyone but especially a kid."
Beachgoers at McClure's on Friday enjoyed it's beauty, dismayed to hear a child on the same sandy outpost the day before.
"That's awful but it's a cardinal rule, don't turn your back on the ocean," said Kelly Behm of Oakland, who said she has been visiting the Marin Coast since childhood and was taught to always be careful.
"I think you learn that when you grow up around here, the ocean is not a hospitable place, but if you're traveling here you may not know that."
It appears the family of four came from outside the area for their beach day.
A wintertime swell was generating sets of ten foot waves which caught them off-guard as the youngster played near the water's edge.
"The wave came in, hit the little girl and the father went in after her," said Groneman.
Witnesses said he had her in sight, may have almost grabbed her, but lost her in the rough surf. 
"He ended up coming back into shore to save himself, it was treacherous out there, and the water temperature between 50 and 52 degrees," added Groneman.
The father, in his early 40's, was suffering hypothermia and taken by helicopter to Petaluma Valley Hospital.
He has since been released.
The little girl was in the water between 30 and 45 minutes before her body re-emerged. 
Rescue response time was slowed by the fact that there is no cell phone service at the beach, and someone had to run ten minutes to the parking lot to call 9-1-1.
"There are areas out here that are extremely remote and difficult to access," noted Groneman.
He wants visitors to be aware the coast may be a short drive from the rest of the Bay Area, but it can feel like wilderness in an emergency.
"Help can be a long way away, and we just want people to be prepared for that, so they can be cognizant and stay safe."
Fire personnel were debriefed,  and the traumatic incident discussed to make sure everyone on the call was okay.
"It's especially hard to have a tragedy on such a day, when it's all about celebrating your family," admitted Groneman.
"We really hope it's a reminder to be safe out there."
Debora Villalon is a reporter for KTVU. Email Debora at debora.villalon@foxtv.com and follow her on Twitter @DeboraKTVU.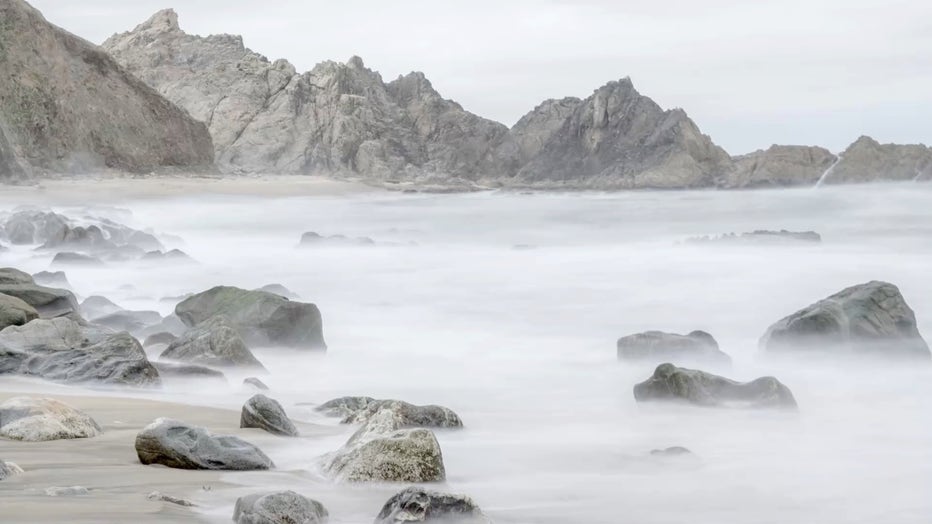 File Photo. McClures Beach at Point Reyes National Seashore (04/09/2017).