$485 million jackpot up for grabs; Lottery frenzy at feverish pitch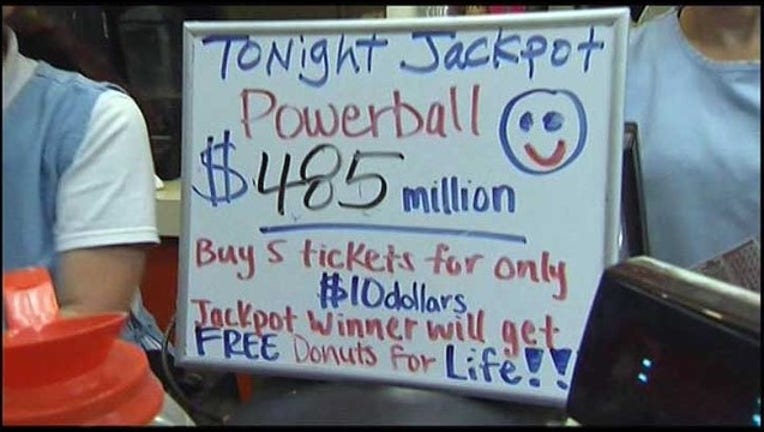 article
HAYWARD, Calif. (KTVU) – Bay Area residents lined up Wednesday morning at Hayward's World's Fare Donuts—home to more than a dozen lottery winners – as the Powerball jackpot inched toward $500 million.
The dream of becoming a new millionaire lured Bonnie Wilkerson to the donut shop on Wednesday morning.
"I just brought two tickets -- I hope they are a winner," the Hayward native told KTVU. "I would share it with my family (if I won)… I would like to go to New Zealand."
Middle school teacher Luke Cottrill was also among those hoping to extend the donut shop's winning streak. Having battled cutbacks in classroom funding for years, Cottrill said part of his winnings would go to the schools.
"I'd give it to the kids at school," he told KTVU. "I could actually pay cash for a house – what a concept for a teacher in California."
Fred Kennedy is a regular at the donut shop. He meets friends there every morning to talk politics and read the paper while enjoying coffee and a donut.
He said he's not a regular lottery player, but like so many Bay Area residents with such a jackpot up for grabs, he joined the frenzy.
"I got five (lottery tickets)," he told KTVU. "I don't usually participate but with half a billion, I couldn't resist."
Officials said the odds of winning the jackpot – estimated to be $327 million after taxes -- are one in 175 million.
The jackpot is not the largest ever in the U.S. – that honor was a $656 million jackpot won in 2012.