49ers all-pro tackle Justin Smith retires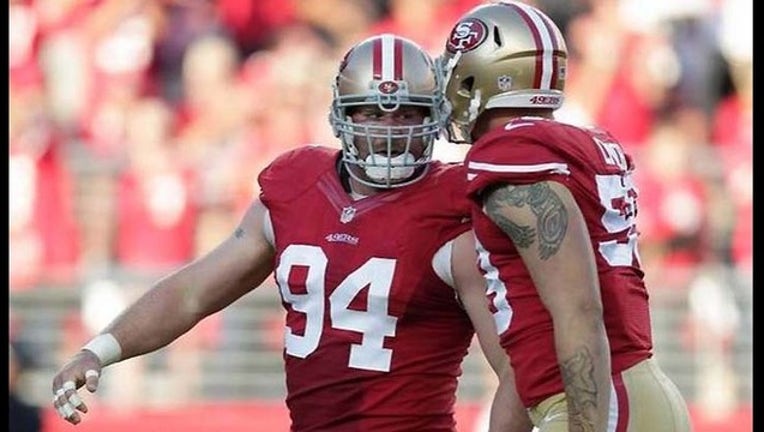 article
SANTA CLARA, Calif. (KTVU and wires) -- The San Francisco 49ers announced Monday that two-time all-pro defensive tackle Justin Smith is retiring from the National Football League.
Calling him a "consummate professional," 49ers general manager Trent Baalke said Smith would "go down as one of the best to ever wear a 49ers uniform."
"Justin is the consummate professional whose impact on this organization can never be measured by statistics alone," Baalke said. "His durability, competitiveness, work ethic, strength and rare stamina helped set him apart over his 14-year career."
49ers CEO Jed York echoed that sentiment saying Smith "gave everything he had every play."
"Tough. Physical. Durable. Hard-working. Dedicated. Selfless. Justin embodies each of those qualities and brought even more with him to work each and every day," York said in a news release. "Whether it was chasing down a wide receiver and forcing a fumble to seal a win, or driving a tackle back into the quarterback's chest, he gave everything he had every play. "
"Justin has earned the respect of the entire NFL community and he will always be remembered as one of the 49ers all-time greats."
After being selected as the fourth overall pick by the Cincinnati Bengals in the 2001 NFL Draft, Smith went on to play 14 seasons in the National Football League.
When he became an unrestricted free agent in 2008, San Francisco swooped in and landed one of the top free agents on the market. A year later, Smith enjoyed the first Pro Bowl season of his career, which sparked a five-year stint of representing the 49ers on the all-star roster.
Smith's first Associated Press All-Pro came in 2011, when he was remarkably selected at two different positions, First-Team defensive tackle and Second-Team defensive end.
He became the first NFL player ever to be named to the Associated Press' first and second team at different positions.
During his career, Smith started 217 of 221 games played, including a streak of 185 consecutive starts from his rookie season through December of 2012.
He finished his career with 1,370 tackles, 87.0 sacks, 16 forced fumbles, 10 fumble recoveries, three interceptions and 30 passes defensed.
Smith posted at least 5.0 sacks in 12 of his 14 seasons played and is one of 13 players, since sacks became an official statistic in 1982, to register 5.0-or-more sacks in 12-or-more seasons.
With 6.5 sacks during the 2013 regular season, Smith became just the 20th player in NFL history to register at least 5.0 sacks in 11 separate seasons.
Smith, 35, played collegiately at the University of Missouri where he earned first-team All-America honors as a junior and was a unanimous selection to All-Big 12 First Team. He was also named First-Team All-Big 12 as a sophomore.